U.S. 2, Nigeria 1 analysis: Who (and what) is ready for Brazil?
The U.S. put together its best 'Send-Off Series' performance yet in dismantling Nigeria. Are they ready for the World Cup?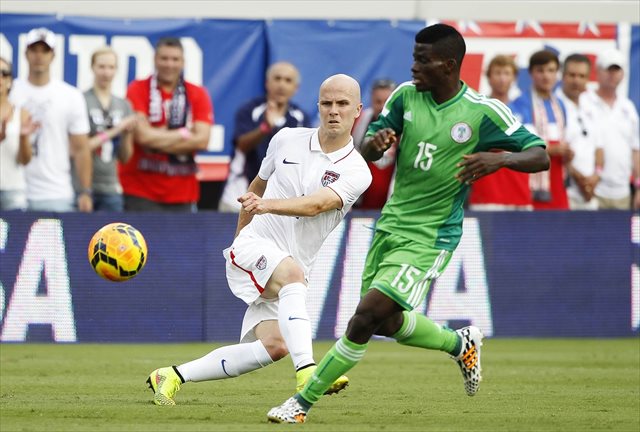 More World Cup: Group Previews | World Cup Roundup | Latest news & notes 
That's all, folks. The next time you see the U.S. Men's National Team, they'll be facing Ghana in Natal, Brazil, in their first match of the 2014 World Cup. 
With that make-or-break matchup in the Estadio das Dunas only nine days away, what did the Yanks' 2-1 victory over Nigeria Saturday -- by far their best showing in the three-match "Send-Off Series" -- say about where the U.S. stands? Based on what we saw from the Americans in Jacksonville, who -- and what -- is ready? What needs a bit of fine-tuning? And what's not up to World Cup snuff? One guess:
READY
Michael Bradley. When Jurgen Klinsmann debuted a 4-4-2 diamond in April's Mexico friendly with Bradley as the midfield "tip," the goal -- and it succeeded that night -- was to finally unshackle the U.S.'s most creative attacking player from the defensive duties that had occasionally held him back. Klinsmann went back to the well against Azerbaijan and Turkey, with lesser results, as Jermaine Jones couldn't quite hold down the defensive midfield fort alone. Against Nigeria, Klinsmann shifted Bradley further forward than he has ever been with the U.S., with both Jones and Kyle Beckerman behind him as the "2" in a sort-of 4-2-3-1.
The result: an absolutely devastating performance from the Americans' best player, and one of his best in a U.S. shirt. Bradley was everywhere, disrupting Nigerian attacks left and right, holding possession under a hail of tackles, and in the middle of virtually every promising American attack. He was a monster, and if the U.S. will go as far as Bradley can take them -- as many have argued -- the evidence in Jacksonville was that the Round of 16 really isn't too much to ask.
Klinsmann's tactics and selection. Not only did Klinsmann's lineup allow for maximum impact from Bradley, his decision to position Clint Dempsey and Alejandro Bedoya in an unbalanced shape in the "3" alongside Bradley -- Dempsey high on the left, Bedoya withdrawn on the right -- left Dempsey far enough forward to give Jozy Altidore the necessary support and gave Jones and Beckerman adequate defensive help and possession outlets. 
Oh, and Klinsmann's two somewhat debatable selections -- DaMarcus Beasley over Tim Chandler at left back, and Bedoya over Graham Zusi at left midfield -- both proved shrewd, with Beasley a substantial step up from the wobbly Chandler and Bedoya making the pivotal pass on the U.S.'s opening goal.
Fabian Johnson. Since first joining the U.S. in 2011, Johnson has consistently been the team's best wide attacker. Too bad he hasn't been quite as sharp in defense. After he repeatedly shut down Nigeria's dangerous Victor Moses Saturday, though, those concerns look as put to bed as they're going to be. Other than Bradley, no one on the roster is in better form.
Jermaine Jones. So much for not being able to play alongside a second committed defensive midfielder like Beckerman. Jones delivered his best outing for the U.S. in quite some time, making several positive contributions going forward without (as has been his Achilles heel in the past) ever getting caught out of defensive position. Consider it his Bradley 2012 impression -- a necessary one given that Bradley's now the 2014 edition. 
The U.S.'s fitness levels. Klinsmann promised a squad full of marathon men, and the U.S.'s continued activity as the game progressed in humid Jacksonville -- compared to Nigeria's visible sluggishness -- showed off the kind of stamina that should prove highly useful in Brazil. 
GIVE IT A WEEK
Jozy Altidore. If the Altidore who scored his sublime second-half goal -- past a top-notch goalkeeper in Victor Enyeama, no less -- reemerges in Brazil, the U.S.'s chances of advancing increase ... quadruplefold? Tenfold? Hundredfold? Whatever the number, it's big -- but given his scoreless streak entering Saturday, it's too early to say definitively that his scoring touch is back. Fingers crossed, and crossed hard.
That one wing midfield spot. Bedoya showed more against Nigeria than any of Graham Zusi, Brad Davis or Julian Green showed in the other Send-Off Series games, but he also didn't have much impact after his terrific pass to Johnson that led to 1-0. He currently appears to be the U.S.'s best option, but he hasn't played himself out of the long shadow of Landon Donovan just yet.
The back four. There are still some communications issues, and despite the presence of a second defensive midfielder in Beckerman to help play out of the back, the U.S. still struggled at times getting the ball from defense into attack. But any debate about the U.S.'s best defensive combination is over: Beasley at left back, Geoff Cameron and Matt Besler in central defense, Johnson at right back. Ride or die, as the kids say.
NOT READY
The last 10 minutes. For the second straight game, the U.S. lost its defensive focus and gave up a late (ultimately meaningless) penalty. But for the second straight game, a flurry of late substitutions and tactical shifts may have had something to do with that. If they didn't, U.S. fans should prepare for some hair-raising endings.
And ... uh ...
AND THAT'S IT, REALLY. YOUR BOTTOM LINE:
Given the talent at Klinsmann's disposal, it's hard to imagine a final pre-World Cup performance more confidence-inducing than that one. The defense was organized. Altidore scored twice. Bradley was superhuman. Beasley wasn't overmatched. The fitness was everything we'd been promised.
The U.S. may or not make it out of Group G. They may not even win a game; Ghana, Portugal and Germany are that good. But watching them dominate a quality Nigeria squad for most of the 90 minutes Saturday, it's hard to think they won't give it their absolute best shot.
The city of Samara's stadium, set to be used for the 2018 World Cup, has seen its construction...

Norway beat World Cup debutants Thailand 4-0 before a historic rout by Germany over Ivory Coast...

He'll be suspended for Friday's game against Iowa.
The World Cup was 'amazing,' but Seattle Sounders teammates Clint Dempsey and DeAndre Yedlin...

A painting in Brazil depicts the Dutchman's amazing goal against Spain.

German midfielder Cristoph Kramer has become the face of the ongoing concussion crisis after...