U.S. subs Diskerud, Johannsson prove worthy of more playing time
Substitutes Mix Diskerud and Aron Johannsson score against Azerbaijan, and while that might not merit them starts in Brazil, they should be rewarded with more minutes.
• 4 min read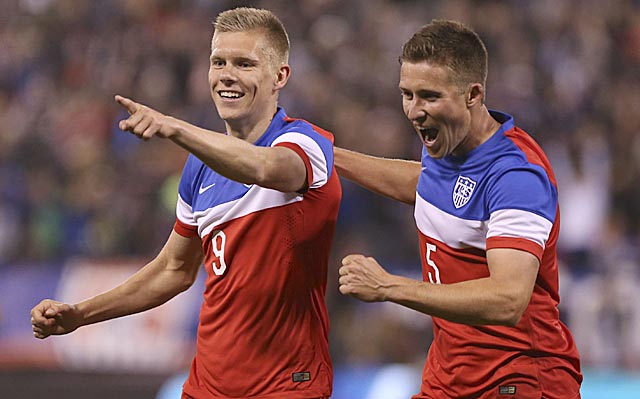 More World Cup: Group Previews | World Cup Roundup | Latest news & notes 
I'm not sure you can take much from the USA's 2-0 victory against Azerbaijan.
It was an odd match against an overmatched opponent who never pushed the midfield forward and sat back behind the ball -- or exactly the opposite of what this team will face during the World Cup in Brazil.
It was played in a stiff wind on a chilly night at Candlestick Park, and with all the usual six-substitute madness of a friendly ... well, there isn't too much here that I really think will translate to the Copa Mundial.
But certainly there were a few wrinkles I believe are worth monitoring with two more friendlies ahead, and then, perhaps, pending how things transpire in those outings, then maybe we see the impact trickling over to Brazil next month.
• First and foremost, Clint Dempsey needs to be OK. Take every precaution you need with that groin that made him a late scratch ... but I would love to see him get a run with his teammates in one of these friendlies. Want to see him and Jozy Altidore interplay and get something going.
• With Dempsey out, I really wanted to see Aron Jóhannsson from the start. He doesn't need much time or service to score, as his goal attested to. Chris Wondolowski got the start and blew a total gift in the first 5 minutes. That can't happen. He needs to bury one of those chances and I really would love to see Jóhannsson and Altidore get more than 30 minutes together, especially if Dempsey doesn't go Sunday against Turkey.
• The wind seemed to have a fairly big impact. Balls sailed all over the place, it seemed to be changing direction wildly and we'll see if the US really goes with so many short corners when it matters. Saying that, the short corners were effective and I liked the service from Graham Zusi and Alejandro Bedoya on those plays.
• Speaking of those two wings, I thought they were the best part of the first half for the USMNT. Both provided good balls into the box and had some quality runs and the offense was flowing through them. Their legs seemed young and fresh, and ... well, they were playing a role when Landon Donovan might had he made the team.
• As for others who might have "taken" Donovan's spot -- as some would see it -- well, Zusi was good on set pieces and corners, where Donovan has been faltering. Brad Davis showed his expert left foot from dead balls and otherwise drew what should have been a penalty.
• I loved seeing Timmy Chandler back at left back. He made some of the forays that Jurgen Klinsmann demands of his wing backs, and his overall sturdiness, quality and frame could just result in him nicking DeMarcus Beasley for that left back starting spot. Chandler seemed determined, which has been a knock on him at times. Ain't no way Beasley is a better player than him right now, though obviously World Cup experience is on Run DMB's side (not that Klinsi seems to get too wrapped up in that).
• Mix Diskerud is again relishing that super sub role, and making it happen when he's introduced to a game. Klinsi continues to have a hot hand in going to his bench. Yet again, if you are one of those who think Donovan has to be on this team, keep an eye on what guys like Diskerud and Davis and Bedoya do when given a chance in games that actually count.
• Matt Besler looked shaky all the way through. I was surprised Klinsmann didn't stick with one central back pairing through all 90 minutes, given how uncertain things have been on his backline.
• This team goes as Michael Bradley goes. He seemed sluggish after a grueling camp, and his touch was off. He was dispossessed too easily at times and gave away a lazy ball at the start of the second half that could have resulted in a goal. He is by far the most important player to this team, and frankly, I am glad he didn't play his all-out, full-throttle game tonight in an exhibition, but when he bore down late, no surprise -- the first goal finally came.
• How many of the subs in this game get the start on Sunday? Wouldn't be surprised to see Chandler, for one, get that chance. And Dempsey's injury status will obviously play a role in that, too. I'd rather see Jóhannsson on the pitch from the opening whistle than Wondo, who to me is there just to try to poach an ugly goal late if need be. Chandler shows well against Turkey and I like his chances. He was included to this team late for a reason. Klinsi loves youth and he loves pace.
The city of Samara's stadium, set to be used for the 2018 World Cup, has seen its construction...

Norway beat World Cup debutants Thailand 4-0 before a historic rout by Germany over Ivory Coast...

He'll be suspended for Friday's game against Iowa.
The World Cup was 'amazing,' but Seattle Sounders teammates Clint Dempsey and DeAndre Yedlin...

A painting in Brazil depicts the Dutchman's amazing goal against Spain.

German midfielder Cristoph Kramer has become the face of the ongoing concussion crisis after...