Watching Mexico-Brazil from Rio's largest 'favela' an eye-opening day
Rio's largest favela -- or slum -- during host Brazil's game vs. Mexico provides a glimpse of game day in a country consumed by soccer, far away from the glitz and circumstance of the stadium where the game was played.
You wore the wrong shoes. Climbing up and down the narrow, wet and steep walkway that connects the many parts of Rocinha -- Rio de Janeiro's largest favela -- requires a sure grip, not the wood-sole kicks you opted for today.
Being careful to not fall and break your face, you follow Isadora Machado, your makeshift tour guide. She's a member of Midia NINJA, a citizen journalism/activist group that drew international attention for the images of the huge Brazil protests they beamed around the world via social media during last year's Confederations Cup. Isadora's team invited you to come watch Brazil face Mexico here, in a tight-knit community of soccer fans who can't be in Fortaleza, where the match is being played. You accepted, because you'd really like to see how this city within the city does Game Day.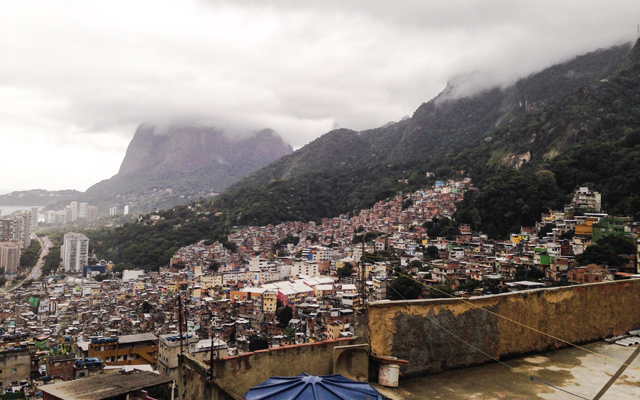 You marvel at the neighborhood's stacked houses -- piled on a hill along a mountain, one squeezed on top of the other, making a landslide a very scary scenario. The latest census puts Rocinha's population at slightly more than 69,000, but research estimates say the number could be as high as 300,000. It has schools, clinics, theaters and a rich cultural side reflective of its diverse inhabitants. It has also earned a reputation for being one of Brazil's most dangerous favelas, ruled by drug gangs.
You were dropped off in a Fiat near Rocinha's higher entrance 20 minutes ago. Rio's Police Pacification Unit officers were there, with their guns showing and their heads on a swivel. Their role is to rid the neighborhood of drug gangs and other criminals. They've been accused of killing innocent locals, though, and their relationship with residents is often tense. You smile at one of the armed men as you make your way in, but he doesn't smile back.
That's when you realize that you wore the wrong shoes. The downward path on which you follow Isadora is at times only two feet wide. It's unpredictable, both jagged and smooth, and also slippery. Your left hand palms the concrete on your left side for balance, while your right hand steers the video camera hanging from your neck.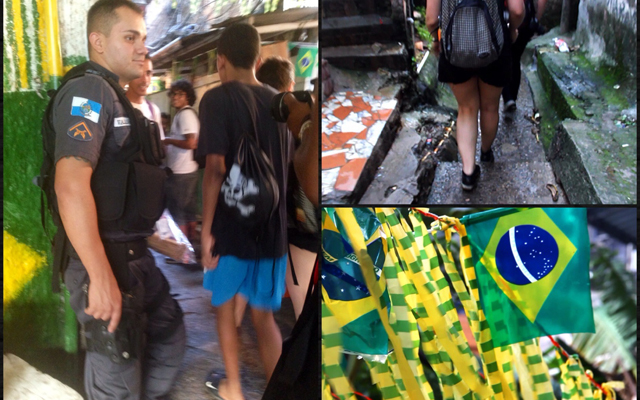 You notice there are a lot of people outside for a Tuesday afternoon -- yelling, laughing and hugging. People are peeking out of windows, standing on roofs, popping out of every other door and swarming the tiny path clearly not built for days like these. Isadora explains that game day is like a holiday. Schools won't open, many employees will leave work early and the national consensus is Neymar Jr. and the Seleceao are more important than whatever you have planned that day.
You keep trekking, passing a clothing store, a small café and a home appliance shop. Each of these has a television, tuned in to Globo TV as the pre-game announcers scream through the speakers. Up above, streamers and small Brazil flags form a ceiling. The national anthem plays and someone sparks fireworks, so loud that your heart jumps into your throat.
Once the match starts, you venture into an eatery where guys are crowded around a TV. One of them is wearing a Neymar Jr. jersey, as No. 10 dances with the ball on the screen. While you're filming, Isadora politely asks you to stop. One of the men is related to a local drug trafficker and he doesn't want to be on camera. You oblige and keep it moving.
You're lured to your next destination by the scent of meat sizzling on a grill. The chef offers you a piece of lamb, and encourages you to sit down and enjoy it. His restaurant is adjacent to a school on which "The World Cup Is Ours!" is painted near the entrance. The group that has gathered to watch the game here lets out a collective groan as Mexican goalkeeper Guillermo Ochoa stops another shot by the home team right before halftime.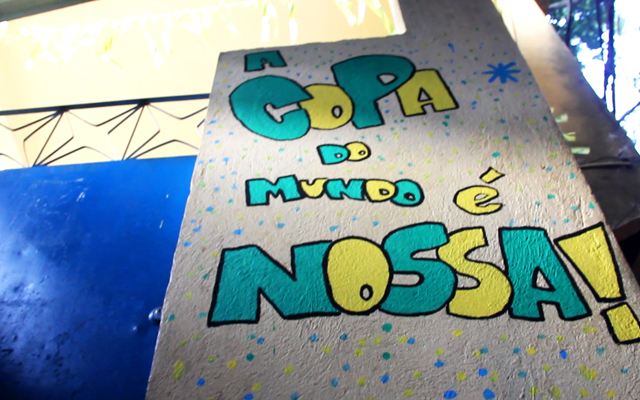 As you keep walking, the path seems to get smaller and steeper. It smells worse, too, thanks to the obtrusive garbage pile on your left side and the trail of sewage streaming downwards. You finally reach the end of the narrow walkway and it opens into a much wider street, full of packed restaurants with outdoor seating and giant TV screens. Isadora says that the walk you took -- from Rocinha's higher entrance to its ground level -- is one street, called Rua 1. You praise the mailman who can find his way through this giant maze.
The fans gathered outside yell curses at the screens after another Ochoa save. The festive mood has grown tense. Fewer fireworks are going off, and you've adjusted to the boom so you're no longer jumping at the sound. The sun eases its way down as you walk past a barber shop in which no one is getting their hair cut. All eyes are fixed on the screen, the 0-0 score and the ticking time.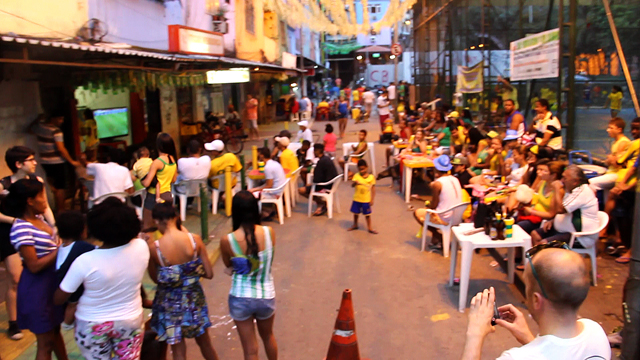 Another large viewing area is a short walk away. Every Brazil attack towards Mexico's goal is greeted with applause, then disappointment, as the crowd around you keeps waiting for a score that will never come. The final horn sounds and the crowd disperses solemnly. After the 0-0 final, there will be no victory samba tonight.
Isadora explains that a motorcycle will take each of you up Rocinha's main paved road, to reach the higher entrance where you started a couple of hours ago. You're assigned a moto-taxi, and the driver hands you a helmet while instructing you to hold on tight. He kicks the motorcycle into gear and you take off, inhaling cool air and witnessing the favela become a blur.
Here's a look at the provisional rosters that each country will choose from to bring to Fr...

The 2026 World Cup in North America will be the first to expand to 48 participants

The Soccerbot model picks which countries will win their groups at the 2019 Women's World...
David Sumpter's Soccerbot model is up 2,000 percent and just released Women's World Cup 2019...

Fans are not happy over the ticketing issue, though FIFA says only '1 percent' of fans are...

A look at where each of the tournament's 52 games will be played