What does Diego Costa's hamstring injury mean for Spain?
Diego Costa has been one of Europe's best strikers, but a recurrence of his hamstring injury could jeopardize his World Cup fitness.
• 2 min read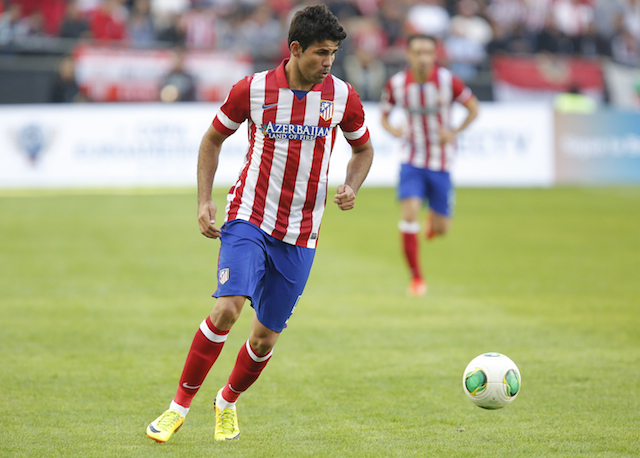 More World Cup: Group Previews | World Cup Roundup | Latest news & notes 
Striker hasn't been a position of strength for Spain the past few years. The days of David Villa and Fernando Torres filling the back of the net are in the past. 
Even in Euro 2012, La Roja relied mostly on a false nine formation with midfielders David Silva and Cesc Fabregas being used as an attacking threat. During the Confederations Cup of last summer, Torres and Villa combined for eight goals, but it's hard to imagine either of them leading the line for Vicente del Bosque.
When Brazilian-born striker Diego Costa became a naturalized Spanish citizen last summer and snubbed his home country to play for Spain, some of those striker problems were supposed to be solved. Costa is currently one of the most prolific strikers in Europe, finishing third in La Liga with 28 goals scored for newly-crowned champions Atletico Madrid. Over the past two seasons, Costa has scored 56 goals in all competitions.
While he's only made one appearance for Spain, his finishing ability would have been an added dimension for the defending World Cup champions.
But now there's an issue.
Costa was forced off the pitch after 15 minutes in Saturday's title-clinching draw with Barcelona due to a reccurence of a hamstring injury that has bothered him for a few weeks. He was seen on the bench with his face in his hands as the game progressed. Costa is not expected to play in this weekend's Champions League final against Real Madrid, and it is unclear whether he will be 100 percent fit for next month's World Cup.
If it was an isolated hamstring injury, that would be one thing -- but this is an injury that has lingered for a few weeks and might not be a quick recovery. If he is hindered for the World Cup, Spain is in trouble when it comes to attacking options.
Torres and Villa were both named to the provisional 30-man roster, although it's doubtful either of them would start for Spain. Pedro adds pace and width to the strikeforce, but he's not a great option as a lone striker. Manchester City striker Alvaro Negredo was great through the first few months of the Premier League campaign, but he hasn't scored since January. Juventus attacker Fernando Llorente has been in form late in the season, but has scored just seven goals in 24 appearances for the national team. Del Bosque isn't taking all of them either; but does he need to take an extra one in case Costa gets hurt?  
Costa is clearly the best option if Spain wanted to go away from the false nine formation and use a lone striker -- he's in form and playing the best football of his career. It's going to be interesting to see how he adapts to the possession-based game preferred by Spain after playing a counter-attacking style all season for Atletico Madrid, but despite the questions and lack of experience for the national team, Costa is the best striker on the roster. 
When healthy, of course.
Right now, it's unclear if that will be the case. And if Costa is not fit, we could see Spain trot out six midfielders once again. It worked in Poland/Ukraine, but the side is two years older now -- and lost its air of invincibility with Brazil's 3-0 Confederations Cup romp last summer. Costa could provide the extra bit of toughness and spark La Roja need.
Will he be available?
We were mere centimeters from losing one of soccer's brightest stars

Former Minister of Sport and Deputy Prime Minister Vitaly Mutko is stepping down

The city of Samara's stadium, set to be used for the 2018 World Cup, has seen its construction...
Norway beat World Cup debutants Thailand 4-0 before a historic rout by Germany over Ivory Coast...

He'll be suspended for Friday's game against Iowa.

The World Cup was 'amazing,' but Seattle Sounders teammates Clint Dempsey and DeAndre Yedlin...