World Cup: Brazil survives Colombia 2-1, advances to semifinal
FIFA World Cup 2014: Brazil vs. Colombia preview, live commentary and recap.
FINAL: Brazil 2, Colombia 1
For the first forty five minutes, Brazil looked the part of World Cup contender. For the next forty five, it held on for dear life. 
Friday's quarterfinals match was an ugly, gritty war between rivals Brazil and Colombia, but the host nation managed to hang on and win 2-1 to secure a spot in the semifinals against Germany. 
The game's rhythm was completely interrupted by flopping, questionable refereeing and injuries, most notably a back injury to tournament poster boy Neymar. Juan Zuniga leveled Neymar in his lower back with his knee and the roving striker dropped to his stomach in the 86th minute. He was eventually rolled onto a stretcher and taken off with his status uncertain for the semifinals.
Aside from Neymar's fitness, it also heads into the semifinals without Thiago Silva, who drew an endlessly stupid yellow card for running into David Ospina as he was punting. The game got completely out of hand as no cards had been handed out until that moment (the 63rd minute) despite the 40 fouls that had been called. 
Brazil earned the early advantage as Silva knocked in a goal from a Brazilian corner in the 12th minute. It maintained the edge with numerous chances from Hulk, leading up into halftime, and it finally appeared that Brazil had regained some of its characteristic dominance.  
Despite the quality from the first half, nothing could top Brazil's second tally. David Luiz's goal -- a stunning free kick from incredible distance -- was the result of another foul, this time from James Rodriguez. Luiz struck it right and it swerved away from Ospina, who could only get a finger on it. Rodriguez eventually tallied his sixth goal of the tournament from a late penalty kick, but despite dangerous chances, Colombia couldn't notch the equalizer. 
Brazil's defense entered Friday's match with doubts as it dealth with the suspension of Luiz Gustavo, but Marcelo, Luiz and Silva were undoubtedly the difference. Colombia's attack was largely halted at the foot of the penalty box, and aside from a few chances created by Rodriguez, Luiz Felipe Scolari's defense stood tall. It wasn't until late in the match that Colombia even earned its first shot inside the 18, but after the penalty kick, it rallied and put ceaseless pressure on the Brazilians. It didn't matter as the host nation advanced with grit and not its typical grace. 
94' -- Colombia draws a free kick about 15 yards out of the box. Ospina up now, too. Nothing too dangerous as Ramos knocks it high. Goal kick, and that might just do it. 
92' -- Ball bouncing around in the box, and Yepes almost had a crack at it in close. Adrian Ramos nearly heads in a curling corner, and Brazil is going to take every second it can to take this goal kick. 
90' -- Yep, five minutes of added time. 
89' -- Colombia, obviously, pressing high now. Probably about five minutes left. Brazil is completely packed in inside its third. 
SUB: Henrique coming on for Neymar. 
86' -- Neymar just got kneed in the back by Zuniga and he's down. Being rolling onto a stretcher. There's nothing fake about this one. 
Rodriguez's penalty -- 
84' -- Outstanding work from Ramos and Bacca again as they work it into Brazil's box, but called for offsides. Again. Horrible. 
SUB: Quintero on for Cuadrado. Ramires on for Hulk.  
81' -- Bacca nearly skids in another header, but he's ruled for offsides. Tense moments for the fans at Maracana. 
79' -- GOAL!! Rodriguez buries it to the left off the hesistation penalty kick and Colombia has life. It's his sixth goal of the tournament. 
77' -- PENALTY! Rodriguez drops it off for Bacca in front of the goal, and Julio Cesar bolts from his line, but takes out Carlos Bacca. Colombia with a chance to get one back. Rodriguez is taking it, it appears. 
76' -- Colombia fighting hard to get some possession in the final third, but Marcelo continues to snuff out their chances. 
Luiz's free kick was just absurd. Watch. Rinse. Repeat. 
68' -- GOAL!!!! DAVID LUIZ!!! Luiz CRACKED the free kick directly into the right side of the goal and it's 2-0. Massive goal from 35 yards out. Pure power from him. Ospina likely could've/should've done better. 
66' -- Rodriguez draws a yellow after he clips Hulk during a run. Rodriguez smiles and dismisses the shoddy refereeing. 
65' -- Rodriguez nails the set piece into the box and it's finally cracked into the goal, but Colombia was offsides. No goal. No dancing. No fun. 
63' -- Thiago Silva runs into Ospina as he's trying to punt the ball and he draws a yellow card, meaning he'll be out for the semifinal if Brazil gets there. Stupid challenge from him, but hey, at least the refs proved they had their cards. 
62' -- Huge challenge on Neymar near the 18. Brazil will get a set piece and that's the 40th foul of the game. It has had a massive impact on the rhythm of this game ... and not for the better. 
62' -- "It's almost like he's determined not to give any," Darke says. We're all on #yellowcardwatch. 
60' -- Colombia's attack been a bit better in the past few minutes, but it still has zero shots from even close to the box. Partly Brazil's backs, but quality in the final third has been lacking, substantially. Looking at you, Teo Gutierrez. 
58' -- Ian Darke just asked if the refs forgot to bring their yellow cards. That's funny because I said THE SAME THING! (See 45-minute mark). 
57' -- Now Fred and Thiago Silva, both down. Silva with a collision into Adrian Ramos (it was his own fault, if he got injured on that challenge).  
55' -- Players are trying to bait the refs, now. (Yes, pun intended. Yes, I'll be here for 35 more minutes).  
Seriously, Brazil-Colombia, I can't watch this flopping anymore. It's like fish on a boat deck, over and over.

— Tim May (@TIM_MAYsports) July 4, 2014
53' -- Marcelo floats one into a dangerous area in front of the goal along the left side and Ospina hops off his line to snag it. Have been impressed with Marcelo and Maicon, Brazil's wing backs, thus far. 
50' -- Fernandinho just blew past Guarin, who tried to pull him back with his arm. Sloppy defense all afternoon from Colombia's backs. Free kick coming from Neymar. 
48' -- 30 fouls thus far and zero cards. Players, coaches getting frustrated with referees' inconsistencies.  
47' -- Cuadrado with a quick spurt up the gut of Brazil's defense, and he's tripped up by David Luiz. Again, no foul in an obvious situation. There's going to be a melee and we may not see a card.
46' -- Second half is underway. 
SUB: Colombia's Adrian Ramos on for Victor Ibarbo in the midfield. 
HALFTIME: Brazil 1, Colombia 0
A frenetic opening frame eventually gave way to a physical, gritty, fun match that's as heated as a quarterfinal should be. Defender Thiago Silva knocked in an early corner kick as Colombia's defense was in shambles, especially along the right side. Hulk showed well with a few dangerous attempts, but tournament poster boy Neymar hasn't had a significant impact on this match.
Colombia's star James Rodriguez had one threatening run, but runningmate Juan Cuadrado botched it with an indecisive cross from the right side. Each side is playing physical, and the refs seem to have swallowed their cards. Perhaps they'll find them in the second half. Expect more of the same tenacity from Brazil, while Colombia may need to alter its approach. It's yet to get a shot from inside 30 yards.  
45' -- I'm pretty sure the referee forgot to bring his cards to the match today. There have been at least three instances that probably warranted a card, including a brutal tackle on Hulk and another dangerous undercut that took out Rodriguez.  
44' -- Neymar misses frame entirely. Hasn't been stellar today with a heavy touch, no real chances.  
41' -- There we go again. Foul on Zuniga against Neymar, and the Selecao will have a shot on edge of the 18. Really the first time all tournament Colombia has shown a weakness. 
40' -- "He went past Zapata like he wasn't there," -- Ian Darke on Neymar. Basically the way it's gone all afternoon for Colombia's defense. Lots of jersey pulling and fouling as the right side has seemed a step behind. 
I wouldn't doubt it at all:
There's going to be a Red Card in this game....

— Dave Zirin (@EdgeofSports) July 4, 2014
37' -- Neymar blitzed up from the wall and blocked the attempt. He must have been four feet away from the ball when it was kicked. 
35' -- As I say that, Fernandinho gets called for a foul on the edge of the box. Potential shot here for Los Cafeteros. Cuadrado, Rodriguez, Gutierrez standing over the ball. 
35' -- Colombia hasn't had one shot anywhere close to the box. 
33' -- Hectic first half so far with fouls, the one goal, and huge transitions for both sides. Edge has to be with the home nation, though as Brazil has no doubt had the better chances. Possession favors them 56-44. 
Celebration fail: Don't know how I missed this, but Neymar ate it while trying to celebrate with his teammates after the first goal (via Deadspin). The Colombians do choreographed line dances. The Brazilians fall.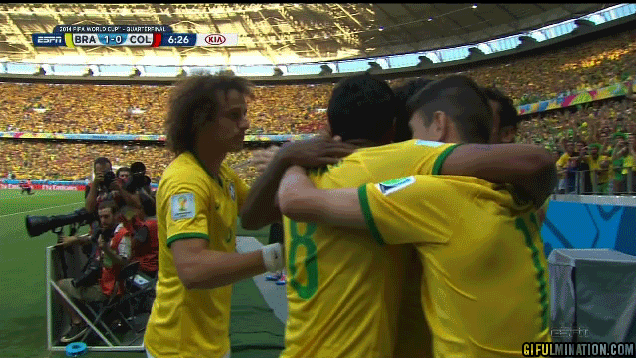 27' -- Hulk with another low, left-footed rip and Ospina is keeping Colombia in this game. Very suspect defense from Zuniga and Zapata. Great energy from Hulk early on. 
25' -- Game's been chippy, testy so far, but that's to be expected given the stakes. Only going to increase as time ticks on. 
23' -- Little skirmish between Rodriguez and Paulinho. Colombia played the quick re-start, turned it over and nearly got caught backpedaling as the Brazilians charged forward. That's Colombia's fault for resetting too quickly. 
22' -- We've got a Rodriguez sighting. He just carried the ball 30-40 yards up the field, dropped it off for Cuadrado on the break, before Silva knocked away the cross. Colombia had numbers in the run-out. Rodriguez has two assists to go along with his five goals thus far throughout the tournament. 
19' -- Two outstanding saves from Ospina, who stuffed a give-and-go chance from Hulk and then catches another laser off the rebound. Colombia being pressured constantly along right side. 
17' -- Hulk with excellent work on a short cross and David Luiz nearly got a foot on it. Armero there for the save as he boots it out. That could've been a disaster for Los Cafeteros. 
15' -- Maicon already pretty noticeable as he continues his forays forward along the left flank in place of Alves. Has potential from his crosses. 
13' -- James Rodriguez down for a bit after getting knocked by Fernandinho. Looked like he got cleated in his foot and charlie-horsed, all at once. He's all good, though. 
11' -- Colombia responds quickly as Cuadrado nearly ties it up with a left-footed blast from the edge of the box. Juuust wide of the post and Cesar. 
Silva's goal:
7' -- Carlos Sanchez was the guilty party as he completely lost Silva near the back post. The ball was allowed to hit the ground before Silva punched it home. That's unacceptable on corners. 
6' -- GOAL!!! THIAGO SILVA!! Brazil takes a quick corner and Silva knocks it in near the back post. Horrible defense from Colombia. 
6' -- Fernandinho leads Neymar along the left flank with a nice through ball. Neymar and Zapata get tangled up, and Brazil earns its first corner. 
4' -- Brazil with a dangerous set piece chance early. Twelve yards outside of the box, but Neymar's attempt curls left of the goal. 
2' -- Broadcast notes that Colombia has never beaten Brazil on Brazilian soil, and it hasn't earned an outright victory over them since 1991. 
1' -- We're off from Maracana, where both teams hope to return in nine days for the World Cup final. 
Colombia in red, while Brazil in its traditional yellow and green kits. 
PREGAME: The two biggest stars of this World Cup, twenty-two-year-olds Neymar and James Rodriguez, will clash on Friday for a spot in the semifinals against Germany, which defeated France 1-0 earlier today. Although it hasn't been with the typical Brazilian flair, the host country has advanced, as expected, but they'll face easily their hardest test. Colombia may be the only team left in the World Cup, which hasn't shown a glaring weakness. Brazil, in contrast, looked shaky in its elimination game against Chile. Can the host country survive another rock-solid opponent or will Brazil's dream of winning the title in front of its fans come to an abrupt halt in today's quarterfinals? 
Luiz Felipe Scolari opted to bench Dani Alves in lieu of Maicon, who hasn't played this World Cup. He'll also start Paulinho as a defensive midfielder to help replace the suspended Luiz Gustavo. Chemistry could be an issue in the back for Brazil, especially given that Colombia has such a bounty of threats. 
Brazil starters: Julio Cesar, Maicon, Thiago Silva, David Luiz, Marcelo, Fernandinho, Paulinho, Oscar, Neymar, Hulk, Fred.
Colombia starters: Ospina, Zuniga, Zapata, Yepes, Armero, Cuadrado, Sanchez, Guarin, Rodriguez, Gutierrez, Ibarbo. 
Brazil vs. Colombia | Kickoff: 7/4, 4 p.m. ET | Stadium: Castelao, Fortaleza
Match Preview: Arguably no team has been more convincing than Colombia, as it has sailed to the quarterfinals of the World Cup, buoyed by 11 goals against just two conceded. No draws, no penalties, just four wins. Host-nation Brazil has the uneasy task of quelling a nation's apprehension after a suspect showing against Chile in the first knockout round. Brazil advanced by virtue of penalty kicks (3-2), but a few late chances from Chile nearly ended the dream of a sixth World Cup title. 
Brazil manager Luiz Felipe Scolari has heard the critics, but said that that's just the nature of the tournament, via the AP. "It's normal to have people demanding that we play better, but it's also normal what we have been seeing in this World Cup so far. There is no difference between teams that have tradition and world titles and the rest of the teams. Matches are being decided on penalties, in the final minutes, on mistakes." 
Brazil's hopes rest with Neymar, whose four goals are tied for second in the World Cup ... to Colombia's emerging star James Rodriguez. Neymar has been the only dependable attacker for Brazil while both Hulk and Fred have been inconsistent at best in front of the net. Neymar should spearhead Brazil's attack, despite suffering an apparent knee injury in Brazil's last win. Oscar, along Neymar's right side, has shown an outstanding work rate and a knack for precise crosses as well.
Scolari will need to either tweak his backline or amend his formation as a result of defensive midfielder Luiz Gustavo's suspension. "LG" earned the suspension for picking up a second yellow vs. Chile, and it leaves a massive gap in the middle, right where the tournament's best player resides. 
The aforementioned Rodriguez leads the tournamant with five goals and two assists. Similar to how Lionel Messi absorbed attention and then assisted on Argentina's late-winner vs. Switzerland, Rodriguez has an armory of assets at his disposal. All eyes will be on the Monaco man, leaving Brazil vulnerable against threats from Juan Cuadrado and Teo Gutierrez. It must also be weary of forays forward from Pablo Armero out of the back as he tends to be involved in Colombia's attacking sequences as well.
In case Colombia needs any extra motivation, the family of slain defender Andres Escobar is expected to attend Friday's game, which comes almost exactly 20 years to the day that the star was murdered after accidentally scoring an own goal while facing the US at the 1994 World Cup. 
His former teammate, Carlos Valderrama, remembered him fondly on Twitter. It translates: Andres Escobar, you will always be in our hearts. We will never forget your kindness, your humility and your fight. I miss you, brother. I miss you. 
ANDRES ESCOBAR siempre en el corazon de todos nosotros. Jamas olvidaremos tu bondad, humildad y lucha, te extraño hermano te extraño

— Carlos Valderrama (@PibeValderramaP) July 2, 2014
More World Cup: Scoreboard | Schedule | Bracket | U.S. Team news

The city of Samara's stadium, set to be used for the 2018 World Cup, has seen its construction...

Norway beat World Cup debutants Thailand 4-0 before a historic rout by Germany over Ivory Coast...

He'll be suspended for Friday's game against Iowa.
The World Cup was 'amazing,' but Seattle Sounders teammates Clint Dempsey and DeAndre Yedlin...

A painting in Brazil depicts the Dutchman's amazing goal against Spain.

German midfielder Cristoph Kramer has become the face of the ongoing concussion crisis after...