World Cup Group C Preview: Can Colombia count on Falcao?
Group C Preview: The fate of World Cup Group C could hinge on the injured left knee of Colombia's star striker Radamel Falcao.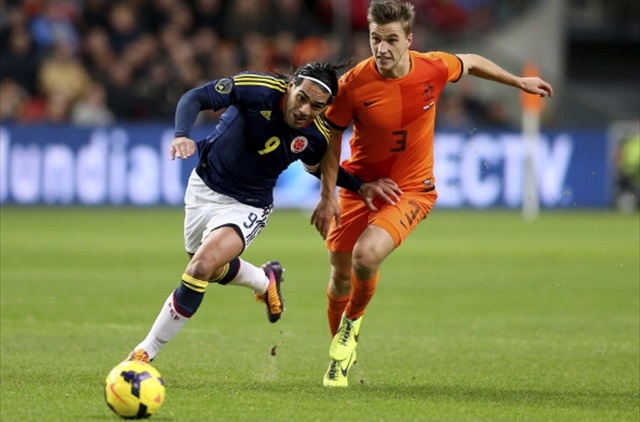 More World Cup: Group Previews | World Cup Roundup | Latest news & notes
In most World Cup groups, a single injury to a single player wouldn't be enough to throw the entire foursome into chaos.
But Group C -- on paper, the likely choice over E and H as the weakest in the tournament -- isn't like most groups, and Radamel Falcao isn't like most players. Colombia's talismanic striker powered Los Cafeteros to their first World Cup berth since 1998 with nine goals in 13 qualifying matches, and looked poised to become one of the Cup's biggest stars after a strong start to the season with Monaco. But the 28-year-old tore his ACL in a January Coupe de France match, putting him in a race against time just to see the field in Brazil, much less dominate the field in the fashion Colombian fans would have hoped.
Falcao and his surgeon are confident he can at least make the Colombian roster, and a fortunate draw that saw coach Jose Pekerman's team paired with relative lightweights Japan and Greece means they could survive the group stage even without him. But his absence (or a hamstrung performance) would likely make immensely talented Ivory Coast the group favorites, and might even throw the top seed's advancement into serious doubt.
The teams
Colombia: The good news for Pekerman is that even if Falcao isn't at full speed, his squad still boasted the stingiest defense in South American qualifying, with 38-year-old captain Mario Yepes anchoring the center and veteran Luis Perea (75 caps) and talented A.C. Milan defender Cristian Zapata supplying plenty of support. Monaco midfielder James Rodriguez and Porto striker Jackson Martinez -- the Portuguese league's leading scorer in 2013-2014 -- should also provide adequate attacking firepower in the event Falcao can't. But the team's lone performance since Falcao's injury -- a lackluster 1-1 draw with Tunisia in March -- wasn't necessarily encouraging.
UPDATE (June 2): Falcao left off final World Cup roster
Ivory Coast: For the better part of a decade, the Ivorians have been able to put together one of the world's most potent rosters, drawing on a dozen-plus of the finest players in Europe's finest leagues. Though many of those players have started to show their age -- starting with national legend Didier Drogba -- that's still very much the case, thanks to the likes of Manchester City's Yaya Toure and Lille's Salomon Kalou. But those rosters have never amounted to much in tournament competition, with the Elephants meekly bowing out at the group stage in 2006 and 2010 (albeit against brutal competition) and repeatedly failing to meet expectations at the Africa Cup of Nations. Given the friendly 2014 draw and that this Cup shapes up as Drogba's last, it may be now or never for the Ivorians.
Greece: The party guests no one wanted invited have crashed another major tournament anyway. Europe's most notoriously defensive-minded team, the Greeks actually showed a modicum of attacking flair in qualifying thanks to star striker Kostas Mitroglou ... only for Mitroglou to suffer a miserable, injury-plagued spring at relegated Fulham. If he can't return to form, expect another series of 0-0 or 1-0 slogs behind powerful Borussia Dortmund defender Sokratis Papastathapolous. Slogs, of course, are exactly how the Greeks like it -- and whether it's easy on the neutral's eyes or not, it's the "style" that's taken them to the Euro 2004 title and 2012 Euro quarterfinals. They shouldn't be underestimated.
Japan: Not many pundits will expect the Blue Samurai to advance out of their group, but not many expected them to do so in 2010, either, before Keisuke Honda's goals propelled them past Cameroon and Denmark and into the Round of 16. Now Honda is back, and thanks to the Bundesliga battle-tested Shinji Kagawa and Shinji Okazaki, he has more attacking help than ever. Japan doesn't have quite as much top-shelf talent in the defensive ranks, though, and can at times play more aggressively -- if attractively -- than might be good for it. If rising Southampton defender Maya Yoshida can get a clean bill of health after a recent knee injury and help keep things tight at the back, there won't be anyone in this group Japan can't defeat.
The key players
Yaya Toure: Arguably the best player in the Premier League and possibly the best midfielder in the world, Toure enjoyed the greatest season of his career in leading Manchester City to the 2013-2014 title. A two-way force as capable of threading the killer pass in the opponent's final third as delivering a crunching tackle on the edge of his own, Toure is capable of dragging the Ivorians out of the group near single-handedly.
Giorgos Karagounis: Speaking of influential two-way midfielders, the 37-year-old captain Karagounis is already Greece's all-time cap leader and remains a vital, dogged part of his team's defensive structure -- not to mention the player responsible for precision set-piece deliveries that may represent some of Greece's best scoring chances.
James Rodriguez: Still just 22, the 45 million-euro Colombian midfielder and hair, er, heir to the throne of the legendary Carlos Valderrama has already emerged as one of the most exciting playmakers in South American football. Falcao's injury means he may have to shoulder even more of an offensive load than expected in Brazil, but after a strong debut season for Monaco, there's little question he has the talent to handle that and more.
Shinji Kagawa: Keisuke Honda might be the engine that makes Japan run, but if you'll forgive the easy automotive metaphor, Kagawa's the player that could give their team an extra attacking gear. Though Kagawa's first two seasons with Manchester United haven't delivered on the immense promise of his time with Borussia Dortmund, even his brief apperances with the Red Devils have made clear his vision and incisiveness have remained intact.
How the group should play out
The guess here is that Falcao will, in fact, beat the medical odds and play in Brazil -- but that he won't have anywhere near the fitness or match sharpness to be the nigh-unstoppable force he was for Colombia during qualifying.
No matter: playing on their home continent and with Rodriguez pulling the strings, the Colombians should still have enough to top this particular group; great as Falcao was, teams don't finish second in the CONMEBOL qualifying gauntlet on the strength of one player alone. 
Ivory Coast is the easy second choice on paper, but they're also a team with a history of underachievement facing off against two tricky opponents with a history of overachievement; it won't be any huge surprise to see any of the four teams here advance. But Toure's incredible form and Drogba's towering physical presence -- especially matched up against the Japanese back line in the teams' critical opening game -- should just tilt things in the Ivorians' favor.
One thing's for certain: with the surivors of Group C set to meet the survivors of lethal Group D (i.e., two of Italy, England and Uruguay), no team in C save maaaaaaaybe Colombia will be expecting to stay beyond the Round of 16.
Our predictions  
Group C Predictions
Prediction

Jason
La Canfora

Jeff
Borzello

Tom
Fornelli

Evan
Hilbert

Jerry
Hinnen

Mike
Singer

1st

Colombia

Colombia

Colombia

Colombia

Colombia

Colombia

2nd

Ivory Coast

Ivory Coast

Ivory Coast

Greece

Ivory Coast

Ivory Coast

3rd

Greece

Japan

Japan

Ivory Coast

Greece

Greece

4th

Japan

Greece

Greece

Japan

Japan

Japan
We were mere centimeters from losing one of soccer's brightest stars

Former Minister of Sport and Deputy Prime Minister Vitaly Mutko is stepping down

The city of Samara's stadium, set to be used for the 2018 World Cup, has seen its construction...
Norway beat World Cup debutants Thailand 4-0 before a historic rout by Germany over Ivory Coast...

He'll be suspended for Friday's game against Iowa.

The World Cup was 'amazing,' but Seattle Sounders teammates Clint Dempsey and DeAndre Yedlin...