World Cup Group D Preview: Italy, Uruguay likely to advance
World Cup Group D Preview: Italy and Uruguay are the favorite, but can England break through?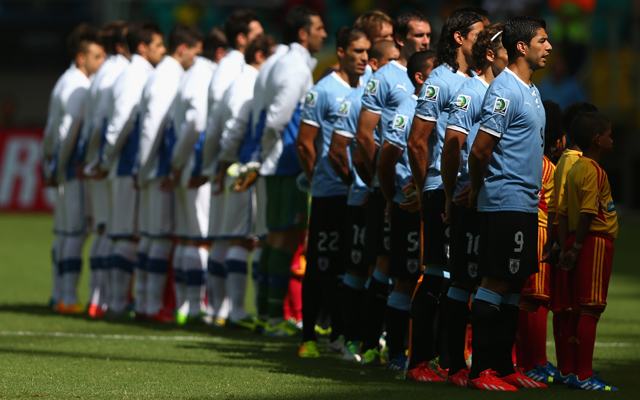 More World Cup: Group Previews | World Cup Roundup | Latest news & notes 
Group D will be a very interesting group, as it features the country that's won more World Cups than anybody but Brazil, the country that hosted the very first World Cup, and the country most Americans think of when they think of soccer. Oh, and Costa Rica will play the role of the scrappy underdog. Group D could prove to be the most interesting of all.
The teams
Italy: It's not really wise to count out a team that has won four World Cups, but when you think of the favorites in Brazil this summer, the Azzurri don't seem to be mentioned very often. That could change this summer, as they're the favorite to win this group, and are coming off a strong performance in Euro 2012, where they finished as runners-up to Spain in the final. Which was certainly a better performance than what we saw from the Italians in the 2010 World Cup, when the Azzurri finished fourth in a group consisting of Paraguay, Slovakia and New Zealand. 
Uruguay: The very first World Cup was played in Uruguay in 1930, with the Charrúas naturally winning the tournament. They'd win again in 1950 (notably, in Brazil), but it's been a long drought since. The team does head into 2014 with a lot of momentum, though, as it picked up a fourth place finish in South Africa last go-round, they are the reigning Copa America champions and it has one of the most dangerous strikers in the world right now in Luis Suarez alongside PSG's Edinson Cavani.
England: The Lions will be without some familiar faces this summer, but it's possible that could be for the better. England hasn't won a World Cup since 1966 after all, and it's only managed to finish in the top four once since then, finishing fourth in 1990. There may not be another country in the world that loves its soccer more than they do in England, but that passion just hasn't led to the results it desires.
Costa Rica: Make no mistake about it, Costa Rica is the underdog of this group. If any two of the three teams mentioned above moves on to the knockout stage, nobody will be surprised. If Costa Rica moves on, however, the entire world will be shocked. This is only Costa Rica's fourth appearance in the World Cup, with the first coming in 1990. That was also Costa Rica's best performance, as it reached the Round of 16, but hasn't been able to advance since. It didn't even qualify in 2010.
The key players
Luis Suarez: Suarez, who most soccer fans know from his clubs career at Liverpool, just finished the Premier League season with a league-best 31 goals. And that's the kind of production Uruguay would like to see him bring to Brazil, as Suarez's play in his first World Cup in South Africa was definitely a key to the team reaching the semi-finals. If Suarez maintains the form we've seen from him all year, Uruguay is a definite threat to any team it comes across. Of course, Suarez is always a threat whether he's scoring or not. It's just sometimes the threat is that he might bite you.
UPDATE: Suarez injures knee, undergoes arthroscopic surgery ahead of World Cup
Andrea Pirlo: He's not the greatest player in the world, nor is he the most renowned, but he may be one of the best to watch just to appreciate everything he does for his team. At 35 years old, this will likely be the hero of Italy's 2006 World Cup title's last appearance for his country at the World Cup. So watch him while you can, because the man who is called l'architetto (The Architect) by his teammates is a true joy to watch, be it a perfectly placed pass from 30 yards away, or a physics-defying free kick.
Steven Gerrard: Like Pirlo, this will probably be the last World Cup for one of the most beloved players in England, and the team's captain. This will be Gerrard's third World Cup, though his first as a captain, and he'll be looking for a lot more success than he found in his first two trips. Whether or not England finds that success, well, a lot of it will have to do with Gerrard. Not the flashiest player on the England squad, but along with Frank Lampard, he could be its most important.
Mario Balotelli: If you don't know who Mario Balotelli is, don't worry, you'll figure it out soon enough. No matter what he's doing, or where he's playing (or what he's driving), Mario generally always finds himself as the center of attention. Even he himself has to ask from time to time: why always me?
How the group should play out
While oddsmakers will tell you that Italy is the safest bet here, and I'm picking them to win the group, 2010 shows us that sometimes things don't work out the way they should when it comes to Italy. 
When all the dust is settled, though, it should be Italy and Uruguay moving on from this group. England just hasn't looked strong enough in recent competitions to be considered a favorite against those two teams. I'm not saying it's impossible for England to move on, because I don't think it'd truly surprise anybody, but it will have to be at the top of its game.
But we say go with Italy and Uruguay, and you should be happy.
Group D Predictions
Prediction

Jason
La Canfora

Jeff
Borzello

Tom
Fornelli

Evan
Hilbert

Jerry
Hinnen

Mike
Singer

1st

Uruguay

Italy

Italy

Uruguay

Uruguay

Uruguay

2nd

Italy

Uruguay

Uruguay

Italy

Italy

Italy

3rd

Costa Rica

England

England

England

England

England

4th

England

Costa Rica

Costa Rica

Costa Rica

Costa Rica

Costa Rica
We were mere centimeters from losing one of soccer's brightest stars

Former Minister of Sport and Deputy Prime Minister Vitaly Mutko is stepping down

The city of Samara's stadium, set to be used for the 2018 World Cup, has seen its construction...
Norway beat World Cup debutants Thailand 4-0 before a historic rout by Germany over Ivory Coast...

He'll be suspended for Friday's game against Iowa.

The World Cup was 'amazing,' but Seattle Sounders teammates Clint Dempsey and DeAndre Yedlin...