World Cup knockout stage Power Rankings: Ranking the sides, 16 to 1
After two weeks, which teams are the favorites? Jeff Borzello ranks the remaining teams, from 16 to 1.
• 8 min read
After 15 straight days of World Cup matches, we finally have a day off. A much-deserved day off. (For the players, not really for us. We were just watching TV and writing about it.) When play resumes on Saturday, there will only be 16 teams remaining – and by the time Tuesday night rolls around, only eight will be left in the knockout stage.
It's been a wild two weeks so far, with defending champion Spain getting knocked out after two matches; Italy failing to advance out of the group stage; and England not even winning a game. As a result, there were some surprises that took the place of those historical powers.
Heading into the second half of the competition, things have certainly changed since it opened back on June 12. With that in mind, it's time to reevaluate what we've been saying. Are the favorites still the favorites?
The following ranking isn't simply based on how they've played in the World Cup or how they've played for the past year or even how good they are on paper. There's no specific criterion. It's a subjective ranking revolving around the question: Which team would you take on a Brazilian field if they played tomorrow?
16. Greece: It seemed dire for Greece against Ivory Coast, but Georgios Samaras' penalty kick in stoppage time gave Greece a 2-1 win and a spot in the knockout stage. Greece scored two goals in three matches, although they didn't look as defensive-minded as they did in previous competitions. They actually looked fairly dangerous on the counterattack; but I think they're clearly the worst team remaining.
15. Algeria: The Algerians didn't look like much entering the World Cup, and blowing a late lead to Belgium in the opening match was concerning. However, they bounced back with a convincing 4-2 victory over South Korea to give themselves some breathing room heading into the final group match, in which they got what they needed: a draw against Russia. Algeria can attack in different ways and press up the pitch.
14. Nigeria: After multiple less-than-convincing pre-World Cup friendlies and a 0-0 draw against Iran in the opener, not much was expected of the Super Eagles. But churning out a 1-0 win over Bosnia-Herzegovina set them up nicely. Their best game was perhaps the 3-2 defeat to Argentina, in which they played a fairly wide-open game before losing. Ahmed Musa has looked excellent at striker, and Kenneth Omereu has been a breakout star at the back.
13. Uruguay: With Luis Suarez in the lineup, Uruguay would probably be a few spots higher. But after the star striker was suspended nine matches (and four months) for biting Italy defender Georgio Chiellini, the South American side looks much less dangerous. With Suarez injured for the opener, Costa Rica handled them easily in the second half, winning 3-1. I would expect more of the same going forward, with Suarez hurt. Edinson Cavani is a fantastic striker, but Uruguay has struggled in most other facets.
12. Switzerland: At first, I had the Swiss lower in the rankings – with my mind clearly impact by the 5-2 demolition Switzerland took at the hands of France. But looking back, the Swiss earned a 2-1 win over Ecuador in the opener's final minutes, and also throttled Honduras, 3-0. Xherdan Shaqiri put forth one of the tournament's best performances, scoring a hat-trick in the final group match, and Josip Drmic has formed a dynamite duo.
11. United States: This is where things got tricky. There are three CONCACAF sides remaining, and the United States looked the best in the run-up to the World Cup. Moreover, they survived arguably the most difficult group out of the three teams. But for the most part, the U.S. has been on its back foot. Ghana and Germany dominated for most of the 90 minutes, and the U.S. didn't look very threatening on the offensive end, outside of the Portugal match. Michael Bradley (and health) is the key. Belgium is very beatable.
10. Costa Rica: The Ticos were expected to be an afterthought, especially in a group that included Italy, England and Uruguay. However, they blitzed a Luis Suarez-less Uruguay team, 3-1, in the opener, and then handled Italy for a 1-0 win. Holding England to a scoreless draw clinched the group for Costa Rica. How much further can they go? Costa Rica has been excellent in the midfield, closing down and creating counterattacks. Joel Campbell has looked impressive.
9. Mexico: Despite El Tri's struggles leading up to the World Cup, they have been the best CONCACAF side so far. They had a well-deserved 1-0 win over Cameroon, followed by a wide-open, riveting 0-0 draw with Brazil in which they probably had as many chances as the home side. A 3-1 win over Croatia clinched a spot in the knockout stage. Guillermo Ochoa has been unbelievable in goal, and Giovani dos Santos has led a dynamic attacking group.
8. Belgium: This was one of the conundrums in the rankings. Belgium has one of the more talented sides remaining, with a list of world-class players across their starting XI. And they did earn three wins, while allowing one penalty kick as the lone goal given up. With that said, Belgium just hasn't looked very good – especially in the first 70 minutes of the match. All four of its goals have come late. Belgium needs more from Romelu Lukaku up front; he has struggled.
7. Chile: One of the darkhorses before the tournament, Chile hasn't disappointed. After a 3-1 opening win against Australia, Chile had one of the best performances of the World Cup, beating Spain 2-0 in the second group match. A 2-0 defeat to Netherlands prevented Chile from winning the group, but they advanced to face Brazil. Chile's ability to press in the midfield and create chances after turnovers has been terrific, and Arturo Vidal will be the key going forward.
6. Colombia: Entering the World Cup without star striker Radamel Falcao, Colombia was expected to win its group – but how good would the side really look? That question was answered quickly, with a 3-0 win over Greece followed by 2-1 and 4-1 wins over Ivory Coast and Japan, respectively. Colombia has been one of the more exciting teams in the competition, with loads of attacking playmakers up front, namely Juan Cuadrado and James Rodriguez. This is a very dangerous side.
5. Netherlands: This was another team that had some questions to answer entering the World Cup. There were stars like Robin van Persie, Arjen Robben and Wesley Sneijder – but the rest of the starting XI was basically a smattering of players from bottom-table or lower-league sides. Moreover, after the Euro 2012 flameout, how would the Dutch react? Well, a 5-1 domination of Spain sent an early message, and they followed it up with wins over Australia and Chile to win the group. Robben and van Persie have proved impossible to contain.
4. Argentina: One of the pre-tournament favorites, Argentina has relied heavily on Lionel Messi – something that should have been expected, but also something that is a change from previous competitions. Messi has never been the Barcelona version of Messi for his country, struggling to score in big tournaments. That's clearly not the case this month, as Messi has found the back of the net four times in three matches – including a match-winner against Iran. Throw in consistently stellar performances from Di Maria, and it's no surprise Argentina won all three matches.
3. France: This has been arguably the most impressive side in the World Cup thus far. The French have always had the talent to make a run, but disappointing efforts in the past couple of major competitions left some question marks –as did the injury to Franck Ribery and the exclusion of Samir Nasri. Two dominant wins over Honduras and Switzerland made a statement, though, and France is a major threat moving forward. Karim Benzema has been a star, and his performance alongside Olivier Giroud against Switzerland was fantastic.
2. Germany: Germany is still one of the frontrunners to win the World Cup, but they have had shown some weaknesses in the opening three matches. A dominant 4-0 win over Portugal was impressive, but they were vulnerable on the counterattack in a 2-2 draw against Ghana, and simply couldn't capitalize in the box in a 1-0 win over the United States. A lack of pace at the back has been an issue, especially with Benedikt Howedes at left back, and elite outside back Phillipp Lahm hasn't looked all that impressive in his holding midfielder role.
1. Brazil: They were my pick to win the World Cup heading into the competition, and despite some ups and downs in the group stage, the host country is still the favorite in my eyes. Brazil didn't look impressive in the opening 3-1 win over Croatia, and they were highly susceptible to counterattacks in that match and the 0-0 draw against Mexico. In fact, they needed a 4-1 win over Cameroon just to win the group. Neymar has notched four goals, Oscar has looked excellent, and the center backs have been fine. However, Brazil has been exploited in the midfield, and Dani Alves and Marcelo have been caught up the pitch too often. With that said, they are playing on their home soil and have the talent to hold the trophy in two weeks.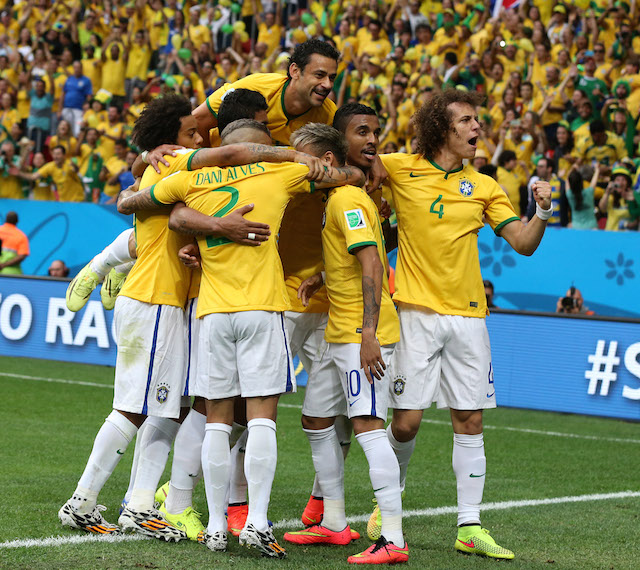 The city of Samara's stadium, set to be used for the 2018 World Cup, has seen its construction...

Norway beat World Cup debutants Thailand 4-0 before a historic rout by Germany over Ivory Coast...

He'll be suspended for Friday's game against Iowa.
The World Cup was 'amazing,' but Seattle Sounders teammates Clint Dempsey and DeAndre Yedlin...

A painting in Brazil depicts the Dutchman's amazing goal against Spain.

German midfielder Cristoph Kramer has become the face of the ongoing concussion crisis after...