Your guide to the US Men's National Team: Meet the team
Get to know the 23-man squad the US Men's National Team took to Brazil for the 2014 FIFA World Cup.
More World Cup: Group Previews | More US Soccer news | World Cup news & notes
Of Jurgen Klinsmann's 23-man U.S. roster, only six have ever even been to a World Cup, and of those six, only five have ever stepped foot on a World Cup pitch.
While young, it's also an eclectic squad, featuring five German-Americans, an Icelandic-American and a Norwegian-American. Klinsmann has said that his team's diverse backgrounds represent his idea of a "U.S." team, indicative of America's demographic quilt.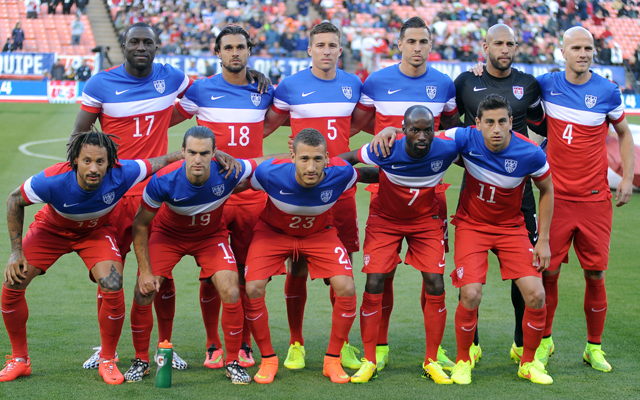 Klinsmann took his share of flak for omitting Landon Donovan, but with an eye towards the bigger picture, Klinsmann chose the 23 men he felt provided the best chance for the U.S. in Brazil. One theory is that even with Donovan in tow, Group G was so brutal that it might have been difficult to advance even with the U.S's most storied player. Or perhaps he just felt secure with a contract that runs through the next World Cup.
Either way, the roster is set, and it's now on Klinsmann to mold his unproven crew.  Let's meet his pieces. 
Tim Howard: At 35, he's one of six veterans from South Africa, and his performance, perhaps more so than any other single player, could determine the U.S.'s chances of advancing to the knockout stages. Howard recently earned his 100th international CAP, and his 54 wins are the most of any U.S. keeper in history. In 38 Premier League games this season for Everton, he recorded 15 clean sheets, and it's got to be reassuring that Klinsmann consistently refers to him as one of the top-5 goalies in the world.
DaMarcus Beasley: The wiry defender has stabilized the backline in qualifying. Barring unforeseen circumstances, Beasley will become the first American to play in four World Cups -- he also has 117 CAPs and 17 goals to his name. Beasley has been playing with Liga MX club Puebla in Mexico but he was recently put on their transfer list, meaning that he's essentially going to be auditioning for teams in Brazil. The rangy defender has been known to impact games by sneaking up the left blank and contributing on offense.
Matt Besler: Beslerwill be making his first World Cup appearance despite only debuting with the national team last year. The heady central defender plays his club soccer for Sporting Kansas City, where he was named the 2012 MLS Defender of the Year. He isn't particularly big for a central back (6-foot, 170-pounds), but he's shouldered a ton of responsibility in shoring up the U.S. defense since joining the squad last year. Chemistry and experience are the two question marks here.
Geoff Cameron: It's not clear where Cameron's best position is -- right back, central defender, defensive midfielder -- but it's patently obvious that he's one of the U.S.'s most reliable players. Klinsmann has chosen to deploy him at central back, a position in dire need of stability and size, attributes the Premier League's Stoke City mainstay can provide. Klinsmann undoubtedly appreciates that Cameron has faced elite competition with his club, and thus won't be intimidated by Group G's strikers.
Fabian Johnson: The man tasked with directly stopping Cristiano Ronaldo, Fabian Johnson should be the starting right back for the U.S. Like Cameron, he's shown immense versatility, both in tackling and on offense. You may remember his goal against Turkey? He's one of five German dual nationals and one of two expected to start. In reality, the number of Germans has little to do with Klinsmann's soccer lore, but it's actually a product of the U.S. military, which has thousands of troops stationed in central Europe. "Four [of the five] were born in Germany to American fathers in the military," according to Business Insider. The lone standout is Julian Green.
Jermaine Jones: Clearly one of Klinsmann's favorite players, Jones is the other of the aforementioned German nationals expected to start. As a defensive midfielder, Jones plays with reckless abandon for his body, which also sometimes leaves him vulnerable to cards. After switching his national allegiances from Germany to the U.S. in 2009, Jones has embraced his new team. As such, he inked a giant American-themed tattoo on his left kneecap to celebrate his patriotism. "I am proud to be half-half, proud to be half-American, half-German and to play proudly for the U.S. national team."
Michael Bradley: Frankly, the U.S. will go as far as Bradley carries them. He's vital on defense, but it's his vision as the team's point guard that propels the offense. Bradley used to hear charges that he was only on the national team because of his father, but that's long been dispelled. As integral as he is, Klinsmann was reportedly displeased when he transferred from Serie A Roma to the MLS's Toronto FC this past January for a hefty contract increase.
Kyle Beckerman: If you're blinded by Bradley's shiny dome, you can find reprieve in the 32-year-old workhorse's dread-locked head of hair. An MLS-lifer and current captain of Real Salt Lake, Beckerman isn't particularly athletic but he has good size, put in his years and gained respect around the U.S., eventually earning him a call-up to the national team. He's also made seven-straight MLS All-Star games.
Alejandro Bedoya: The gritty left midfielder was invited to the U.S. 30-man camp ahead of South Africa in 2010, but ultimately didn't make the cut. Bedoya hopped around Europe for the past few years before settling with French first division club Nantes, a move designed at improving his maturity and skill. The move, not without its share of obstacles, made Klinsmann take notice. "The fact that he went there in the first place, he stepped it up and became more mature," Klinsmann said.  
Clint Dempsey: The team captain is a seven-year veteran of the Premier League (Fulham and Tottenham Hotspur), and his 57 league goals are an American record. The U.S. desperately needs scoring against the firepower of Group G, but as evident in the team's send-off match vs. Nigeria, he might be best served as an attacking midfielder who can create on counter-attacks. Dempsey made the seismic transfer to the MLS last August, and established himself as the star on Seattle's team with eight goals in nine games thus far this season.
Jozy Altidore: With Dempsey in the midfield, the U.S.'s primary scoring threat will be Altidore, who at just 24, has 70 CAPs and 23 goals for the U.S (sixth all-time). Perhaps you'd heard the long-running narrative that Altidore was mired in a goal-less streak dating back to December, both for club (Sunderland) and country. Well after just two Premier League goals, Altidore found his form with two (necessary, even though he won't admit it) goals against Nigeria last week.
Aron Johannsson: The lone Icelandic-American has a penchant for scoring goals – 17 with Holland's AZ Alkmaar this past season – and he could be an extremely valuable offensive burst off the bench.
Chris Wondolowski: An MLS veteran, Wondolowski has netted nine goals for the U.S. national team in the past year and nearly scored two more in the team's send-off series vs. Azerbaijan.
Graham Zusi: Another Sporting Kansas City star, Zusi is a crafty winger whose placement off set pieces is often flawless. He could conceivably spell Beckerman or Bedoya off the bench, or even start over either one of them. 
Mix Diskerud: The Norwegian-American will wear the famed No. 10 jersey in his first World Cup. A deft, quirky midfielder, all it takes is one or two touches for Diskerud to impact a play. He's also the team's resident ping pong star.
Brad Davis: Perhaps it was Davis' inclusion that bumped Donovan off the roster, but the left-footed midfielder could more than enhance his profile with his lockdown defense and unparalleled corner kicks.
Julian Green: Now just 19, it would be a surprise if the Bayern Munich product saw the pitch at the World Cup. But Klinsmann believes in him, a credit that could pay off in the 2018 World Cup. 
Omar Gonzalez: Gonzalez, a defender for the LA Galaxy (he won MLS defender of the year in 2011), appears to be the odd-man-out in the central defense. The spot was once considered his to lose, but shaky passing and a knee injury gave way to Cameron in the back. An injury or a defensive shift could be his only means onto the field.
John Brooks: The 21-year-old German-American is another central defender who isn't likely to see the field in Brazil. With only four CAPs to his name, Brooks' selection was a bit surprising.
Timmy Chandler: Like Brooks, Chandler is another young defender making his mark in the Bundesliga. He saw action in the send-off series, but was caught out of place a few too many times for him to realistically supplant one of the more senior defenders.
DeAndre Yedlin: The Seattle Sounders' bulky, 20-year-old defender isn't likely to see time, but should they need an extra defender, his speed is probably his best asset.
Brad Guzan: The U.S. is fortunate to have Guzan, a top-flight keeper at Aston Villa, as their backup. One never knows with goalies and injuries, but Guzan's time may be in 2018.
Nick Rimando: Not many teams have the luxury of having a third-string keeper with more than 100 regular season (MLS) shutouts to his name.
The city of Samara's stadium, set to be used for the 2018 World Cup, has seen its construction...

Norway beat World Cup debutants Thailand 4-0 before a historic rout by Germany over Ivory Coast...

He'll be suspended for Friday's game against Iowa.
The World Cup was 'amazing,' but Seattle Sounders teammates Clint Dempsey and DeAndre Yedlin...

A painting in Brazil depicts the Dutchman's amazing goal against Spain.

German midfielder Cristoph Kramer has become the face of the ongoing concussion crisis after...