Your Guide to the USMNT: A brief history (and what it might mean)
New to rooting for the US Men's National Team, or want a quick refresher, or curious what the USMNT's past might mean for its 2014 future? Read this.
More World Cup: Group Previews | More US Soccer news | World Cup news & notes
You, sir or madam, are an American sports fan. But maybe you're a little late to the US soccer World Cup party, and hey, that's fine. You do have some vague memories of things going well in 1994, remember someone -- Landon Donovan? -- on the cover of Sports Illustrated in 2002, and of course you couldn't have escaped the replays of Donovan's goal against Algeria four years ago even if you'd wanted to. 
But 2014 is different: you saw the US dos a cero Mexico in qualifying yet again last fall, you've caught some Saturday morning Premier League here and there, you can even name at least four or five players other than Donovan on the US roster -- handy, now that Donovan's not around, and you've got an opinion on that, too. 
Great! The World Cup is awesome, rooting for the good ol' US of A is awesome, and the more sports fans like you agree, the more awesome it gets. But being a late arrival -- again, totally fine -- does mean having to catch up a bit where questions like "Wait, do we usually get into the knockout stages?" are concerned.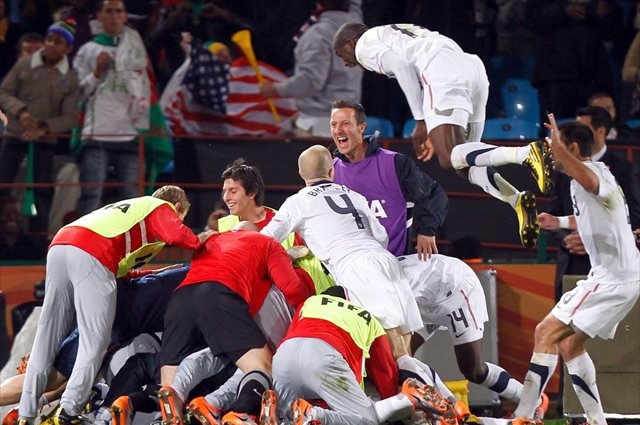 So consider this your cram session -- a brief introduction to the US Men's National Team's World Cup history, and what that history might mean for Jurgen Klinsmann's team in Brazil:
FIRST THINGS FIRST: THE SHOT HEARD ROUND THE WORLD.
Much like all of mankind's recorded history, US soccer history can be neatly divided into two clean sections. There's Before Paul Caligiuri's Goal to Beat Trinidad and Tobago in a Do-Or-Die World Cup Qualifier and Send the USA to Italia 1990 ... and, simply, there's After.
SI recently named "The Shot Heard Round the World" the No. 1 goal on its list of the 10 most important goals in American soccer history, because naming anything else No. 1 would have been laughable -- prior to Caligiuri's goal, the US hadn't qualified for a World Cup in 40 years. In the now 24 years since, it's never failed to qualify. It was that big, and then some:
THE PRE-"SHOT" ERA
The US's World Cup history didn't actually start with that 1-0 victory in November 1989 in Port-of-Spain. In fact, the US's history in the early years of the World Cup might even be described as "proud." At the inaugural World Cup in Uruguay in 1930, stars Billy Gonsalves and Bert Patenaude led the Americans to 3-0 victories against Belgium and Paraguay, easily topping their three-team group and advancing the U.S. to the semifinals. Of arguably equal significance, Patenaude scored all three of the Americans' goals against Paraguay -- meaning a US player owns the honor of having scored the first hat trick in World Cup history.
The US was eliminated in the first round of the knockout-only 1934 edition -- though not before defeating Mexico [HA-ha!] in a play-in game held only days before the tournament -- and missed out in 1938. The Americans' return in the first postwar tournament (1950) proved memorable indeed, however -- thanks to Joe Gaetjens' first-half goal and Frank Borghi's spectacular goaltending, the U.S. shocked pre-tournament favorite England 1-0. 
"Imagine the current England side losing to San Marino reserves," London's (still bitter!) Daily Mail wrote in 2010, naming the upset (as most do) the biggest in World Cup history.
ITALIA '90: WE'RE BACK! BRIEFLY!
Seven months after breaking Trinidadian hearts, Caligiuri would find the net again in Italy, becoming the US's first World Cup goal scorer in 40 years. Too bad that instead of the match-winner in a 1-0 victory, his strike was a consolation goal in a 5-1 drubbing at the hands of Czechoslovakia. The young, callow Americans -- with an average roster age of just 23, and precious little experience as full-time professional club players -- showed far more spirit in a subsequent 1-0 loss to the host Italians and a 2-1 defeat to Austria. But they nonetheless went home without a point and viewed, internationally, as entirely overmatched at the World Cup level.
USA '94: PARTY TIME!
So, yes, that international viewpoint was more than a bit awkward considering the U.S. was set to host the 1994 tournament. Amid rumors that FIFA would rig the kindest possible draw in order to prevent the US from becoming the first host nation to exit at the group stage, the Americans instead drew a decent Switzerland team, talented Romania, and popular tournament dark horse Colombia. No matter: coach Bora Milutinovic coaxed his team to a 1-1 draw against the Swiss thanks to a exquisite Eric Wynalda goal -- still arguably the best free kick ever taken by a US player -- and a stunning 2-1 victory over the Colombians, one now best remembered for the infamous own goal scored by murdered Colombian defender Andres Escobar.
Whatever the tragic fallout from the US's win, though, Tab Ramos's precision chip to Earnie Stewart for the game-winner remains a thing of beauty:
Despite a 1-0 loss to Romania, the four points were enough to send the US to the Round of 16, where it was eliminated 1-0 by eventual champion Brazil. Milutinovic's conservative approach meant no one outside of the US was exactly writing songs dedicated to the 1994 team -- Ramos said the US's tactics for the Brazil match were "to destroy, not to create," and the Americans duly finished without a shot on goal -- but it's still the same team that gave us Alexi Lalas, these jerseys, and the US's first second-round appearance since 1930. They're immortal.
FRANCE '98: UGH
Let's make this quick. On the field, the roster was caught between the brittle old guard of '94 and the oncoming new guard of 2002, somehow not quite energetic enough or experienced enough. Off the field, the combination of overmatched coach Steve Sampson and intra-squad friction proved toxic. And three losses later -- 2-0 to Germany, 2-1 to Iran, 1-0 to Yugoslavia -- the US's goal differential left them dead last, 32nd out of 32 teams. There's no arguing for anything else as the low point of US soccer's modern era.
KOREA/JAPAN '02: GLORIOUS
It took exactly four minutes for Bruce Arena's team to dispel the lingering black cloud from '98, four minutes for John O'Brien to smash home a rebound off a Brian McBride header against alleged title contenders Portugal and kickstart an unprecedented run to the World Cup quarterfinals. Not that it was easy -- the Portguese reduced the Americans' eye-popping 3-0 lead to 3-2 before succumbing, keeper Brad Friedel saved a penalty in a hard-fought 1-1 draw with hosts South Korea, and a 3-1 loss to eliminated Poland meant only the Koreans' late win over Portugal kept the US in the competition.
But kept in they were, and matched up in the Round of 16 with -- bless you, soccer gods -- Mexico. The win over Algeria in South Africa (more on that in a sec) was the most dramatic, most exciting victory in US soccer history. But the sweetest? The most satisfying? Dos a cero forever, baby:
The party ended in a 1-0 loss to Germany, but even there, the Americans outplayed the eventual runners-up for large stretches and had a serious penalty claim turned away when Germany's Torsten Frings handled the ball on his own goalline. The US was on its way to becoming a true world soccer power at last, right?
GERMANY '06: RECORD SCRATCH
Not so much: Arena's second go-round resulted in a disheartening 3-0 defeat against the Czech Republic, a red-card marred 1-1 draw with Italy, and a 2-1 loss to Ghana that sent them home. The 2006 team's reputation should be a little better than it is -- it had the misfortune of being drawn against three high-quality opponents, getting the short straw on several referreeing decisions (including a pivotal penalty kick whistled against defender Oguchi Onyewu vs. Ghana for the crime of being tall), and having the stirring 9-men-vs.-10 draw against the eventual champion Italians immediately overshadowed by the Ghana setback.
The bottom line remains, however, that it was one tournament too far -- maybe just one season too far -- for stalwarts like Claudio Reyna, Eddie Pope, Eddie Lewis, Pablo Mastroeni, etc. One step forward, one step back.
SOUTH AFRICA '10: THE MOMENT
For most teams, a 1-1 draw with the group's top seed (England) and an insane 2-2 draw with upstart Slovenia -- one featuring a 2-0 deficit, two blistering second-half goals, and then a still-bewildering refereeing decision to disallow a late game-winner -- would have been enough drama for more than one World Cup.
Tim Howard, Jozy Altidore, Clint Dempsey and of course Landon Bleeping Donovan had other ideas. It never, ever gets old: 
The only problem, and we do mean the only problem: the high from that meant the low of losing to Ghana 2-1 (again) in the Round of 16 felt far lower than it otherwise would have. (The US did win its group, after all -- the first time that had happened since, you guessed it, 1930.) Progress is progress, and heart-stoppingly euphoric progress is even better than that. But will American fans wonder pretty much forever what happens against the Ghanaians if coach Bob Bradley doesn't start out-of-form midfielder Ricardo Clark and out-of-his-depth strike Robbie Findley, wasting two substitutions to remove them before the start of the second half ... in a game that would last 120 minutes ... and in which the US would noticeably run out of gas in added time.
The 2010 World Cup was, unequivocally, great. But there will always be the nagging sense it could have been greater.
SO WHAT DOES ALL OF THAT MEAN FOR 2014?
If you're looking to tease out what the above history might indicate for Jurgen Klinsmann's team in Brazil, there are -- as you would expect -- both positives and negatives. First, the negatives:
1998. Klinsmann's dismissal of Donovan on the eve of this year's tournament has drawn many, many comparisons to Sampson's controversial removal of former "captain for life" John Harkes in the build-up to France '98. But the parallels don't stop there, if you're so inclined: again the US is coming off a Round of 16 berth with a roster that appears between generations (though where Sampson's skewed older, Klinsmann's has skewed younger), and there's more than a little echo of Sampson's infamous 3-6-1 formation in Klinsmann's late switch to a midfield diamond. Klinsmann is the better tactical manager by a factor of gazillion, but both experiments have the exact same goal: to turn a previously defensive- and possession-minded midfielder (Reyna for Sampson, Michael Bradley for Klinsmann) into the team's central offensive playmaker.
The alternating World Cups thing. Failure in 1990, 1998, 2006, success in 1994, 2002, 2010. Step forward, step backward. 
Ghana, and European powers. Drawing a "Group of Death" like the 2014 version shouldn't intimidate the U.S. given its excellent record of results against group favorites -- the wins over Colombia and Portugal, the draws vs. Italy and England. But the track record vs. Ghana is obviously not good -- many of the same players from those previous Ghana teams will be back, too. And "dark horse" favorites like Colombia, Portugal and England are a different matter from a legitimate powerhouse like Germany, or even your basic above-average European team like Portugal -- and the US has struggled badly, by and large, against teams in both categories.
But there's also no shortage of positives, starting with ...
Geography. Notice anything in common about '90, '98 and '06, and anything different about '94, '02, and '10? The first three tournaments were all held in Europe; the latter three were all held somewhere else. And rest assured that a hothouse venue like Amazonian outpost Manaus -- where the U.S. will play Portugal -- is very, very much "somewhere else."
Coaching. It's hard to say what, if anything, Arena could have done to prevent the 2006 elimination, and the US faced such a colossal talent deficit in 1990 it didn't much matter what Gansler did. But the 1998 fiasco and (we would argue) even the 2010 Ghana defeat owed much to coaching missteps; whatever you think of Klinsmann's decision to drop Donovan, he seems exceedingly unlikely to make an error like Sampson's panicked, defensive midfielder-less lineup vs. Iran or starting a Robbie Findley.
(Sorry, Robbie.)
Again: upsets are kind of our thing. It's worth repeating that whether it's 1950 or 2010, the US has ('98 aside) consistently found a way to get results against the consensus best team in its group. Even in 1990, its best performance -- by a mile -- was against their Italian hosts, who were favored by many to lift the trophy. It might not always amount to an escape from the group, but there's no reason to believe the US can't get a result in any given individual match; their overall track record, in fact, strongly suggests they can.
THE BOTTOM LINE
Hope will spring eternal -- especially considering that a team as fit as Klinsmann's squad should be more comfortable in Brazilian conditions than any of its three opponents. But in the end, the rugged group draw, roster composition, and "we made it out of group last time" factors all point towards a repeat of 1998 or 2006 as a shade more likely than one of 2002 or 2010.
We were mere centimeters from losing one of soccer's brightest stars

Former Minister of Sport and Deputy Prime Minister Vitaly Mutko is stepping down

The city of Samara's stadium, set to be used for the 2018 World Cup, has seen its construction...
Norway beat World Cup debutants Thailand 4-0 before a historic rout by Germany over Ivory Coast...

He'll be suspended for Friday's game against Iowa.

The World Cup was 'amazing,' but Seattle Sounders teammates Clint Dempsey and DeAndre Yedlin...