Andy Murray wins first Major title in U.S. Open ending for the ages
Great Britain's long, agonizing wait is over. It finally has a champion tennis player once again. And boy, did Andy Murray ever play like a champion.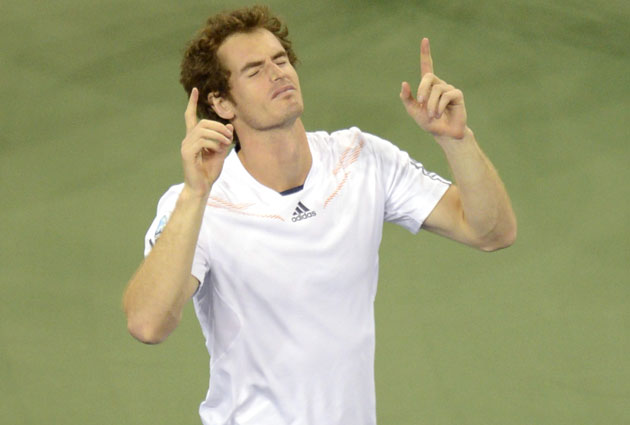 Murray points to the heavens after winning his first Grand Slam title. (Getty Images)
Start the parties in the pubs, let the suds spill in Scotland, Great Britain's long, agonizing wait is over. It finally has a champion tennis player once again. And boy, did Andy Murray ever play like a champion.
Fred Perry may now rest in peace. The name has been mentioned as often as any great in the sport's past over the years. Why? Just in case you were sleeping, he was the last Brit to win a Grand Slam title all the way back at the U.S. Open in 1936. The emphasis is now on the word "was."
More on U.S. Open
Related links
More coverage
As a result of Monday's 7-6 (10), 7-5, 2-6, 3-6, 6-2 thrilling win over Novak Djokovic in the U.S. Open final, the title of greatest player without a Major needs a new host because Murray no longer fits the bill.
However he might have his name next to greatest final ever at the U.S. Open.
Much as we expected, or at least hoped, Murray and Djokovic turned in a match for the ages. The rallies were long, including a 54-shot rally, and physical. Dealing with windy conditions, they would start conservatively then evolve into a defensive showcase. A few shots that would be winners against any other player in the world were returned and next thing you knew they were back to neutral. It was like that, all match long.
This is why so many believe we are witnessing tennis' golden age. We seem to get a match like this at least once a year. It makes all of those early-round routs from the top players worth it, seeing matches like this. This time Murray got to take part in one of them in a final.
Murray was curling shots as tight as his hair. It was an exhibition early of how to play in the wind. Naturally it was being authored by a Scotsman. He ran out of the gate with the first two sets, including a monster opening set that lasted almost an hour and a half by itself. The 12-10 tie-break that Murray won was nothing but drama, set point after set point being saved. Eventually Murray closed the door in the longest tie-breakin in a final in Open history.
After that second set, Djokovic came storming back. He began breaking Murray with relative ease and his serve was dominant. The match seemed destined for a fifth set and the worst heartbreak yet for Murray. That was until the fifth set came and Murray had a new wind, going up a double break right away. Not long after he was dropping his racquet and celebrating stoically, almost in shock.
At just under five hours and tied for the longest match in U.S. Open final history, it seemed too short. It was the type of match that you never want to see end. It was the first time since 1988 both the men's and women's finals went the distance.
What a way it was to win a first Major. Taking out the defending champion in a grueling five-setter with the match of your life? Obviously it's one he will never forget. He had been working so hard to get to this point, to achieve the glory that so many saw for him. It took him a fifth try in a Grand Slam final, but it has finally come.
"I want to congratulate Andy for his first Grand Slam," a gracious Djokovic said after the match. "He absolutely deserves it."
Indeed he does. There was never a doubt that he was good enough, it was just a matter of being better his great contemporaries.
Coming into this tournament, most believed this was the best chance yet for Murray to get that long-awaited first Slam title. One of the other members of the Big Four was out of the picture thanks to Rafael Nadal's withdrawal before the tournament due to injury. On top of that, Murray had the minibreak of his career with a gold medal in London this summer. While a major it wasn't, it sure had the feel of one considering it took place on the hallowed grounds at Wimbledon and came over the great Roger Federer in the final.
Further, Murray has mentioned before how much he likes playing in New York. The U.S. Open was where he made his first Major finals appearance back in 2008. The crowd, as raucous as it is, is fun to play in front of. Plus, it's not in London, a place he calls home and where he has had to deal with the pressure of ending this drought.
All the pieces were there. Sometimes, the puzzle actually comes together.
Now he won't feel any pressure, nothing but the adoration of the UK.
If matches hit a 12-12 tie in the final set, the new format comes into play

Ellen DeGeneres connected the two

Patrick Mouratoglou says one positive from the controversial US Open final is that tennis is...
In her Instagram caption, Williams stressed the importance of self-checking

Federer took the clay court season off in 2018 after winning the Australian Open

The tennis icon thinks she and her royal friend are among the world's most scrutinized wom...