Photo: LMFAO's Redfoo watches U.S. Open semifinal from Victoria Azarenka's box
Victoria Azarenka had a famous musician sitting in her box for Friday's semifinal against Maria Sharapova, LMFAO's Redfoo.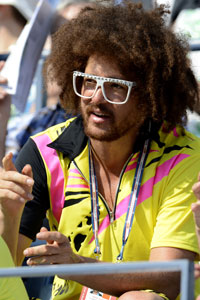 Redfoo watches from Victoria Azarenka's box on Friday. (US Presswire)
Watching Friday's U.S. Open women's semifinal between Victoria Azarenka and Maria Sharapova, it was probably tough to not notice the bright fluorescent shirt, red afro and glasses of Stefan Gordy, aka Redfoo of the musical group LMFAO, sitting in Azarenka's box with the rest of her team.
He pulled off a rare feat, actually wearing a shirt brighter than the one that Azarenka wore, only because it had multiple hot colors in it. It practically burns a hole in your television.
Redfoo was actively rooting for Azarenka, too. Because he was so easy to spot on TV, you could clearly see him getting excited for her points, as you'd expect with somebody sitting in her box.
In addition to helping make chart-toppers like "Party Rock Anthem," he is also an avid tennis fan. The son of Motown legend Berry Gordy, Redfoo has been around the U.S. Open the entire fortnight. He took part in pre-tournament festivities as a performer as well as a player.
Azarenka, meanwhile, is a big music fan. She is always listening to music through her headphones before matches and has been known to dance a time or two to the music in the stadium after a win. So there is some overlapping interests there, helping to explain the connection.
Still, it is just a tad startling to see Redfoo sitting courtside. It's not every day somebody looking as unkempt (not that he is, just that he looks that way) as he does by the court.
Let's hope for the sake of music that Redfoo isn't there to sample Azarenka's shriek for LMFAO's next song.
Are Bouchard and the college student from Missouri who tweeted at her an item?

The tennis star is named in an investigation centering around a luxury development that fo...

Williams' new baby, Alexis Olympia, will have to wait for her big break in showbiz
Novotna won 16 doubles championships in addition to her Wimbledon win

The World No. 1 was awarded the damages by a French court ruling in his favor

The tennis star's latest win brings his career prize earnings total to $110,235,682