Play suspended for day at U.S. Open, men's final pushed to Monday
With David Ferrer and Novak Djokovic in the first set, play was called off at the U.S. Open and the men's final will be pushed to Monday.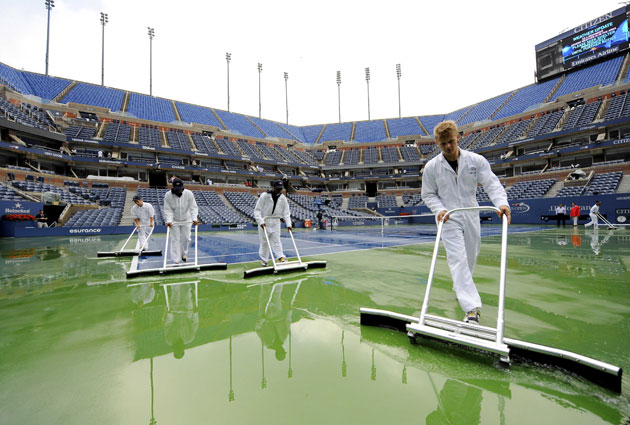 The weather has played too prominent a role at the U.S. Open. (Getty Images)
The U.S. Open will finish on a Monday for the fifth consecutive year.
With Novak Djokovic and David Ferrer playing the second men's semifinal of the day, play was called off at Flushing Meadows with Ferrer preparing to serve for the first set, leading 5-2. Severe weather that was hitting cities up and down the East Coast was closing in on New York and the decision was made to suspend the match until Sunday so that fans could get to their cars and somewhere safe.
As a result of all the delays, here is the new schedule:
The match between Ferrer and Djokovic will be resumed at 11 a.m. ET Sunday.
The men's final will now be played at 4:30 p.m. ET Monday, yet another Monday finish at the Open.
The women's final was already postponed to Sunday with the forecast looking so bleak for Saturday night. It will be contested at 4:30 p.m. ET.
If you're looking for a ray of sunshine in this dreary situation, there should be plenty of it for Sunday. The forecast looks good for the next two days, meaning this is likely the last of the delays.
The first semifinal on the men's side was actually completed earlier in the day with Andy Murray winning against Tomas Berdych in four sets. But they had to deal with their own issues as wind wreaked havoc all match long.
However, it could turn out to be a real benefit for Murray, who will have an extra day of rest waiting to see who he will draw in the final. The winner of Ferrer/Djokovic will be forced to play three consecutive days, even if they didn't play much on Saturday. All the while, Murray will be relaxing and waiting.
As far as the Ferrer/Djokovic match goes, the happiest man has to be Djokovic. He was really struggling with the conditions in their match, obviously reflected in the score with him down two breaks. He very clearly wasn't playing like himself and it was largely because of the conditions. Sometimes Djokovic has a tough time getting over frustrating aspects and they fester. It sure seemed like he didn't want to even be out there in the first place.
The reigning champ hasn't lost a set all tournament, but that's likely going to end when play resumes. However, he'll have the opportunity to come out in better weather and try to climb back in the match.
While we wait, I think I'll start passing the collection plate for a roof over Ashe. Anybody in?
44 years ago at the Astrodome the tennis icon scored a win for an entire gender

Murray says he didn't set out to become a champion for women's equality, it just happened that...

Williams and Alexis Ohanian welcomed Alexis on Sep. 1 and revealed her full name
Nadal is closing in on Roger Federer's 19 titles, and isn't slowing down any time soon

Here's everything you need to know to watch Rafael Nadal vs. Kevin Anderson

It's Stephens' first Grand Slam in her career, and it comes after returning from a career changing...