Shea Weber signs 14-year offer sheet from Flyers
Nashville Predators defenseman Shea Weber, a restricted free agent, has signed an offer sheet with the Philadelphia Flyers for a reported 14 years and around $100 million.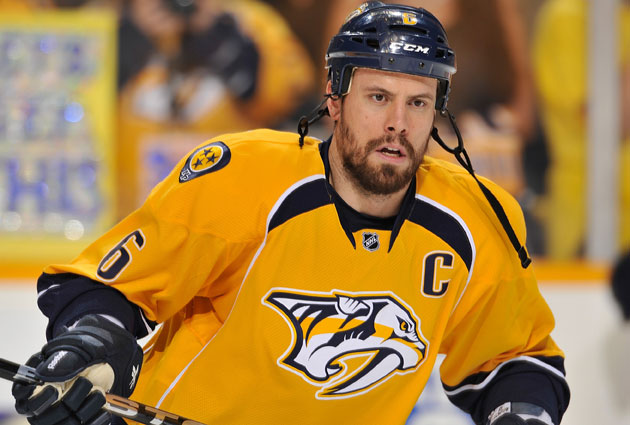 Shea Weber has been a Norris finalist each of the past two seasons. (Getty Images)
While you were sleeping on Wednesday night, an earth-shattering report came down from Darren Dreger of TSN. Nashville Predators defenseman Shea Weber, a restricted free agent, has signed a 14-year offer sheet with the Philadelphia Flyers for more than $100 million.
It's so staggering, here is Dreger's tweet and a few more for emphasis.
Breaking: Shea Weber agrees to offer sheet with Philadelphia. 14 years, upwards of $100 mil. Preds have 7 days to match. Wow!!

— Darren Dreger (@DarrenDreger) July 19, 2012
Nashville was working on a trade and its believed several deadlines passed before Flyers grew tired of waiting. Weber signed offer sheet.

— Darren Dreger (@DarrenDreger) July 19, 2012
I'm told a number of teams were in on a possible Shea Weber trade. If Preds don't match, they receive 4- 1st round picks as compensation.

— Darren Dreger (@DarrenDreger) July 19, 2012
The report was confirmed early Thursday by the Flyers themselves.
That's just, in the words of Dreger ... wow. Simply stunning.
Weber signs Flyers' offer sheet
More NHL coverage
If you are David Poile, general manager of the Predators, you absolutely have to match this offer, don't you? Sure, the compensation of four first-round picks sounds nice but keep in mind that they would be coming from Philly and if the Flyers added Shea Weber, there's no reason to think those four first-round picks might not average 28th in the draft.
Obviously any team would love to have Weber, the Predators included. After seeing Ryan Suter walk this summer the Predators absolutely can't afford to see Weber go a few weeks later. It would be crippling for a franchise that has slowly built its way into a solid contender in the Western Conference.
Moreover, the Preds are well below the current salary floor. If they were to let Weber go to Philadelphia it would be interesting to watch them try and reach the floor after that.
About the only way possible I can see the Predators not matching this and keeping Weber for the next 14 seasons is if he makes it very clear he doesn't want to return. Even then Poile might still match it, that's how important a player like Weber is, especially to a team like the Preds.
At that point Weber would have to remain with the Predators for a year and then Poile could try to trade him at that point to get some return.
There's just no way the Preds don't match this, especially when the cap hit -- if the numbers are correct -- would be around $7 million. That's a very reasonable number given his quality and the contracts we've been seeing around the league. The only other reason I can possibly think of why the Predators wouldn't match this is because it is so front-loaded that they couldn't afford it but even if that were the case I think the Preds would do what they have to do.
On the other hand, it's awesome to see a general manager out there actually remembered they can hand out offer sheets to restricted free agents. It's so rare in hockey to see it happen even though I can't understand why, the "unwritten rule" talk is ridiculous when it exists in the CBA.
Naturally it was Paul Holmgren to pull the trigger on one too. Among many things that would probably describe Holmgren one of them is chutzpah. He has some serious guts with the moves he makes as the Flyers GM.
And just imagine Weber fitting in Philly. Oh would that be a site for sore eyes. They have a gaping hole on the blue line and what better way to fill that void than with one of if not the best defenseman in all of hockey? Four late-first-round picks doesn't seem like a bad price at all. OK that's an understatement. It's no deterrent at all if you're Holmgren.
So, this should be an interesting seven days now shouldn't it? If nothing else, Paul Holmgren just did a pretty good job of playing mediator with Weber and the Predators to get a new deal signed.
For more hockey news, rumors and analysis, follow @EyeOnHockey and @BrianStubitsNHL on Twitter and like us on Facebook.
Federer won in straight sets to take the title over the world's No. 1 player

The controversial tennis player joined in the protests throughout the sporting world on Su...

44 years ago at the Astrodome the tennis icon scored a win for an entire gender
Murray says he didn't set out to become a champion for women's equality, it just happened that...

Williams and Alexis Ohanian welcomed Alexis on Sep. 1 and revealed her full name

Nadal is closing in on Roger Federer's 19 titles, and isn't slowing down any time soon