U.S. Open Day 10 matches to watch: Full schedule with more rain expected
If the rain ever stops in New York, the Wednesday schedule could offer great play with strong matches including Serena Williams vs. Ana Ivanovic.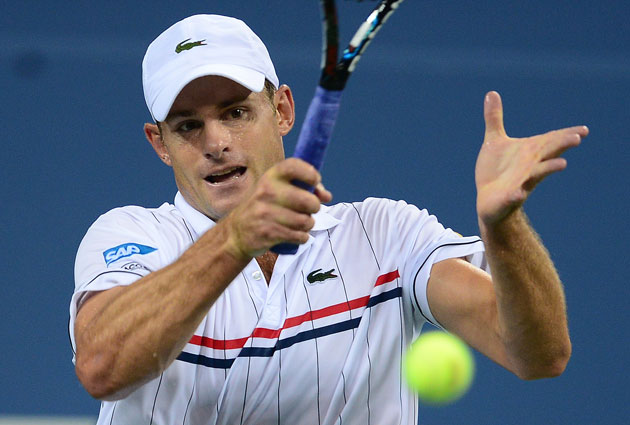 Whenver play resumes, Andy Roddick has a modest 1-0 lead in the first-set tie-break with Martin Del Potro. (Getty Images)
Day 9 hardly played out at the U.S. Open with rain creating a logjam on the schedule. Only two matches were completed on Tuesday, leaving a few more to finish on Wednesday all while the regular schedule continues on.
And it looks like it's going to be another washout in New York to boot.
So, assuming they actually can play tennis on Wednesday, here is what the schedule shapes up to look like with the usual reminder that start times are not precise, particularly with rain expected.
11 a.m.: The day is supposed to begin with the resumption of the Maria Sharapova and Marion Bartoli match on Ashe. The women didn't play for long on Tuesday when they were pulled off the court, but there was enough time for Bartoli to jump all over Sharapova and put the No. 3 seed in a big hole. Through the first four games, Bartoli broke Sharapova's serve twice for the 4-0 lead.
The loooooong rain delay could be exactly what Sharapova needed, though. It has given her plenty of time to try to go back to the drawing board on how to attack Bartoli, just to reset the mainframe. For Bartoli though, it has to be business as usual. Since the second set of her fourth-round match she has been absolutely on top of her game and has looked unstoppable. She has won 16 of the past 17 games which she has played.
At the same time over on Armstrong another women's quarterfinal is supposed to begin with Italian doubles partners Sara Errani and Roberta Vinci battling it out. The two women are the No. 2 seed on the doubles side and just advanced to the semifinals on Tuesday in one of the matches that was completed. Pretty clearly it will make for an interesting dynamic in the match.
12:30 p.m.: This is when Andy Roddick and Juan Martin Del Potro are scheduled to pick their match back up. They began on Tuesday night and Roddick looked to be on his way to winning the opening set up a break. Del Potro was able to break back when Roddick was serving for the set and the two headed into a tie-breaker. Roddick picked up the first point on his serve in the breaker when the match was halted.
The delay probably benefits Del Potro, who just didn't quite seem into the match in the early going. He looked a bit lethargic and behind the 8-ball that was Roddick. It will create a very intense situation having to resume the match in the middle of a pressure situation like a tie-breaker. Winning the first set is important, particularly for Roddick who doesn't have a great shot the longer the match goes.
Sadly because of the weather and early start time, the crowd likely will be sparse for what very well could be Roddick's last match. On Tuesday night, the match was starting to get the feel of a Davis Cup event, an added bonus for Roddick.
While those two get started again on Ashe, the Grandstand action will pick up with another men's Round of 16 match that was delayed. Janko Tipsarevic and Philipp Kohlschreiber were able to get seven games in before the rain and it was enough for Tipsarevic to take a commanding lead, nearly closing out the first set. When they resume, Tipsarevic will hold a 5-2 lead in the set.
You have to feel a bit for Kohlschreiber who has been dealing with some unusual circumstances. His Round of 16 match was delayed because of rain and eventually went five sets against John Isner. The result was not finishing until almost 2:30 a.m. Monday. In the first set against Tipsarevic, he didn't seem to be at full-throttle, perhaps fatigued from the long night. Having to flip the body clock to get up and resume relatively early might not help.
1 p.m.: Armstrong will pick up a resumption of its own. No. 2 seed and defending champ Novak Djokovic had his match with Stanislas Wawrinka bumped to Armstrong on Tuesday and they were only able to get in two games before the rain came. Naturally, as he has been wont to do all tournament, Djokovic broke Wawrinka's first service game for a 2-0 lead. A spot in the quarterfinals is on the line and Djokovic is a heavy favorite to get it done ... should they be able to play.
3 p.m.: It's back to Ashe where the first of the men's quarterfinals is supposed to begin. The top half of the draw has it pretty good thus far not having to deal with the delays, so Andy Murray and Marin Cilic will begin their match from scratch on Ashe.
After a somewhat shaky first match of the Open, Murray has been gaining steam and getting better seemingly every match. He faced his toughest competition thus far in No. 15 Milos Raonic in the Round of 16 and Murray made it look easy, taking out the Canadian in straight sets.
Murray does lead the series 7-1 with wins in the last four events, but the one and only time they met at the U.S. Open, Cilic picked up the win, back in 2009. Sadly for Cilic, this isn't the same Murray as three years ago.
7 p.m.: Onto the night scene at Ashe where it's all new matches. They should be pretty good, too.
It starts with the women's first as the quarterfinals conclude. It will feature the favorite Serena Williams taking on No. 12 and one of the surprises of the women's tournament so far, Ana Ivanovic.
This is a match I have been looking forward too. It will feature power on power, with Ivanovic's forehand and serve looking as good as they have looked in a long time. The battle to watch will be to see if Ivanovic is able to provide enough power back to Serena to disrupt her. If Ivanovic is able to dictate the pace of play at about a 50/50 rate, then she might have a shot. Obviously it's a tall task going up against Serena, especially with the summer she has had.
9 p.m.: For the first time since Saturday, Roger Federer is scheduled to take the court and play a match. In his quarterfinal he draws the No. 6 seed, Tomas Berdych.
Federer, who has breezed through the tournament this far incident-free and has the extra long rest thanks to Mardy Fish's withdrawal, should be awfully fresh. And no, that shouldn't not raise the question of rest vs. rust. It hasn't been that long. It will be interesting to see if he can turn that rest into a big advantage.
Facing Berdych isn't the easiest task Federer will have. The two have met 16 times and Berdych has won four of those matches. Against Fed, that's a pretty darn good number. In fact the last time they met on outdoor hard courts a year ago in Cincinnati, Berdych picked up the win -- he also has the rare resume filler of beating Federer at Wimbledon. The Czech has his problems with consistency but if he's on top of his game, which he has been for the most part in this tourney, he can actually push Federer, something we haven't seen yet in this tournament.
Federer won in straight sets to take the title over the world's No. 1 player

The controversial tennis player joined in the protests throughout the sporting world on Su...

44 years ago at the Astrodome the tennis icon scored a win for an entire gender
Murray says he didn't set out to become a champion for women's equality, it just happened that...

Williams and Alexis Ohanian welcomed Alexis on Sep. 1 and revealed her full name

Nadal is closing in on Roger Federer's 19 titles, and isn't slowing down any time soon