U.S. Open Day 12 matches to watch: We're down to women's semifinals
Day 11 had only two matches, and both were amazing. Hopefully, Day 12 with just the two women's semis, can equal the excitement.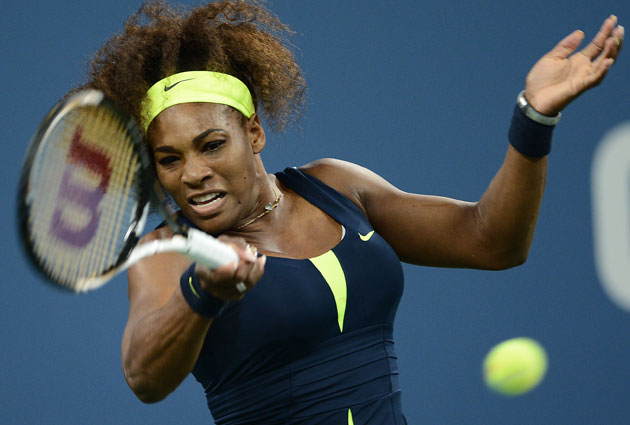 Serena looks for her sixth U.S. Open final berth. (Getty Images)
Day 11 of the U.S. Open might only have had two singles matches, but wow were they good. David Ferrer-Janko Tipsarevic and Novak Djokovic-Juan Martin Del Potro made up for the lack of matches to watch by playing some of the best tennis we've seen in this year's Open. Ferrer needed a fifth-set tie-break to get by Tipsarevic and Djokovic had one of the best three-set, straight-sets wins you'll see. Amazing rally after amazing rally was the theme of the day.
Hopefully, with just two matches scheduled on the singles side again on Friday, we'll get similar results.
Here's a look ahead to Day 12 of the U.S. Open as we get down to the nitty-gritty. Start times are not exact but it doesn't matter, you can tune into CBS to watch it all starting at noon ET or watch the action online right here.
12 noon: First things first, we have a men's doubles championship to decide. Mike Bryan and Bob Bryan play in a Grand Slam for the 21st time in their illustrious careers as teammates. If they win, it will be their fourth U.S. Open championship, 12th doubles Slam title overall.
This is a rematch of the year's other Slam final on hard courts, which the Bryans lost to the No. 5 seed at the U.S. Open, Radek Stepanek and Leander Paes. So the final on Friday will have (or maybe not, but it's at least a storyline) an added angle of some retribution in play for the Bryans. But Stepanek and Paes will be aiming to be the kings of hard courts and ruin the party in the USA that would ensue should the Bryans win on their home soil.
2 p.m.: The doubles game is no doubt great, particularly a final, but now it gets fun. The women's semifinals are upon us and it starts with a match we've been looking forward to since the draw was made. World No. 1 Victoria Azarenka faces No. 3 Maria Sharapova in a match of two of the three favorites before the tournament began.
Before we go any further, this is a reminder that you can exercise the mute button on your television. These two are the fiercest and loudest grunters/shriekers in the game today. You've been warned. Let's just hope that doesn't take away from the match at hand.
Sharapova has had a difficult time getting here. She has struggled through three-set wins in each of the last two rounds, having to make comebacks, and being helped along the way by rain delays. With no rain in the forecast, she'll need to be strong right out of the gate this time. She cannot afford to fall into a hole against Azarenka. The No. 1 seed is too good to have that happen.
Azarenka is enjoying the best season of her career and isn't quite the same as some of the more notorious No. 1s in the women's game. Azarenka is deserving of that honor, it's more than just the rankings system favoring a woman who plays more. She might not be the absolute best in the game so long as Serena Williams is around, but she's not undeserving, that's for sure.
Part of that is based on the fact that Azarenka already has a Grand Slam title on her resume. That came earlier this year in Australia where, interestingly enough, she crushed Sharapova in the final, 6-3, 6-0. That will undoubtedly motivate Sharapova as she seeks revenge. That's just a byproduct of the win, but it's sweet nonetheless.
Overall, Azarenka leads the head-to-head series, 5-4. That includes four consecutive wins on hard courts. That should give you a pretty good indication of what to expect in this semifinal. Azarenka has the edge coming in. It's just a matter of which Sharapova we see from the first ball toss.
4 p.m.: One semifinal down, one more to go.
It's absolutely no surprise that Serena Williams is at this point. She is enjoying arguably the greatest season of her career, and that's saying something. You know that when Serena says she thinks she's playing well, she is playing really, really well. She is the type of player who always finds her own flaws and maintains unreachable standards.
She has given no indication through this tournament that anointing her the pretournament favorite was a mistake. Serena has been unstoppable. I believed that in the quarterfinals Ana Ivanovic might be able to push Serena just a little -- not beat her, just make her work a little more -- but that wasn't the case. Serena dropped a whopping four games.
On the other hand, Sara Errani is a bit of a surprise to be here. Not a great shock, it's not as if she's unseeded or is an unknown player, but still a small shock. It's more apparent when you put it this way: It's the third quarterfinal of the year, second semi, at Slams for Errani. I don't think many if any saw that happening.
The Italian has been playing some very solid tennis. She was tested in the last two rounds by No. 6 Angelique Kerber and No. 20 and doubles partner Roberta Vinci. Errani passed each test in straight sets, the biggest surprise being her defeat of Kerber. It's no fluke that she has advanced this far in the tournament.
But now she has to face the favorite of all favorites, Serena. She has to hope that Serena is having an off-day and that she leaves the door open a little with a low first-serve percentage and more unforced errors.
Errani has never beaten Serena, losing the three times they have met. None of those meetings have come within the last three years, however. They last met in Dubai in 2009 when Errani pushed Serena to a third set.
In the end, the expectation is still for Serena to get through to the final on Saturday.
Williams' new baby, Alexis Olympia, will have to wait for her big break in showbiz

Novotna won 16 doubles championships in addition to her Wimbledon win

The World No. 1 was awarded the damages by a French court ruling in his favor
The tennis star's latest win brings his career prize earnings total to $110,235,682

Sloane Stephens and CoCo Vandeweghe lead the U.S. to its first title in 17 years

Federer won in straight sets to take the title over the world's No. 1 player