U.S. Open Day 15 preview: Novak Djokovic vs. Andy Murray
The final match of the U.S. Open is upon us with Andy Murray meeting Novak Djokovic for the men's title. Can Murray win his first Grand Slam title and end a drought for Great Britain's men dating to 1936?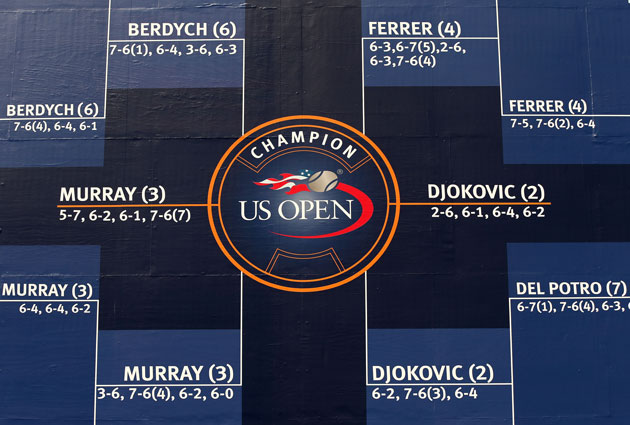 The board at the U.S. Open shows the finalists' paths to the final. (Getty Images)
The women's final at the U.S. Open on Sunday exceeded expectations. Much of the prevailing wisdom was that Serena Williams would win the match handily, the way that she has won every match in recent months.
It instead became a great battle with Serena breaking Victoria Azarenka in the last game of the third set for her 15th career Grand Slam title and fourth U.S. Open.
If that was any sort of preview for what lies ahead with the men's final on Monday -- the fifth straight Monday finish -- this is going to be great.
On the final day of this two-week excursion, their is only one match to watch. The start time is precise, and you can watch the match online right here.
4 p.m. ET: This is what it has come down to, the defending champion Novak Djokovic facing the No. 3 seed Andy Murray for the loser's unopened can of tennis balls (oh, and the championship).
Much the same as it has been for Murray's previous four finals appearances in Grand Slams, the underlying storyline will be about Great Britain's men's Slam drought. You must go all the way back to 1936, when Fred Perry won a championship playing under the Union Jack. For a nation/group of nations that reveres tennis as much as they do, that's a long time. Murray can end all that talk and remove some of the pressure surrounding him by winning three sets on Monday. Easier said than done.
This matchup is pretty tough to read, but most would conclude it's Djokovic's title to lose. He has been playing high-quality tennis as we've become accustomed to, assuming the conditions are ideal. He lost the first set to David Ferrer in the semifinals -- the first set that he dropped all tournament -- largely because of the wind on Saturday. When the match resumed under better conditions on Sunday, Djokovic more or less wiped the court with Ferrer, no easy task.
Murray hasn't had quite as breezy a ride, but he still hasn't been really pushed to the limit, something Djokovic is clearly capable of doing. Murray did drop the first set in each of his last two matches and hasn't been at his best out of the gate in any match in this tournament. But he has gotten stronger as his matches progressed. Against Djokovic, a slow start wouldn't be ideal. He doesn't need to panic if he drops the first set.
Coming into this match and looking around at some of the intangibles, Murray perhaps has an edge or two. First, there is the rest issue. Djokovic had to play the majority of his semifinal on Sunday morning/afternoon while Murray played Saturday and was able to comfortably watch. Though Djokovic didn't have to exert himself too much on Sunday, he still played three sets. However slight that might be, it's an advantage for Murray before what could be a very physical match.
What Murray also can lean on is his history with Djokovic, particularly their most recent matchup. They met in London a few weeks ago in the Summer Olympics semifinals, and Murray scored a huge win before going on to earn the gold medal. The circumstances were obviously different -- Murray had the home-court advantage, and it was on the grass of Wimbledon -- but that victory should give Murray added confidence heading into Monday's final.
However, it's not like Murray has been incapable of beating Djokovic. He has won in six of their previous 14 meetings. But in their only meeting in a Grand Slam final, Djokovic was the victor in straight sets Down Under in 2011. The Djoker always seems to play his best on the biggest stages. No stage in tennis is bigger than Arthur Ashe Stadium -- literally.
From the beginning of this tournament, Djokovic has been seen as the favorite. But many saw this as Murray's big chance for that breakthrough. He is one of the best players to have never won a Grand Slam -- not only of his era but of any era. At every turn, he has been blocked by Djokovic, Roger Federer or Rafael Nadal.
I'd be lying if I were to say I don't want to see Murray win. He is certainly a player worthy of a major title on his resume. It would also stop the Fred Perry talk, which would be a great reprieve for not only Murray but all of us.
Then again, I'd also be lying if I were to say I think Murray will win. The prediction here is Djokovic in four sets for his second U.S. Open title and sixth Grand Slam overall.
The World No. 1 was awarded the damages by a French court ruling in his favor

The tennis star's latest win brings his career prize earnings total to $110,235,682

Sloane Stephens and CoCo Vandeweghe lead the U.S. to its first title in 17 years
Federer won in straight sets to take the title over the world's No. 1 player

The controversial tennis player joined in the protests throughout the sporting world on Su...

44 years ago at the Astrodome the tennis icon scored a win for an entire gender