U.S. Open Day 9 matches to watch: Andy Roddick's career on line, women's quarters begin
The women's quarterfinals get under way on Tuesday and in the nightcap Andy Roddick faces a serious challenge to keep his career alive.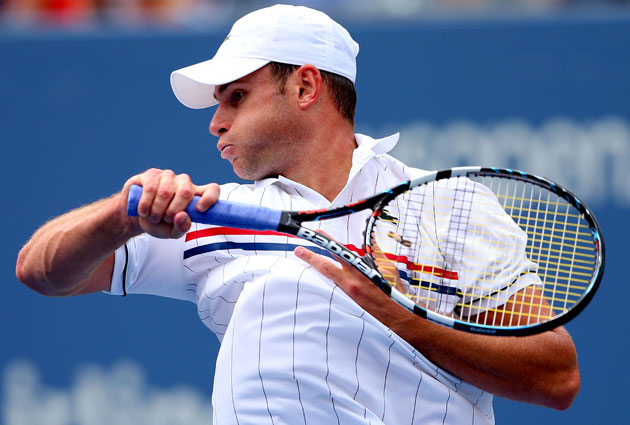 Andy Roddick will have to play the best he's played in a long time if he is to extend his career. (Getty Images)
The later the tournament, the lighter the schedule at the U.S. Open. But lighter doesn't mean less interesting. Au contraire.
Here are the matches to watch for Tuesday's action (remember, start times are not precise).
11 a.m.: The women start the quarterfinals and the matches in store are real doozies. Action begins with the defending champ Samantha Stosur taking on the No. 1 seed, Victoria Azarenka. It is a pairing of the ladies who won the past two Slams on hard courts (Azarenka winning the Australian Open this year).
Azarenka has the misfortune of being the No. 1 seed in the same tournament as Maria Sharapova and Serena Williams, thus she doesn't get the attention you'd expect the top seed to get. However she has reminded everybody through the first four rounds why she has the top ranking in the world; she's been cruising. Through four matches, Azarenka has yet to lose more than two games in a single set.
Stosur meanwhile didn't come into the Open with an exceptional year, leaving many to cast the champ aside in the potential winners conversation. But Stosur has flashed the form from last year through four rounds at the Open, reaching the quarters without dropping a set.
Obviously at least one of those set streaks is going to come to an end and it most likely will be Stosur's. This is the seventh meeting all time between these two and Azarenka has won each encounter -- all on hard courts, no less -- including in Doha earlier this year.
12 noon: The light schedule on Armstrong begins with the No. 4 seed on the men's side withDavid Ferrer facing No. 13 Richard Gasquet.
Like Azarenka, Ferrer is the top seed in his respective quarter but you could hardly tell based on the lack of attention. The Spaniard has become one of the toughest outs in tennis. It's nothing in particularly he does well offensively, but he makes you work for every point. There's a reason why he has reached at least the quarterfinals in every Slam event this year.
Gasquet has made it this far without too much incident. His competition hasn't been the strongest, having gone through Albert Montanes then Americans Bradley Klahn and Steve Johnson. Ferrer represents a massive upgrade in talent on the other side of the net, it goes without saying.
Their career head to head is pretty lopsided with Ferrer taking all the matches except for one meeting in 2008. In fact, they met at the same time in the Australian Open, the fourth round, and Ferrer won in straight sets.
1 p.m.: The second half of the day's women's quarterfinals is set for Ashe with Sharapova taking on No. 11 Marion Bartoli.
Sharapova is still in the mix after surviving through a tough three-setter against Nadia Petrova. She had pranced through the draw to that point and seemed to benefit from a rain delay, which allowed her to compose herself and come back to beat her compatriot.
Then you have Bartoli, who has brought her A-game to the Open. The final two sets of her upset win over Petra Kvitova in the last round were exceptional. She was doing anything and everything she wanted, running away with 6-2, 6-0 victory. Bartoli has been her usual intense self, fist pumping after every point earned and fulfilling her seeming desire to never have an idle moment. She's always wound tighter than a baseball.
Based just on personalities this match will be well worth it to watch. Based on their history, maybe not. Sharapova has won all four of their previous matches, but it's been more than two years since they played each other. But Bartoli has been able to tap into her best game of late, and that could make this match interesting.
3 p.m.: The men get their first turn on Ashe with Novak Djokovic looking to punch his ticket into the quarters against No. 18 Stanislas Wawrinka.
So far it has seemed like Djokovic is just practicing, hardly being challenged. His serve is working and his return game is the best out there, making for one lethal combination. To add to his excellent play, he's not making many errors. Through nine sets so far he has 38 unforced errors.
Wawrinka on the other hand had 55 unforced errors -- in one match. In the second round, he needed five sets to take out Steve Darcis of Belgium when he racked up those 55 errors. He also did have 65 winners, though. The second most famous Swiss tennis player cannot continue making unforced errors. Djokovic is tough enough to beat when you're not beating yourself.
The two have a long track record against one another and it's no surprise Djokovic has dominated, winning the last nine matches in their series.
While that's going on, Armstrong will have its second and final match of the day between No. 8 Janko Tipsarevic and No. 19 Philipp Kohlschreiber.
This was supposed to be the matchup of Tipsarevic and Isner but Kohlschreiber changed the plans Sunday night/Monday morning with their five-set battle well into the night. Isner got carried away and lost his cool, which didn't help matters, but Kohlschreiber contributed to that. The German simply outplayed Isner and showed a wide arsenal of shots. The word cerebral came to mind when watching Kohlschreiber play. He's a thinking man's player.
As for Tipsarevic, since he had to overcome a two-sets-to-none deficit in the first round against French wild card Guillaume Rufin, he has been steady. There's nothing flashy about the Serbian's game, he has just been consistent enough with an improved serve to rise in the rankings. But with the big serve comes the risk for double faults, of which he had eight in his last match.
Tipsarevic has won three of the four previous meetings, all on clay, while he lost the other one when retiring after just four games. The matchup has favored Tipsarevic in the past.
7 p.m.: The last singles match of the day is the one a lot of people will want to be watching, at least in the U.S. and in New York. It is the latest installment in "This could be Andy Roddick's last match" theater, but this time, it really feels that way.
Since making the announcement he was going to retire after this tournament, Roddick has been dealing with just a little more baggage in his matches, but it hasn't really shown. He breezed through Bernard Tomic in the second round and took three of four sets against good friend Fabio Fognini in the third to get to this point. But neither of those guys are on the same level as the man he faces Tuesday, 2009 Open champ Juan Martin Del Potro.
Del Potro came into the Open having a good summer, highlighted by his bronze medal at the Summer Olympics in London. But he hasn't seemed invincible through his first three rounds at the Open. He's been pushed at least a little by all of his opponents.
You know Roddick will be amped up for this match. The previous two matches could have been his last, but he was the better player going into those matches. It didn't seem like much more than a storyline. This time though it is more as Del Potro is more than a stiff challenge. Roddick will have the crowd behind him in full force, but he's going to have to find some vintage form and he must hold his serve because Del Potro is a tough egg to crack.
The all-time series favors Del Potro 3-1, but Roddick did win the last time they met on the indoor hard courts in Memphis in 2011.
Are Bouchard and the college student from Missouri who tweeted at her an item?

The tennis star is named in an investigation centering around a luxury development that fo...

Williams' new baby, Alexis Olympia, will have to wait for her big break in showbiz
Novotna won 16 doubles championships in addition to her Wimbledon win

The World No. 1 was awarded the damages by a French court ruling in his favor

The tennis star's latest win brings his career prize earnings total to $110,235,682