USTA didn't want world No. 1 junior player Taylor Townsend at U.S. Open
The USA has the top junior girls' player in the world but that didn't help her get to the U.S. Open.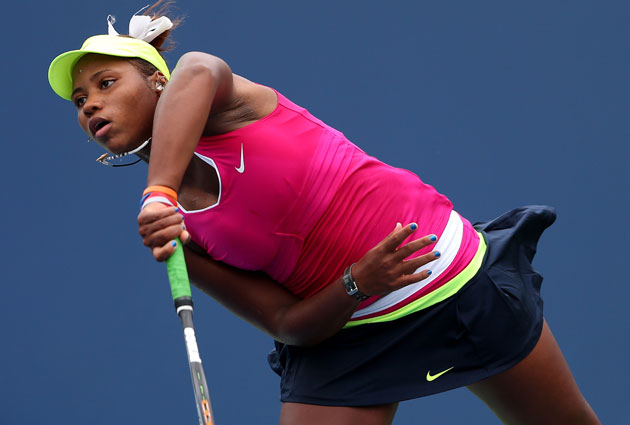 Townsend competes in this year's U.S. Open. (Getty Images)
Taylor Townsend of the United States is the No. 1-ranked junior girls' tennis player in the world. She is clearly a young player with a bright future. But the USTA wasn't that interested in helping her in the U.S. Open, saying Townsend needs to help herself first. In fact, they didn't even want her there.
Townsend, who was born in Chicago but has since moved to Boca Raton, Fla., to join the USTA development program, wasn't sent to New York for the U.S. Open by the organization that runs American tennis. Townsend had to pay her own way. Why? Tom Perrotta of the Wall Street Journal found out.
But unbeknownst to everyone outside her inner circle, the USTA wasn't happy to see Townsend in New York. Her coaches declined to pay her travel expenses to attend the Open and told her this summer that they wouldn't finance any tournament appearances until she makes sufficient progress in one area: slimming down and getting into better shape.

"Our concern is her long-term health, number one, and her long-term development as a player," said Patrick McEnroe, the general manager of the USTA's player development program. "We have one goal in mind: For her to be playing in [Arthur Ashe Stadium] in the main draw and competing for major titles when it's time. That's how we make every decision, based on that."
So, essentially, the USTA doesn't think Townsend is going to be able to compete at her size. Nevermind that she won the Australian Open junior title this year and that SHE IS THE NO. 1-RANKED JUNIOR IN THE WORLD. Sorry for the emphasis, just thought it needed to be clarified.
For what it's worth, Townsend and her mother aren't upset about it. They told Perrotta they are grateful for everything the USTA has already done for them.
This news came out early Friday morning, not long before Townsend was scheduled for a quarterfinal matchup. Not bad for somebody who is apparently too big. Unfortunately, Townsend ended up losing the match to No. 12 Anett Kontaveit of Estonia 6-4, 6-4, denying her of a second grand slam title this year. It's hard to think the distraction of this story didn't play at least some sort of a role.
Understanding full well that fitness is a very important part of the game, if she has shown no problems competing up to this point at her size, then what exactly is the issue? Why try to prevent her from playing in maybe the biggest tournament of the year? It is a punishment, an incentive to get her to work harder on focusing on fitness. Some tough love.
The USTA has done a good job in recent years of trying to re-establish the training programs to bring American tennis back to the level it always was. What they did to Townsend in this situation was done presumably with the right intentions, to try and get Townsend where they believe she needs to be to become a top player on the WTA.
It just doesn't seem like the right way to do it. The experience she gets from playing in these tournaments is just as important as her fitness. There is a fine line the USTA is toeing here. Hopefully it doesn't turn Townsend off.
Federer won in straight sets to take the title over the world's No. 1 player

The controversial tennis player joined in the protests throughout the sporting world on Su...

44 years ago at the Astrodome the tennis icon scored a win for an entire gender
Murray says he didn't set out to become a champion for women's equality, it just happened that...

Williams and Alexis Ohanian welcomed Alexis on Sep. 1 and revealed her full name

Nadal is closing in on Roger Federer's 19 titles, and isn't slowing down any time soon