Women's final at U.S. Open postponed until Sunday
Because of a bleak forecast, the women's final has been postponed until Sunday, when there could be a singles championship doubleheader.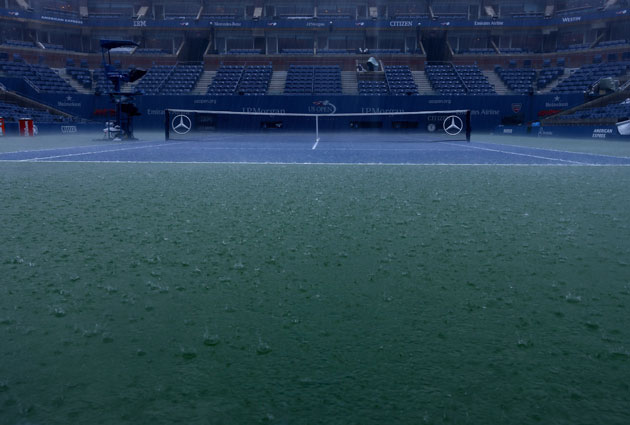 This was the scene at Arthur Ashe Stadium on Saturday morning. (Getty Images)
In what could be the final Super Saturday we see at the U.S. Open, it won't be like old times. The women's final that was scheduled for 7 p.m. on Saturday has been postponed to Sunday because of the bleak forecast for the evening in New York.
A start time for the match will be announced later on Saturday.
The men's semifinals were scheduled to start at 11 a.m. ET on Saturday but a nasty thunderstorm that crossed over the New York area forced a delay. It was so severe that a tornado watch was in effect for the area.
At just about noon play in the first men's semifinal between Andy Murray and Tomas Berdych began at least with no rain, but wind playing a major factor. At one point it lifted Murray's hat right off his head and cost him a point in a service game he would eventually drop.
While Super Saturday is rare to the U.S. Open -- and this was potentially the last time we'll see it scheduled as such per the New York Times -- this creates the chance for an equally rare and perhaps even more exciting Sunday. We could be looking at a singles championship doubleheader unless they have to push the men's final back to Monday.
This of course will further reignite the debate about getting a roof over Arthur Ashe Stadium a la Centre Court at Wimbledon. Rain has been a factor for each of the past few years at the Open, causing delays in action on the final weekend and pushing the men's finals back.
Unfortunately, it just doesn't seem to be in the cards for the Billie Jean King National Tennis Center. It's a matter of finances and right now they just aren't there.
44 years ago at the Astrodome the tennis icon scored a win for an entire gender

Murray says he didn't set out to become a champion for women's equality, it just happened that...

Williams and Alexis Ohanian welcomed Alexis on Sep. 1 and revealed her full name
Nadal is closing in on Roger Federer's 19 titles, and isn't slowing down any time soon

Here's everything you need to know to watch Rafael Nadal vs. Kevin Anderson

It's Stephens' first Grand Slam in her career, and it comes after returning from a career changing...