Young American Jack Sock looks the part of underdog in first-round upset win
Jack Sock, the 19-year-old American ranked 243rd in the world, takes out No. 22 seed Florian Mayer in easy fashion in the first round, looking the part of potential underdog star in New York.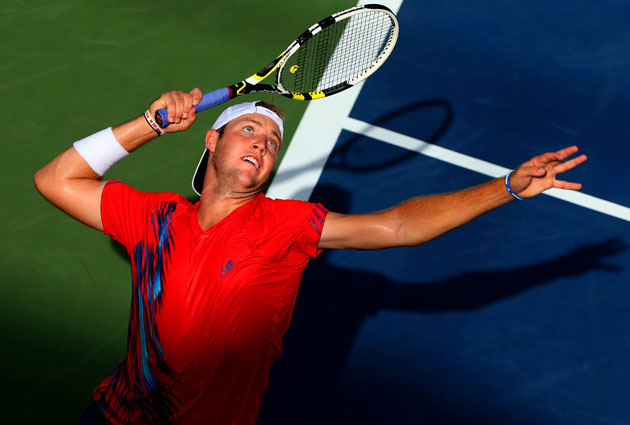 Sock racks up 34 winners, 9 aces in just over two sets worth of action. (Getty Images)
Not to paint with too broad a brush, but it's pretty widely accepted that Americans love underdogs. It's certainly true that Americans love America. Put it all together and you find that American under dogs at the U.S. Open get all the love New York has to offer.
Just in case you need any proof of that, go dig up video from three years ago of Melanie Oudin stealing the Big Apple's heart with the tournament of her young life. She knocked out Maria Sharapova and Nadia Petrova on her way to the quarterfinals before eventually falling. But she left to a standing ovation.
Ironically enough, while Oudin was losing on Louis Armstrong Stadium's court to No. 15 Lucie Safarova, another American under dog was making some noise on a neighboring court. It just so happened to be Oudin's partner in the 2011 U.S. Open mixed doubles competition that led to a major title for them both: Jack Sock.
The 19-year-old with a red and blue shirt as loud as a Victoria Azarenka shriek came out on the Grandstand court that has been so favorable to American under dogs in the past with a booming serve and took control early in his match vs. No. 22 seed Florian Mayer of Germany.
Sock was almost surgical in his dissection of Mayer. He came out and won the first two sets 6-3, 6-2 and then took a 3-2 lead by breaking Mayer again. That's when Mayer, who sought the trainers between the second and third sets, threw in the towel. As the match wore on he appeared to wear down and was not much competition for the fit American from Nebraska.
It was the latest ding in a very forgettable morning for Germany at the U.S. Open. Mayer's retirement meant that seeded German players were 0-3 in the first round in New York after Sabine Lisicki and Julia Goerges faltered on the woman's side.
But with every seeded player falling in the first round there is an unseeded player taking the big victory. In this case it was Sock, who looked as strong as any of the unseeded "upset" winners on early Monday.
But we're not going to put the cart before the horse here. Sock, the 2010 U.S. Open Boys Champion, shouldn't be saddled with those burdensome titles that get thrown around all the time in American tennis. Ever since Andy Roddick's time at the top came to a close just about every American male coming up through the ranks has been tabbed with the vaunted "next great American" label. It's a pointless exercise like making top seeds such as Andy Murray play a best-of-five match early in a Slam. If a player deserves the label, they'll earn it, not have it bestowed upon them.
That said, it's tough to watch what Sock did on Monday and not get excited. The crowd at the Grandstand court seemed into it enough. Yes, Mayer retired due to injury and maybe wasn't his full self, but Sock did little wrong. He might have made 23 unforced errors but he also compiled 34 winners, nine by way of aces. He won his first-serve points at a 79-percent clip. In short, he was at the top of his game.
In the grand scheme of things it's not the biggest victory you'll see at this year's Open. In fact, it's actually the second straight year that Sock has reached the second round in the Men's draw after he beat Marc Gicquel in the first round last year in New York before losing to Andy Roddick in Round 2. There will be no such second-round hurdle this time as he awaits the winner of Blaz Kavcic and Flavio Cipolla.
Still, it was the 243rd-ranked male in the world taking out the 22nd-ranked player in the U.S. Open. And in watching him do it, there's no reason to think he couldn't do it again and get some love in New York.
They gave him a taste of it on Monday.
Thanks for all the support today during my match!! Can't tell you how much I love playing in New York!! #UsOpen #USOPEN12

— Jack Sock (@JackSock) August 27, 2012
Williams touched on race, her pregnancy, and her plan to win more Grand Slams in a wide-ranging...

Battling injuries, has withdrawn from two events before the Open, which starts Aug. 28

The controversial tennis star showed off his lighter side in Montreal with fans
Murray is nursing an injury before the U.S. Open and Wawrinka is now out for the season

Williams says for women of color, the gender gap in pay between men and women is even high...

Williams is defending herself against claims of negligent driving in the fatal crash