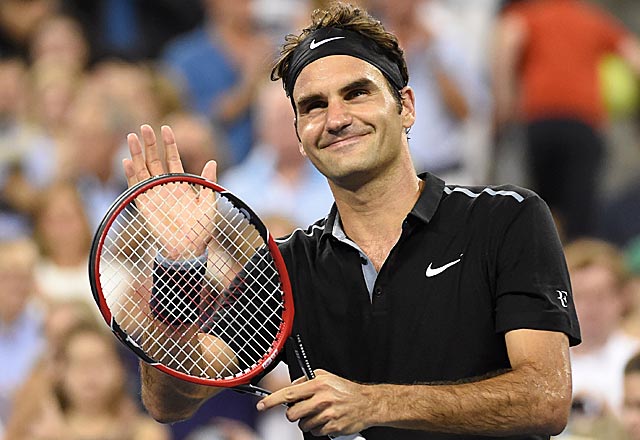 NEW YORK -- A year ago at this time, Roger Federer was dealing with a bad back. He was experimenting with new rackets. And his nine-year run of reaching at least the quarterfinals at the U.S. Open ended with a fourth-round loss.
Things are different these days for the 33-year-old Federer.
Enjoying a new racket with a larger head, healthy enough to train properly and push forward whenever possible, Federer got back to the quarterfinals at Flushing Meadows with a 6-4, 6-3, 6-2 victory against 17th-seeded Roberto Bautista Agut of Spain on Tuesday night.
"Because of the issues I had last year, I had to be unbelievably careful what I did. We had to cut back on a few things I usually would do, but were scared to do. That was not what I wanted to do," he said about his fitness work. "Sometimes if that's what it is and it means don't run on the treadmill or don't do jumps or whatever it is, well, there's other ways you can train that. I'm happy that basically today I can do whatever and I don't have any more setbacks."
And the benefit of that, Federer explained: "Now I have my confidence back. It's as simple as that."
At the 2013 U.S. Open, Federer lost to Tommy Robredo in the fourth round, part of a stretch in which the 17-time Grand Slam title winner was bounced before the quarters three times in the span of four majors.
At Wimbledon in July, Federer got to his first Grand Slam final in two years, and even though he lost that match to Novak Djokovic, it signaled a real resurgence.
On a windy evening against Bautista Agut, someone he had never faced, Federer moved well and won the point on 35 of 52 trips to the net.
"Coming to net requires a lot of agility and explosivity and all that stuff -- and I have it back," said Federer, a five-time champion at Flushing Meadows. "I'm happy I'm feeling good at net, too, because you've got to anticipate some and read some and it's working really well. So I hope I can keep it up."
Federer was broken only once, part of a three-game run for Bautista Agut that took the score from 5-1 to 5-4 in the first set. But Federer had no trouble the second time he tried to serve out that set, which he ended with a pair of aces.
In all, the second-seeded Federer needed less than two hours to improve to 25-1 in night matches at Arthur Ashe Stadium. This was Bautista Agut's first such occasion in the imposing, 23,771-capacity arena.
Federer is 71-9 overall at the U.S. Open, tying Pete Sampras and Bill Tilden for the fifth-most match wins in tournament history behind Jimmy Connors' 98. Federer's .888 winning percentage is second behind the .910 of Tilden, who went 71-7 and won seven championships in the 1920s.
In Thursday's quarterfinals, Federer will play 20th-seeded Gael Monfils of France.
Federer has won seven of their nine past meetings, including at a hard-court tuneup tournament in Mason, Ohio, last month.
"He's one of the most exciting and entertaining players out there," Federer said, "so I think we can get ready for some good points -- some good retrieving by him, some attacking by me."
Wozniacki dominates Serrani, advances to semifinals
Caroline Wozniacki knew, as anyone paying attention does, that the woman she played in the U.S. Open quarterfinals, Sara Errani, does not hit booming serves.
And after noticing that Errani's previous opponent, Mirjana Lucic-Baroni, tried unsuccessfully to pound those soft serves, Wozniacki decided the best course of action was simply to make sure she put those balls in play.
Getting all 34 of Errani's serves back over the net, and then claiming 26 of those points, Wozniacki parlayed six breaks and a 26-12 total edge in winners into a 6-0, 6-1 victory over the 13th-seeded Errani in a wind-whipped match Tuesday night.
The victory for the 10th-seeded Wozniacki moved her into her first Grand Slam semifinal in three years.
"I learned quite a lot from Lucic the other day. She was going for every return and trying to make winners on every return," Wozniacki said. "For me, that wasn't really the game plan today. It was just putting pressure on her from the start, and kind of start the rally from there."
Italy's Errani averaged only 65 mph (105 kph) on second serves, and 78 mph (126 kph) on first serves, and that was a problem.
"I hoped she would miss something here and there," said Errani, who beat Venus Williams in the third round, "but today she practically never missed."
With the players' towels and spectators' napkins and all sorts of things being tossed around by the stirred-up air, Wozniacki dealt with the conditions far better than Errani. Although not right away.
The match began competitively enough, with a pair of points that lasted more than 20 strokes apiece in the first game. Errani earned four break points before 2009 U.S. Open runner-up Wozniacki eventually held despite a double-fault in which one serve didn't come close to reaching the net.
"I have played in some very windy conditions here, but I know how to adapt," said Wozniacki, the runner-up at the U.S. Open in 2009, and a semifinalist in 2011. "It just took me a few serves to kind of get into the rhythm and figure out where to throw the ball and what to aim for."
Wozniacki, a former No. 1 who eliminated five-time major champion Maria Sharapova in three sets in the fourth round, will face unseeded Peng Shuai of China in the semifinals.
Errani was a finalist at the 2012 French Open, and made it to the final four at that year's U.S. Open, too.
She's accustomed to outrunning opponents on court and wearing them down. On this night, Wozniacki -- who has been training to run the New York City Marathon in November for charity -- did that very thing to Errani.
"Maybe," Errani said with a chuckle, "I need to run the marathon, too."