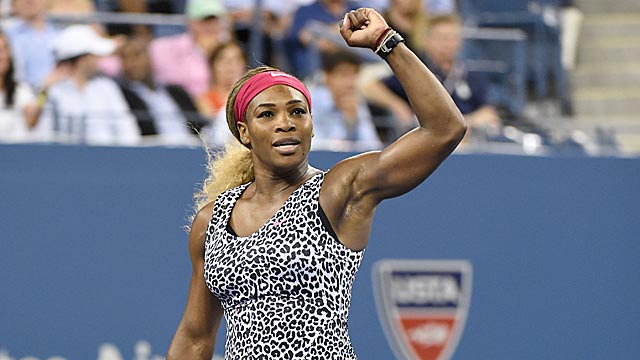 NEW YORK -- Through a pair of back-and-forth sets, Novak Djokovic and Andy Murray put on a display befitting a matchup of past U.S. Open champions.
They tracked down would-be winners and somehow got them back, prolonging points that involved 10 or 20 strokes or more, extended by Djokovic's slides and splits or Murray's gifted anticipation. After one 30-shot masterpiece on his way to victory, Djokovic raised his right fist, bellowed, "Come on!" and windmilled his arms to rile up the crowd.
Eventually, the physically demanding action proved too much for a fading Murray, and Djokovic pulled away to win 7-6 (1), 6-7 (1), 6-2, 6-4 and reach the tournament's semifinals for the eighth consecutive year.
"I knew coming into tonight's match that it's going to be tough, that he's going to go for his shots, and the more aggressive one would win it," the No. 1-ranked and No. 1-seeded Djokovic said. "I'm glad I managed to stay fit in the end and pull it through."
It took a while for him to push out front in a 3-hour, 32-minute match that ended after 1 a.m. Thursday.
Asked in an on-court interview to look ahead to facing 10th-seeded Kei Nishikori of Japan in Saturday's semifinals, Djokovic joked: "My thoughts are just directed to sleeping right now."
That drew guffaws from spectators, and he continued: "Or party. What do you say? Let's party. I think my coach right there would chase me with a little baseball bat if he saw me going to the city to party right now."
Nishikori became the first man from Japan to reach the U.S. Open semifinals since Ichiya Kumagae in 1918, outlasting third-seeded Stan Wawrinka of Switzerland 3-6, 7-5, 7-6 (7), 6-7 (5), 6-4.
Taking advantage as the eighth-seeded Murray's lively forehand dipped in quality and the Scot's service speeds slipped, Djokovic broke to go up 3-1 in the third set, then fended off a pair of break points in the next game. On the first, Murray sailed a backhand long to end a 28-stroke point, then leaned over and put a hand on his knee. On the second, he dumped a forehand into the net, then slammed his racket against his right thigh and yelled.
Soon, Murray was turning to his box to say, "Nothing in the legs." In the fourth set, a trainer came out to deliver a heat pack to Murray.
"I got stiff in my hips and my back. ... I don't know exactly why," said Murray, who beat Djokovic in the finals at the U.S. Open in 2012 and Wimbledon in 2013. "I didn't hurt anything. It was just, I think, fatigue."
He had back surgery a year ago, and dealt with cramping in his first-round match in New York last week. Murray looked fine since then, but he couldn't sustain his top form against the relentless Djokovic, who won the U.S. Open in 2011.
"He was fresher toward the end," Murray said. "I tried to hang in as best I could."
Until the third set, anyway, Djokovic-Murray was reminiscent -- in terms of pure entertainment value and setting, if not quite star power -- of the 2001 classic between Pete Sampras and Andre Agassi, which also was a quarterfinal, and also under the lights at Arthur Ashe Stadium. That one, won by Sampras, featured four tiebreakers, because neither man broke serve even once.
Djokovic and Murray combined for 11 service breaks, seven by Djokovic, including in the final game. They are both brilliant baseliners and retrievers, and it helps that they know each other -- and each other's patterns -- so well.
The opening set Wednesday was a 73-minute exercise in shape-shifting and shot making. In the tiebreaker, though, Murray lost his way: He double-faulted, put a return into the net, flubbed a backhand and, before he knew it, that set was gone.
Djokovic went up a break in the second set. Murray broke back. Djokovic took another of Murray's service games. And, yes, Murray again broke back, delivering a forehand winner that left an angered Djokovic swatting a spare ball off the serve-speed digital readout.
"We always," Djokovic said afterward, "push each other to the limits."
Serena overcomes early stumbles, advances to semis
NEW YORK -- Off to a bad-as-can-be start to her U.S. Open quarterfinal, losing serve twice while dropping the first three games, even Serena Williams found it hard to believe.
"I was thinking: 'I'm down two breaks?' " she said. "But I ... felt like, 'It's not the end of the world.' "
Quickly turning things around and taking complete control, Williams stretched her Flushing Meadows winning streak to 19 matches by eventually overpowering 11th-seeded Flavia Pennetta of Italy 6-3, 6-2 on Wednesday night.
"I don't feel like I was doing too much wrong," said Williams, a five-time champion at the U.S. Open, including the past two years. "So I said, `If she keeps it up, she absolutely deserves the win.' And I just tried to do a little better."
Simple as that, huh?
"Against her, you can't wait, you can't give her time, you can't fail to push her to her limits -- because if you do, she's a runaway train," Pennetta said.
Williams is bidding to become the first woman with three consecutive U.S. Open titles since Chris Evert won four in a row from 1975-78. The 32-year-old American also is trying to pull even with Evert and Martina Navratilova at 18 Grand Slam singles trophies.
Williams had not yet reached a major semifinal in 2014, bowing out in the fourth round at the Australian Open, the second at the French Open, and the third at Wimbledon. The last time she didn't reach at least one Grand Slam title match in a season was 2006, when she entered only two of the sport's top tournaments.
"Well, honestly, I've had a tough year in the majors and I've (lost to) some great players that weren't in the top 10," Williams said. "So you can never underestimate anyone."
On Friday, Williams will meet 17th-seeded Ekaterina Makarova, who beat 2012 and 2013 runner-up Victoria Azarenka 6-4, 6-2. The other women's semifinal will be No. 10 Caroline Wozniacki of Denmark against unseeded Peng Shuai of China.
One of these is not like the others: Williams is the only member of that quartet with a Grand Slam title. Wozniacki, the runner-up at the 2009 U.S. Open, is the only other woman left who has even participated in a major semifinal.
Earlier Wednesday, Kei Nishikori became the first man from Japan to reach the U.S. Open semifinals since Ichiya Kumagae in 1918, outlasting third-seeded Stan Wawrinka of Switzerland 3-6, 7-5, 7-6 (7), 6-7 (5), 6-4.
"I hope," Nishikori said, "it's big news in Japan."
That match went 4 hours, 15 minutes, and the 10th-seeded Nishikori managed to shake off any lingering exhaustion from his previous victory, which lasted 4:19 and ended at 2:26 a.m. Tuesday, equaling the latest finish in tournament history.
In the semifinals, Nishikori will play No. 1 Novak Djokovic or No. 8 Andy Murray, who faced each other Wednesday night after Williams' win ended.
On her second serve, she was called for a foot fault -- an unpleasant reminder of her meltdown after that very same ruling in the closing moments of a loss to Kim Clijsters in the 2009 U.S. Open semifinals.
This time, Williams was unfazed right afterward and wound up winning the point. But miscues by Williams led to an opening break, and after about 10 minutes of play, Pennetta -- a semifinalist in New York last year, but never a major finalist -- was ahead 3-0.
Williams began taking the ball inside the baseline as much as possible and finding the mark with her serves, putting more pressure on Pennetta while reeling off six straight games to take the first set.
Pennetta, who is into the doubles semifinals with partner Martina Hingis, might have been forgiven for giving up at that point. But she made things competitive again -- at least briefly.
Four aces in one game allowed her to lead 2-1 in the second set. That was pretty much that. Williams broke at love to go up 3-2, raising her left fist overhead to celebrate one particularly impressive shot, in which she raced back to the baseline to retrieve a lob, spun and smacked a forehand winner.
Williams has not had a particularly difficult path so far through an upset-filled women's field.
She hasn't dropped a set, but she also has not had to face No. 3 Petra Kvitova, No. 7 Eugenie Bouchard, No. 8 Ana Ivanovic, No. 16 Azarenka or No. 24 Sam Stosur -- the last player to beat Williams at the U.S. Open, in the 2011 final.
All were on Williams' half of the draw, and all lost to others.