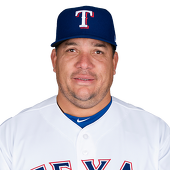 Bartolo Colon
#40 SP / N.Y. Mets Mets / EXP: 18YRS
Height: 5-11
Weight: 283 lb
Age: 42
College: No College
Bats/Throws R/R
Own

71%

Start

48%

SP Rank

NR
by RotoWire Staff | Special to CBSSports.com

Mets SP Bartolo Colon gives up three runs against Braves

Mets starting pitcher Bartolo Colon allowed three runs on five hits and a walk while striking out just one batter over 6 1/3 innings against the Braves on Wednesday. Colon entered the seventh inning with a 2-0 lead, but he proceeded to load the bases with one out before being yanked for reliever Addison Reed, who proceeded to give up a pair of hits that brought home all three inherited runners. Colon continues to get by mostly thanks to his veteran wiles, as he's remarkably given up three or fewer (usually fewer) runs in each of his last six outings, and yet he's struck out just seven batters in his last four starts combined.

by RotoWire Staff | Special to CBSSports.com

Mets SP Bartolo Colo allows three runs in Wednesday's loss

Mets pitcher Bartolo Colon (14-12) took the loss Wednesday against Miami, allowing three runs on seven hits and awalk through 5 2/3 innings. He also struck out two. This game looked like an unlikely pitchers' duel between Colon and Adam Conley for three innings, but solo homers in the fourth and fifth followed by a sixth-inning rally changed the script. Colon hadn't lost a game since Aug. 9 in Tampa Bay, and he hadn't allowed more than two runs in an outing since his Aug. 21 start in Colorado. He'll have a great opportunity to get back on the right track in his next start, Tuesday against the Braves' league-worst offense.

by Jason Lempert | Staff Writer

Mets SP Bartolo Colon snaps scoreless streak but gets 14th win

Mets starter Bartolo Colon was excellent once again on Thursday, as he held the Braves to two runs on seven hits over 6 2/3 innings. Colon walked one and struck out two and also went 1 for 3 with an RBI, as the Mets rolled over the Braves 7-2. Colon (14-11, 4.13 ERA) shutout the Braves over the first six innings, increasing his scoreless streak to 31 games. But he ran in to trouble in the seventh inning, when he allowed three consecutive hits, leading to a pair of runs to score. Nevertheless, the Mets provided Colon with plenty of run support, as he picked up his 14th win. Colon has now won three straight starts and four of his last five.

by Jason Lempert | Staff Writer

Mets' Bartolo Colon fires complete-game shutout vs. Marlins

Bartolo Colon was magnificent on Saturday, tossing the Mets' first complete game of the season. Colon went the distance, blanking the Marlins all the way in the 7-0 victory. Colon gave up nine hits, struck out two and did not walk a batter. He needed an even 100 pitches to finish what he started. Colon (13-11, 4.18 ERA) was superb in this one. He did a good job of getting timely double plays to avoid any big innings, and he was able to keep a low pitch count throughout the evening. This was the 13th shutout of Colon's long career. He extended his current scoreless streak to a career-high 25 innings, as he hasn't given up a run in his last three starts (and one relief appearance).

by Sean d'Oliveira | CBSSports.com

Mets announce rotation plans for weekend series

The Mets will open their three-game series at Miami on Friday with Jacob deGrom on the mound, the team announced Wednesday. The team will then turn to Bartolo Colon for Saturday's game with Steven Matz concluding the series Sunday.

by Jason Lempert | Staff Writer

Mets SP Bartolo Colon dominates Phillies in win Monday

Mets starter Bartolo Colon was masterful against the Phillies on Monday. The veteran right-hander kept the Phillies off-balance all night, as he fired eight scoreless innings. Colon allowed four hits and a walk while striking out nine, as the Mets went on to win 3-1. Colon (12-11, 4.42 ERA) is now in the midst of a 16-inning scoreless streak, spanning two starts and a one-inning relief appearance. In six August starts, Colon went 3-1 with a 2.90 ERA.

by Elliott Smith | Staff Writer

Mets SP Bartolo Colon tosses seven scoreless innings in win

Mets veteran Bartolo Colon was on top of his game Wednesday, tossing seven scoreless innings to lift his team to a victory over the Phillies. Colon bounced back from a rough start in allowing just five hits while striking out eight. He had dropped seven of his last eight decisions, but the strong start moved him to 11-11 on the season. Colon threw a season-high 107 pitches.

by Ruben Palacios | Staff Writer

Mets SP Bartolo Colon has swollen forearm; X-rays negative

Though X-rays were negative on Mets starting pitcher Bartolo Colon's right forearm, it is significantly swollen, according to ESPN New York. Colon was hit on the forearm while trying to bunt in the second inning of Friday's game. "It's a little swollen, but overall I'm OK," Colon said through an interpreter. "It did affect me a little bit, but it's not an excuse. It's got nothing to do with my performance. I'm glad the team picked me up and they came back and we got a key victory."

by Jason Lempert | Staff Writer

Mets SP Bartolo Colon gives up seven runs in no-decision Friday

Mets starter Bartolo Colon was victimized by the effects of Coors Field on Friday, as he allowed seven runs on nine hits over just 3 2/3 innings against the Rockies. Colon was given a 7-1 lead after the second inning, but he gave it all back, as he exited the game with the score tied 8-8 in the fourth. But the Mets were able to regain the lead, as they went on to out-slug the Rockies 14-9. For Colon, he has given up six or more earned runs in five of his last 11 starts. Colon was also hit by a pitch on his right forearm in his first at-bat, but he was able to stay in the game. He underwent an X-ray following the game, which came back negative for a fracture, according to ESPN.com. At this point, he does not appear to be in any danger of missing his next start.

by Jason Lempert | Staff Writer

Mets SP Bartolo Colon takes one-day leave from team

Mets right-hander Bartolo Colon has left the team to commemorate the one-year anniversary of the passing of his mother, Adriana. Colon is expected to return to the club on Wednesday, and is not expected to miss any starts, according to ESPN.com.