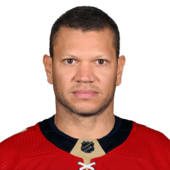 Own

99%

Start

88%

RW Rank

13
by RotoWire Staff | Special to CBSSports.com

Islanders' Kyle Okposo: Could be traded at some point this season

Okposo and the Islanders are not currently involved in contract negotiations, reports the Islanders Point Blank. Okposo will be an unrestricted free agent on July 1 and could be seeking a contract with an AAV of $6 million per season. General manager Garth Snow may feel that his money is best spent elsewhere as Okposo has just been to up and down for his liking and the Islanders do have quite a few younger and cheaper players in the pipeline.

by RotoWire Staff | Special to CBSSports.com

Islanders' Kyle Okposo: Extends points streak

Okposo scored an assist in Friday's 5-3 loss to Montreal to extend his points streak to four games. Okposo has six points in his past four games, all of them assists. He played 25:35 on Friday to lead all Islanders and continues to be an indispensable player for head coach Jack Capuano. If he can stay healthy, he's on pace for a 60-point season. Given his peripherals and scoring ability, Okposo is a valuable fantasy asset.

by RotoWire Staff | Special to CBSSports.com

Islanders' Kyle Okposo: Grabs trio of assists Monday

Okposo collected three assists, skated to a plus-2 and fired three shots on goal in Monday's 5-2 win over the Coyotes. That's seven points in the last six games for the American winger, who's up to a total of 16 in 19 this season. He's back riding shotgun with one of the game's truly elite offensive dynamos in John Tavares so it would be wise to keep Okposo plugged into your lineup at all times.

by RotoWire Staff | Special to CBSSports.com

Islanders' Kyle Okposo: Dishes out a pair of helpers Monday

Okposo set up a pair of goals in Monday's 4-2 win over the visiting Jets. The apples were Okposo's first points on the season, and consequently helped the Islanders to their first victory in their new arena, the Barclays Center. Despite having put up 51 points in an injury-shortened 60-game campaign last year, there seems to be some pessimism surrounding the 27-year-old, primarily as to how well he'll fare if he's split up with John Tavares. He isn't playing with Tavares now, but Okposo is a tremendous player in his own right who will collect his points regardless of how many young scoring options the Islanders have at forward. He's a major volume shooter as well -- his rate of 3.25 shots per game in 2014-15 would have given him 266 SOG over a full season, which would have been good for 11th in the NHL.

Isles Begin Contract Talks With Okposo

News: Kyle Okposo and the Islanders have begun talks on a new contract, according to Islanders Point Blank. Analysis: Both sides are hoping to get an agreement done before the start of the season but the parameters on a new deal could be difficult to negotiate. Kyle Okposo will make $4.5 million this season and could command a deal north of $6 million per year on the open market, a figure the Islanders may not be willing to approach at this time. If the two sides can't come to an agreement before the start of the season then Okposo's name will be one we will hear quite often in trade rumors.

Isles' Okposo To Stay With Team?

News: The Islanders reportedly aren't planning to trade Kyle Okposo during this weekend's NHL Entry Draft, TSN's Darren Dreger reports. Analysis: General manager Garth Snow could just be trying to drive up the price by making this announcement, or perhaps the offers he was receiving just weren't to his liking. If Kyle Okposo remains with the team during the upcoming season, he is expected to again skate on the top line with John Tavares.

Isles' Okposo Is On The Trade Block

News: The Islanders are accepting trade inquiries on Kyle Okposo, according to Newsday. Analysis: It seems general manager Garth Snow has a choice, either sign Kyle Okposo long term to a contract north of $50 million or trade him before he becomes a free agent after the 2015-16 season. Another problem for Snow will be who will play on the top line with John Tavares if Okposo is dealt? Even with Okposo in the fold the Isles couldn't find a reliable winger to play alongside with that duo, now they may need two wingers. The Isles don't own a first or second round pick in this year's draft but according to rumors, Okposo would only be dealt for young players, not draft picks.

Isles' Okposo Stays Hot With Goal Sunday

News: Kyle Okposo tallied a goal in Sunday's Game 3 win over the Capitals. Analysis: Kyle Okposo has registered a point in each of the Isles' three playoff games to date and has picked up at a goal or assist in five consecutive contests dating back to the end of the regular season. Though he's no longer positioned next to John Tavares on the Isles' top line, Okposo has shown enough effectiveness on the second trio to remain a worthy choice for daily lineups during the postseason.

Okposo Sets Up Goal In Isles' Win

News: Kyle Okposo notched an assist and went plus-2 in Wednesday's Game 1 victory over the Capitals. Analysis: Kyle Okposo's production has generally slowed since he returned from a detached retina in early March, but he raised his performance as the regular season drew to a close, notching a goal and two assists in his final two games. While he's no longer skating next to John Tavares as frequently, Okposo can probably be relied upon for capable secondary scoring on the Isles' second line.

Isles' Okposo: Two Goals In Last Three Games

News: Kyle Okposo scored the game-winning goal on the power play in Saturday's 3-0 win over Buffalo. Analysis: He has two goals in his last three games; both of the goals came on the power play. Kyle Okposo would have been a 70-75 point player if he'd stayed healthy this season.