Could Stephen Strasburg win the Cy Young even on an innings limit?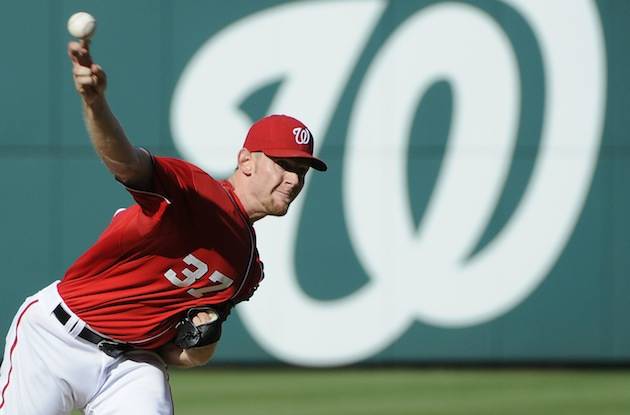 I'm not a betting man (based on the popularity of the NFL, I'm in the minority), but if I were, I don't think I'd be taking the 3-to-1 odds that a pitcher with an innings cap would win the National League Cy Young Award. Of course, not many before the season would place a bet on a knuckleballer.

According to Bovada.lv, the Mets' R.A. Dickey is a 3-to-2 favorite to take the NL Cy Young, followed by the Giants' Matt Cain (8/5) and the Nationals' Stephen Strasburg (3/1).

After returning late last season from 2010 Tommy John surgery, the Nationals have said they will cap Strasburg's innings this season -- although what that cap is has been debated and reported to be somewhere between 160 and 180 innings.
No starter has won a Cy Young with fewer than 200 innings pitched in a full season. Both David Cone in 1994 and Fernando Valenzuela in 1981 had fewer than 200 innings pitched, but both of those seasons were strike-shortened. Even one reliever -- Mike Marshall in 1974 -- had more than 200 innings (208 1/3) in his Cy Young season.

In our preseason predictions, CBSSports.com senior writer Danny Knobler predicted Strasburg would win the Cy Young, even with the limits. Danny's reasoning was that if he finished the year in August with something along the lines of a 16-2 record and a 2.30 ERA with 200 strikeouts, he'd have a good chance. Right now he's 8-1 with a 2.45 ERA and 100 strikeouts in 77 innings pitched. It doesn't seem too far fetched and there's even two precedents, sort of.

Dayn Perry used Rick Sutcliffe's 1984 season as another example. Although Sutcliffe threw 244 2/3 innings that season, only 150 1/3 of those innings came in the National League, which awarded him its honor as the top pitcher. After moving from Cleveland to Chicago, Sutcliffe was 16-1 with a 2.69 ERA for the Cubs after going 4-5 with a 5.15 ERA for the Indians in 15 starts and 94 1/3 innings.

And if you want to compare the Cy Young to the MVP (which many do), Josh Hamilton won the American League MVP in 2010 despite playing in just 121 games and missing most of September.
Or, as many believe, once it appears the Nationals are in contention late in the season, the innings cap will go out the window. In that case, Strasburg could have as good a chance as anyone else.

The favorite in the American League is currently 15th in ERA (3.55) and WHIP (1.23) among qualified pitchers, but CC Sabathia is best among American League pitchers in xFIP at 3.18 -- oh, and tied for the league-lead in wins (9), if you're not into sabermetrics.

Following Sabathia, according to the betting website, is Justin Verlander (9/4), David Price (5/1) and Chris Sale (11/2).