Islanders owner says coach Jack Capuano, GM Garth Snow returning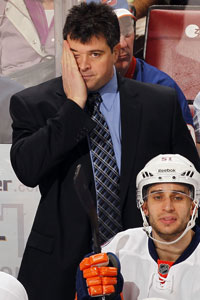 Capuano hasn't seen much good in his tenure on the Isles bench. (Getty Images)
The New York Islanders are going to watch the postseason from start to finish from home for the fifth consecutive season. Still, GM Garth Snow and coach Jack Capuano aren't going anywhere.
Team owner Charles Wang told MSG Network on Sunday that despite the franchise's recent struggles, both of his managers are coming back. According to Wang, Snow has done "a very good job" in his tenure as the GM and he's more than confident in Snow.
I'm of the mind, though, that it's truly hard to gauge the job of Snow on Long Island. He has been dealing with a lot of shortcomings and handicaps, including some of the previous roster pieces left for him to pick up. But then again, those hurdles haven't stopped Don Maloney in Phoenix from producing results, or David Poile in Nashville a few seasons ago.
I'm not sure all the Islanders fans out there are going to be thrilled with this. Not that they are going to completely blame Snow for the franchise's current situation, I won't, but by now this organization should be expected to show a little more growth than it is right now. Yes, they might not spend a lot of money but they have drafted a lot of good, young talent.
Perhaps that falls somewhat on Capuano behind the bench to develop the players. But Cappy isn't going anywhere yet either, nor should he. I feel like less than two full seasons aren't enough to adequately judge a coach, even if Lou Lamoriello might disagree. So this is what the Isles have and who they are from a leadership standpoint.
And the roster doesn't figure to be much different either, particularly among the forward corps. The defense is where they could stand to improve and the Isles might have the chance with four defensemen on this season's roster being UFAs after the season.
This is one of those rare situations that sports give us to break the rules. Trying the same thing over and over again but expecting different results is insanity. But in sports you have things like maturation and growth, hoping that the same cast of characters can do something different by playing together another season and growing into better overall players.
While Capuano will be returning you do wonder if he'll start the season on a shorter leash at least. If the Islanders get off to another sluggish start will Capuano be around to finish the season?
From a personal standpoint, I like Capuano. I'm happy to see him stick on the bench a little longer, one of my more favorite coaches to talk to. But at some point here they are going to expect results in the organization.
For more hockey news, rumors and analysis, follow @EyeOnHockey and @BrianStubitsNHL on Twitter and like us on Facebook.