Brian Burke isn't fond of ESPN, says Leafs still believe in James Reimer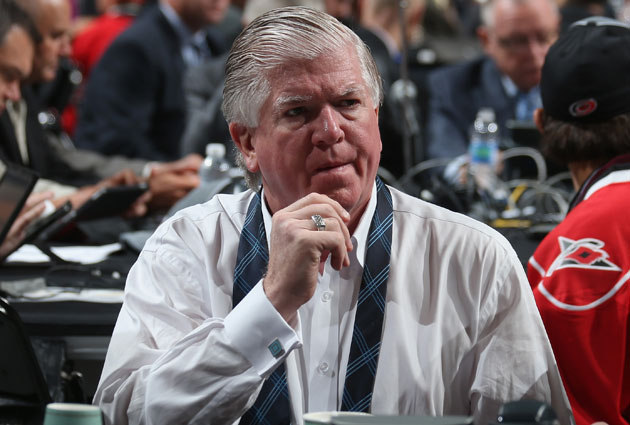 Brian Burke is never at a loss of words. (Getty Images)
Recently, the Toronto Maple Leafs took a very dubious honor. They were named the worst franchise in North American sport by ESPN, a ranking based on multiple categories including their on-ice success -- or lack thereof.
Something like that is a reflection on the management team and a guy like general manager Brian Burke. After all, it has been his responsibility to run the team and build the roster. How did he respond to the ranking? In classic Brian Burke fashion, of course.
From Canada's National Post:
"I don't think ESPN knows a single thing about hockey. I think their hockey coverage stinks. I don't think they know anything about Canada. I don't think they know anything about hockey."
You can't put it much clearer than that, can you? The message is pretty clear. He likely won't be looking for work at ESPN whenever his managerial career in the NHL comes to a close.
That wasn't all that Burke talked about on Monday. He had an offseason meeting with the media and wouldn't talk about anything in detail about the CBA, not an easy task for him.
"I wish I could say more," Burke said. "I mean, you guys know me: 'no comment' is not something that comes out of these lips easily. But we're not allowed to speak about it, and we're not going to speak about it."
Besides his feelings on the four-letter network and the CBA ("It's part of the business, you know?"), Burke did discuss the team that he actually leads. For too long they've been trying to fix their goaltending situation. A lot of speculation has surrounded them and Roberto Luongo being a fit, but nothing has happened yet. Luongo is still a member of the Canucks, and Burke is OK going into the season, whenever it is, with James Reimer as his No. 1 goalie.
"We believe in James Reimer," Burke said. "We have said, from the get-go, that if we get an opportunity to upgrade at the goaltending position, we're going to do it. That's still the case. But it's not a frantic search for a goaltender. We believe in James Reimer."
Hold the groans, Leafs fans. There is still time for that to change. A new CBA could produce a new NHL landscape and change the market again, perhaps opening it. For now, Burke is saying this is how his team will be constructed, with Ben Scrivens the backup in net.
All I can say is that hopefully this lockout won't take Burke away from us. I'd miss him too much.
For more hockey news, rumors and analysis, follow @EyeOnHockey and @StubitsCBS on Twitter and like us on Facebook.