NBA players union could try to get Donald Fehr to lead
The NBA players union could be interested in NHLPA head Donald Fehr, according to CBSSports.com NBA writer Ken Berger.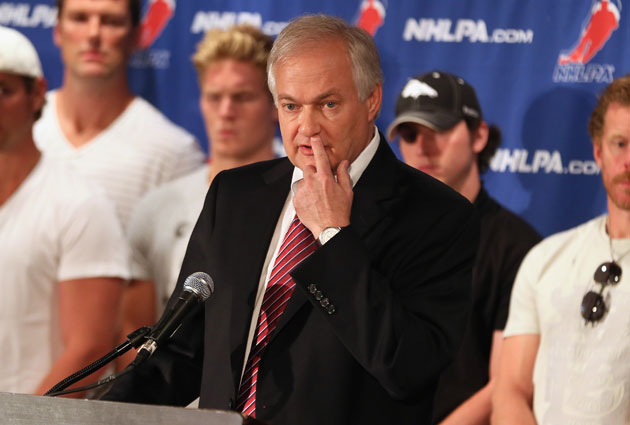 Fehr did his job well as far as most of the players are concerned. (Getty Images)
More NHL: Scores | Standings | Odds | Fight-O-Meter | League Leaders | Rumors
Now that Donald Fehr has all but finished galvanizing the NHL players union and negotiating a new Collective Bargaining Agreement for the next 10 years between the players and the league, he's already a target for another dysfunctional union -- the NBA.
With Billy Hunter's future very much up in the air, a number of high-profile agents are interested in Fehr's services should they need a new union chief, according to CBSSports.com NBA reporter Ken Berger.
From Berger:
As NBA players prepare to make a decision on union chief Billy Hunter's future at All-Star weekend in Houston in less than two weeks, several influential agents already are privately discussing a possible successor: longtime sports union leader Don Fehr.

Fehr, currently the executive director of the NHL Players Association, is the early preferred pick among multiple agents with enough clout to sway a significant portion of union membership, CBSSports.com has learned.

Fehr, who also has served as executive director of the Major League Baseball Players Association, declined to comment when reached through the NHLPA Monday because Hunter remains in place as executive director. A person familiar with Fehr's thinking told CBSSports.com that the hockey union chief is happy in his job and "has no plans to leave his position." His contract, however, gives either side the option to terminate it with 60 days notice, sources said.
As Berger notes, Fehr's contract can be terminated with as little as two month's notice, so it could happen relatively quickly. That's if Fehr wanted to do it, of course. Berger reports that while Fehr is happy with his current position, he would be open to listening to the NBA.
Fehr hasn't been atop the NHL union for too long; just a couple of years. But he was badly needed by the players, somebody who could come in and really bring some cohesion to a union that was in a rough shape before he arrived. He did exactly that and was a stalwart through the negotiation process for the players. It's a sign of how good he was that so many owners disliked him.
If, and that's still a big if, Fehr were to go to the NBA to run their union next, then it would seem likely that Donald's brother Steve could step in and fill the void atop the NHL union. He has been working side by side with Donald, and at many stages of the negotiations this summer he was the one doing the negotiating for the players when things deteriorated. He's already in the organization and knows how to keep things going, so it would be a logical next step.
In fact, some believe that Steve was being groomed for the job all along, to take over whenever Donald wanted to split.
Like Donald or hate him -- and most everybody is going to land on the same side of those extremes -- there is nobody more accomplished to run a pro sports union than Fehr. Yes, he has overseen plenty of labor strife, but he gets deals done for his constituents.
If Fehr does leave, it will be to bring some stability again to the players. The NBA just had its own CBA issues the summer before the NHL, so a new CBA wouldn't be on the horizon. But you could still bet that a lot of NBA owners wouldn't be happy to see Fehr take the NBA union leadership spot because many of them are the owners of the NHL teams, too.
While his intentions aren't clear, the wishes of the agents are.
"He's the guy," one of the influential agents said.

"He is somebody who would be formidable," another agent said. "He would go tooth-and-nail on everything."
It's kind of funny to see this now after all we saw in the NHL this past summer, but at the end of the day he got the deal done (literally, too).
For more hockey news, rumors and analysis, follow @EyeOnHockey and @StubitsCBS on Twitter, subscribe to our YouTube account and like us on Facebook.
Show Comments
Hide Comments
Series schedules, results and updates from the second round of the Stanley Cup race

Here's how to stay on top of all of the NHL's second-round playoff series, which begin Wed...

Series schedules, results and updates from the first round of the Stanley Cup race
Ottawa took a 3-2 decision to send Boston home, and Washington outlasted Toronto, 2-1

Stevens was L.A.'s interim coach for four games in the 2011-12 season

St. Louis, New York and Edmonton eked out victories that eliminated Minnesota, Montreal and...