NHL Rumors: Shane Doan won't sign with a team until July 9
Shane Doan would like to return to the Coyotes but is waiting to see the ownership situation settled. So he's going to wait to sign a deal.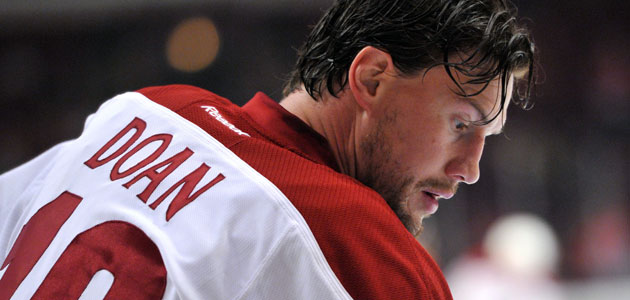 Doan has 22 goals, 28 assists last season. (US Presswire)
When it became clear that Shane Doan was actually going to hit the free-agent market, it seemed different. Doan playing for a team that isn't the Coyotes (or Jets 1.0)? That's different.
His free-agent process is going to be different too. Most players hear the offers and make a decision on July 1, if not July 2. It's not often that guys stick around, especially the big names. They are the dominoes that people wait to fall.
Considering Doan is one of the better free-agent forwards this year, teams are going to be waiting a while for that dominoe to fall. As in more than a week according to TSN's Darren Dreger.
Ray Whitney will be a free agent today. Shane Doan will listen to interest, but won't decide on leaving Phx until the 9th.

— Darren Dreger (@DarrenDreger) July 1, 2012
July 9? That's a bit unusual in the NHL. But, of course, there's a reason for it.
By the way, July 9th is the earliest Jamison will know how close he is to Coyotes ownership.

— Darren Dreger (@DarrenDreger) July 1, 2012
This news isn't all that surprising. Doan is a player who has made it very clear over the years that he loves playing in the desert. It's his home and if all things were equal, he'd be staying there, no question. But the uncertainty of the franchise's future has brought him to this point. It wouldn't seem he was keen on the possibility of re-signing with Phoenix only to play out the contract in Quebec City.
However, it will be interesting to see how this plays out for Doan if he does indeed plan to leave. It's hard to imagine that all the teams are going to wait around, they have decisions to make on the first day or two of free agency and often times don't have any more room at that point.
Now for a player like Doan, you will have teams potentially saving a little room for Doan joining them a little later down the line. I don't think it would be that much of an issue. However teams that don't get him will be left scrambling at least a little bit, there won't be any replacements left on the free-agent market at that point. So in that regard it's a bit of a gamble to wait for Doan.
Obviously him re-signing with the Coyotes on July 9 is a pretty good sign the franchise is staying put, too. I'll take it that he has more inside information to make that decision than almost anybody.
For more hockey news, rumors and analysis, follow @EyeOnHockey and @BrianStubitsNHL on Twitter and like us on Facebook.
Pittsburgh also has been linked to Matt Duchene and could be in the mix for Tyler Bozak

Nashville extends its 24-year-old restricted free agent with what could be bargain numbers

Calgary forward is all for playing for the Flames, but he also likes the idea of going to...
Plans for renovating KeyArena are now also being overseen by NHL-to-Seattle hopefuls

With Leslie Anderson selling the Rockets, there is newfound hope for hockey in Houston

Pittsburgh Penguins' repeat Conn Smythe Trophy winner has more than hockey on his athletic...