Report: Greg Jamison won't get extension for Glendale lease
Thursday is the deadline for the Coyotes to be sold under the proposed lease agreement from the City of Glendale. It doesn't look like it's going to happen.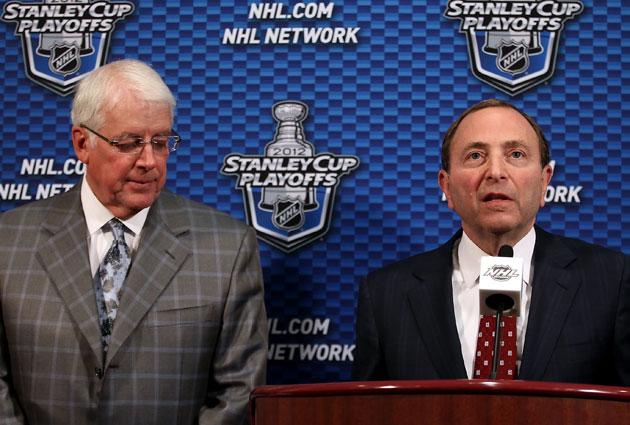 The NHL identified Jamison as its preferred partner in Phoenix during last season's playoffs. (Getty Images)
More NHL: Scores | Standings | Odds | Fight-O-Meter | League Leaders | Rumors
Just when you started to think the Phoenix Coyotes situation was headed for an end that would keep them in Phoenix for many years to come, something else has to happen. Something else always happens.
Thursday marks the deadline for Greg Jamison to buy the franchise in order to get the proposed lease from the City of Glendale that would pay Jamison roughly $15 million per year for the next 25 years to cover operating costs. Right now, it doesn't look like he's going to make the deadline.
Lending even more credence to that is the Arizona Republic reporting that the attorney for Jamison contacted new Glendale mayor Jerry Weiers about possibly getting an extension on the deadline. Consistent with Weiers' approach through this process, the answer was no.
"The bottom line is that Jamison himself hasn't talked with me," Weiers said. "I do know that a group trying to help Jamison or trying to get involved with Jamison -- however you want to word it -- they're trying to figure out a way to keep his deal afloat."

Weiers said of extending the deadline: "Obviously, we're not going to do that."
Whether or not Jamison asked for an extension is in dispute, but the point stands, there won't be an extension coming from Glendale and this deadline will remain.
So if Jamison doesn't meet the deadline, then the city will get a chance to rework the lease and with new, less-Coyotes-friendly administrators, the sweetheart deal would be all but gone.
With that, it appears that the idea of Jamison as the next owner is gone, too. From David Shoalts of The Globe and Mail:
Greg Jamison is out as prospective Phoenix Coyotes owner. Someone is making attempts to put a new group together but it's a huge longshot.

— David Shoalts (@dshoalts) January 31, 2013
The Coyotes situation is as bad as it's ever been. Back to square one for the NHL. Working on this today. Stay tuned.

— David Shoalts (@dshoalts) January 31, 2013
It's simply amazing how much this story ebbs and flows.
If this is true and Jamison is out -- if he doesn't meet this deadline, then it's a pretty safe assumption -- then it might be time to pack up the bags in the desert, even if there is yet another potential suitor trying to enter the picture for Arizona. The NHL has been working for almost four years to secure an owner for this franchise, and for four years it has been nothing but drama.
What confounds me is how quickly the NHL was to abandon Atlanta and let the Thrashers move to a strong market in Winnipeg, but they fight tooth and nail to keep the Coyotes around. It's understandable that the league doesn't want to see any of its teams struggle and relocate, so fighting for Phoenix does make some sense. But fighting this hard? The NHL has done it.
But when is enough enough? The NHL hasn't wanted to consider relocation for this franchise at all, but it might finally be time to consider it. At the top of the list will be Quebec City and Seattle, both which either has an arena being built or has one in the works. Quebec City would seem to be the closest to being ready with some apparent owners, an arena going up and an old arena that could host a team on a short-term basis.
As to the new suitor potentially stepping in to save the day, where has this person been all along? It's really tough to imagine that somebody who had the capabilities and the interest to purchase the team has been lying in the weeds, just waiting to step up like Mighty Mouse.
At some point, this story will have to reach its conclusion. A month ago, it looked like this might be it. Now it looks like the story will continue to drag again, just hopefully not for another four years.
For more hockey news, rumors and analysis, follow @EyeOnHockey and @StubitsCBS on Twitter, subscribe to our YouTube account and like us on Facebook.
Show Comments
Hide Comments
Washington and Toronto set to face off March 3 in Annapolis

"Let's go, Preds!" chants take on a whole new meaning in the hype piece

Both Stanley Cup Final contenders cracked the list of top 10 teams searched in 2016-17
The Preds will need more from their blue-line depth, and Pittsburgh has to capitalize in s...

Vince Gill, Carrie Underwood, Lady Antebellum and Luke Bryan have apparently upstaged a hometown...

The 14-year NHL veteran joins the team with which he played three seasons from 2013-16