A BYU essay: SEC, ACC put Cougars in their own silo in playoff era
Scheduling philosophies by the ACC and SEC remind BYU that while it has the look, feel and history of a football power, it really isn't in the playoff era.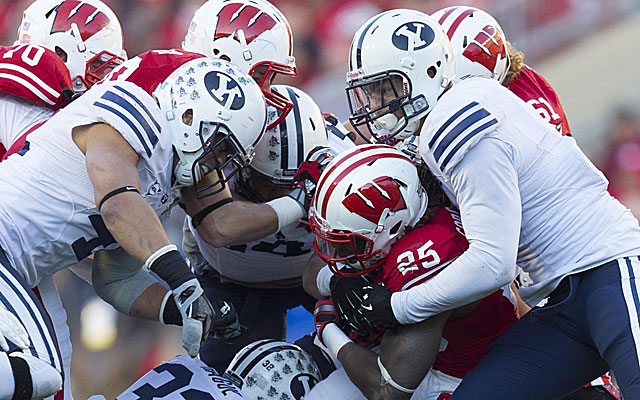 Talk about unintended consequences of the playoff.
You might have seen it during Thursday's mini-hissy fit on Twitter: The ACC and SEC essentially are going to have a scheduling prejudice against BYU. Both conferences -- the ACC this week -- decided that in the future the Cougars won't count as a BCS-level opponent in their new scheduling philosophies. ESPN.com's Brett McMurphy reported the ACC's decision Thursday morning.
That doesn't mean those leagues won't play BYU (more about that below), it means the Cougars have been branded -- somewhat formally by a couple of Big Five conferences -- as something less than worthy. The two leagues came to this conclusion independently and, if nothing else, reminded BYU of its place in the playoff era. The program kind of falls between the cracks as an independent.
BYU is an attractive opponent anywhere because of its history and following. But this latest decision further isolates the program as an indy -- really, in its own silo.
a)  … because of its geography. One reason BYU wasn't snapped up by the Big 12 in conference realignment was its location. The Pac-12 apparently wasn't interested and BYU finally made the decision to go independent.
Since the program went independent in 2011, it has played largely old foes from the Mountain West.
b) … because the Cougars just might be too dangerous to schedule. It's safe to say BYU is a football power -- or perhaps was. Brigham Young shares a distinction with Notre Dame and Army as the only programs outside the current Power Five conferences to win a national championship (1984) in the wire-service era.
In the last 40 years, BYU is tied for fourth in wins among FBS schools along with Michigan and Florida State. Only five other schools have won the Heisman (best player), Outland (best lineman), Doak Walker (best running back) and Davey O'Brien (best quarterback) awards. It has a long tradition of All-Americans and College Football Hall of Famers. It puts an emphasis on football that rivals some schools in the ACC and SEC. Trust me, I've seen the facilities and witnessed the power and tradition. BYU conducts itself in many ways like a BCS-level program.
But it has never played in conferences that were perceived at that level. It ruled the WAC all those years and was more than competitive in the Mountain West. When it chose to compete as an independent it was a religious decision as much as it was athletic. The school and faith wanted BYU football to promote BYUtv. You have to respect that.
Another reason the program is stuck in that silo: Power teams have to think twice about scheduling the Cougars. They are good enough to be dangerous -- and beyond. Even if the ACC and SEC didn't essentially decertify BYU, it's much easier for those schools to schedule opponents east of the Mississippi.
c)  … because of fellow independent Notre Dame. The Irish got behind the velvet rope because they have a scheduling agreement with the ACC beginning this year.
The two sides needed each other in the playoff era. The Irish were not attached to a New Year's Six* bowl. That meant its entry into those four available bowls (Peach, Cotton, Fiesta, Orange) was not automatic. The Rose (Pac-12-Big Ten) and Sugar (Big 12-SEC) were already spoken for in years those bowls weren't national semifinals.
That means in certain years, there would be a maximum of only two spots available for Notre Dame (and BYU) in those six bowls. Unless, of course, either qualified for the top four in a semifinal.
(The best of the Group of Five conferences is guaranteed a spot each year. Conceivably, that means a 13-0 Ball State could go to a New Year's Six bowl while an 11-1 BYU might be left out. Fair?)
All of it at the whim of that selection committee.
That's really the current curse of independence. Because of its agreement with the ACC, Notre Dame at least gets some access to the Orange Bowl. It can play in South Florida a maximum of twice in the next 12 years. That's in the eight years when the Orange isn't in the semifinal rotation. (The ACC champion is guaranteed the other berth.)
d) … because the market has spoken for BYU. It couldn't snag one of those New Year's Six berths. BYU has bowl agreements with the Miami Beach (2014) and Poinsettia bowls (2016, 2018) if it is not playing in one of the New Year's Six.
It's safe to assume the Irish will resume their benefit-of-the-doubt status with the selection committee, the same as it did in the BCS and wire service eras. In other words, a 10-2 Notre Dame has an inherent advantage of getting into a major bowl over, say, a 10-2 Purdue.
I can't say the same for BYU. The other independents just don't measure up. Navy is joining the American in 2015. Army is going to tough out as an independent along with BYU.
Aside from the service academies, the independents don't really resemble each other. That means BYU football is isolated in more ways than geography. As mentioned above, the decisions don't mean the ACC and SEC won't schedule the Cougars, it merely makes it harder. It also plants a seed in the selection committee's collective minds.
BYU isn't good enough.
Do I know that? No. Metaphysically I was never accused of cheating in school by looking into the soul of the person seated to next to me. But there is ample evidence supporting the claim. A quick check of BYU schedules revealed not much has changed. There have been few meetings with the ACC and SEC. The Cougars last played an SEC opponent in 2011 (Ole Miss to kick off the season). In the last 10 years it has played a combined five teams (totaling eight games) against the SEC and ACC.
Part of that time was spent in the Mountain West so there was scarce opportunity to schedule across the country.
So maybe it doesn't matter.
Or maybe it does.
As an independent, BYU needs games. Attractive games. It has ESPN as a scheduling partner out there hustling.
But both leagues determined that BYU is not considered on the BCS-conference level. We kind of knew that after conference realignment. But this has to hurt Cougars everywhere in a new and different way.
The ACC starts its scheduling format in 2017. The SEC starts in '16. The philosophy requires teams to schedule at least one team from the other four BCS leagues. That includes Notre Dame.
This might be really inside stuff and trivial but believe me it's a big deal in Provo and to BYU fans everywhere.
In at least some, small way it is blow against the program's heritage, tradition -- and future.
*New Year's Six in this space forward will refer to the six bowls passing through the national semifinals beginning this year: Rose, Fiesta, Peach, Cotton, Sugar and Orange.
The Rose, Sugar and Orange are so-called "contract" bowls because they have dedicated conference partners. The Peach, Cotton and Fiesta are so-called "access" or "open" bowls in the playoff era.
In years when they do not pass through as semifinals, the Rose hosts Pac-12 and Big Ten teams; the Sugar hosts Big 12 and SEC teams and the Orange pits the ACC champion (or ACC team if the champion is in the playoff) against some combination of Big Ten, SEC or Notre Dame.
Clip and save this, kids. You'll need it. 
Show Comments
Hide Comments
Our Latest Stories
Sirk, Malik Zaire and Brandon Harris are top transfer quarterbacks to watch

Strong had only 19 days in between jobs, during which he became a bit of a 'Jerry Springer'...

You knew he'd weigh in at some point
My-King Johnson will be a Wildcat starting this year

Honoring some top-notch performances from the 2016-17 college football season with Oscars

Mayfield is one of the top returning players in college football entering 2017