Upset Bait: Tennessee resists rock bottom, and more love for Week 12 underdogs
The Eye on College Football crew scans the weekly lines for a straight-up shocker or two -- for entertainment only, of course.
The Eye on College Football crew scans the weekly lines for a straight-up shocker or two -- for entertainment only, of course. For more weekend predictions, check out our expert picks.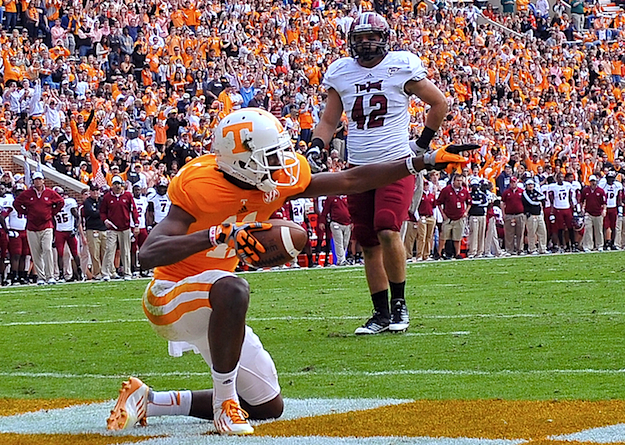 Wide receiver Justin Hunter gives the Vols at least one clear advantage Saturday over Vanderbilt. (US Presswire)
CHRIS HUSTON: Stanford (+20.5) over Oregon.


The Cardinal are a different team since installing redshirt freshman Kevin Hogan at quarterback, and he has the ability to direct a potent Stanford attack against an Oregon defense that is battered and bruised. On the other side of the ball, the Cardinal's top-ranked run defense should slow down an Oregon running game that was somewhat ineffective against Cal last week and it will be up to Marcus Mariota to have another stellar performance to save Oregon.
This time, Mariota won't be quite up to the task and Stanford will come away with revenge after getting blown out the last couple seasons by the Ducks.
- - -
Last Week: Missed on West Virginia (+8) over Oklahoma State. Season: 5-for-11.
TOM FORNELLI: Northwestern (+7) over Michigan State.


While Pat Fitzgerald has helped make the Northwestern football program into a contender each season, the Wildcats always seem to have trouble getting over the hump. This year they failed at Penn State, at home against Nebraska and again last week against Michigan. Now, beating Michigan State would not close the gap between the Wildcats and the Cornhuskers and Wolverines at the top o the Big Ten's Legends Division, or that Northwestern is ready to take on the big boys. But I do think the Wildcats prove a little something to themselves this week.
This Michigan State defense is really good – best in the Big Ten in both yards and points allowed – but I think quarterback Kain Colter and tailback Venric Mark will find success against the Spartans with the Wildcats spreading the unit out and using a whole lot of speed. It won't be the statement win Northwestern's looking for, but it qill be a win it needs.
- - -
Last Week: Missed on Miami-Ohio (+6.5) over Kent State. Season: 4-for-11.
CHIP PATTERSON: Southern Miss (+3.5) over UTEP.


It's been a season of firsts for the Golden Eagles – just all of the wrong kind of "firsts." The first losing season since 1993, the first missed postseason since 2001, etc. But Saturday night in Hattiesburg will be another first: Southern Miss' first win. UTEP, the cellar-dweller from Conference USA's West Division, visits for a primetime showdown as more than a field goal favorite, in part because of a lengthy Southern Miss injury report.  Neither of these teams are playing for the postseason, and I think USM coach Ellis Johnson can motivate a prideful group of veterans to pull the "Only winless FBS team" tag off of the team.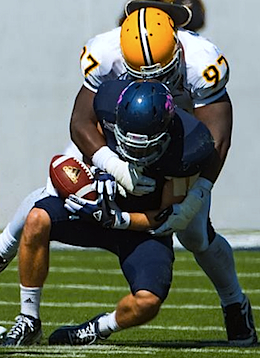 Doing so will require overcoming injuries to nearly all of the quarterbacks, and establishing a rushing attack that was absent in last week's loss to SMU. But if the Golden Eagles can limit the turnovers (currently No. 122 nationally in turnover margin) they might give themselves a shot. Johnson said this week there are two winnable games left for the team, and this one is at home, under the lights, on national television.  If Southern Miss is going to have one of those "rally together, feel-good wins" in an otherwise disappointing season, I think this is it.
- - -
Last Week: Missed on Oregon State (+4) over Stanford. Season: 4-for-11.
JERRY HINNEN: Tennessee (+4) over Vanderbilt.


It's true: the Vols have the mother of all distractions hanging over their heads with the persistent rumors of coach Derek Dooley's dismissal. Also true: The Commodores have been playing their best football of late, having opened a can on Kentucky in Kentucky (something even the likes of Georgia and South Carolina failed to do, remember) and come from 17 down on the road to beat Ole Miss.
But the 'Dores were playing better football than Tennessee last year, too, when the Vols outplayed them in an overtime victory. And there's still little doubt that Vandy doesn't yet have the kind of game-changing playmakers on offense that can take advantage of Tennessee's defensive permissiveness or match the likes of Cordarrelle Patterson or Justin Hunter if need be. And there's the little matter of the 'Dores being in the unusual psychological position of favorite rather than 'dog, the same position they managed to turn into a slim 17-13 victory over a horrific Auburn team a few weeks back.
In short: Tennessee really ought to be the better team, and there's enough reason to question Vandy that this particular week, the bet here is that they play like it.
- - -
Last Week: Missed on Penn State (+7) over Nebraska. Season: 3-for-11.
MATT HINTON: Kansas (+6) over Iowa State.


Kansas has dropped 19 straight against Big 12 opponents, under two different head coaches, including an 0-7 run this season that includes a blowout loss at the hands of Baylor. Since October, first-year coach Charlie Weis has made no secret of the fact that he's more concerned with building a solid foundation for 2013 than the Herculean (and frankly irrelevant) task of winning a stray game or two in 2012. At midseason, Weis benched senior quarterback Dayne Crist in favor of a freshman, Michael Cummings, who has subsequently completed well below 50 percent of his passes with twice as many interceptions (4) as touchdowns (2) in four starts.
Somewhere in that march of misery, though, the Jayhawks shed their reputation as weekly laughingstocks and began to take the first significant step in any rebuilding project, from losing big to losing close: In the last five games, they've played Oklahoma State within six points, led Texas with less than a minute to play in the fourth quarter and just pushed Texas Tech to the brink in double overtime, on the road. Even as Cummings has struggled as a passer, the running game has found its legs behind tailbacks James Sims and Tony Pierson, who have lifted KU well over 200 yards on the ground in three consecutive games. Contrary to all expectations a month ago, this team has not thrown in the towel.
Iowa State hasn't, either, though the Cyclones appear to be going in the opposite direction since a 4-2 start: With four losses in their last five and their best player out for the season, bowl eligibility is hanging by a thread. Unlike the Jayhawks' recent close calls, Iowa State doesn't present a significant talent gap. But more importantly, the Kansas seniors who have watched a winning program collapse into disarray during their tenure have every reason to relish the opportunity to go out on a positive in their final home game, which could be the beginning of the next step: From losing close to winning close.
- - -
Last Week: Missed on Virginia Tech (+13.5) over Florida State. Season: 2-for-11.
Show Comments
Hide Comments
Kirk Merritt claims 'jock itch' was the reason he exposed himself to two tutors

The former coach weighed in on the new NCAA recruiting rules

Wiggins has played more than 30 games in the ACC and SEC during his career
Our panel of experts drafted the best sports video games that have ever been created

The players allegedly conspired to steal belongings from another student's dorm room

Harbaugh handed the Pope a Wolverines helmet and special shoes