Weekly Confidence Pool: Digging out of a hole
Every week of the season the Eye On College Football's Jerry Hinnen, Chip Patterson and Tom Fornelli compete in a confidence pool.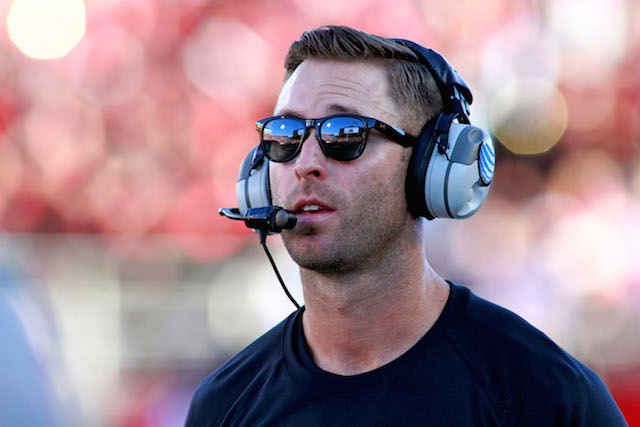 Every week of the season the Eye On College Football's Jerry Hinnen, Chip Patterson and Tom Fornelli compete in a confidence pool.
I suppose if you're in a competition of any kind, if you're going to find yourself behind in a big way, it's better it happens at the beginning rather than the end. At least then you've still got plenty of time to dig yourself out of the hole you've created for yourself.
And make no mistake about it, Chip and I have a big hole to get out of. I don't know what Chip's plans are, but I'm probably just going to knock him over and use him as a kind of stool to help myself out.
As for Jerry, well, props to him. He had an awesome start to this competition, going 8-2 in his 10 picks last week to get 41 of a possible 55 points. After I climb over Chip to get out, I plan on grabbing Jerry by the ankles and pulling him in.
And I plan to do that this week, so let's get to it.
LOCKS OF THE WEEK
Hinnen: Texas Tech (-20.5) over UTEP - If the biggest upset of Week 1 might have been Texas A&M's dismantling of South Carolina, the biggest one almost no one noticed was UTEP's surprise win over 9-to-10-point favorite New Mexico. Despite the arrival of Aggie transfer QB Jameill Showers, the Miners were widely expected to be one of the FBS's weakest teams in 2014; they probably aren't quite as good as they showed against the Lobos, and Kliff Kingsbury's Raiders are a good bit better than their 42-35 win over Central Arkansas suggested. (The Miners were narrowly outgained by UNM, while Tech actually enjoyed a 636-404 yardage edge on UCA.) Before the season, this line would have been at least a touchdown wider; grabbing it below three scores seems like quality value.
Fornelli: Kansas State (-12) at Iowa State - Normally there's no way in hell I would give up this many points on the road in a conference game, or at the very least I wouldn't consider it my lock of the week. But this isn't a normal situation in my mind. Simply put, I just don't think Iowa State is good football team. Losing to North Dakota State last week isn't what proved it to me, as the Bison are dangerous, but I didn't see much in that game from the Cyclones that led me to change my mind about them. They also lost their best receiver for the season in that contest, and there is nothing currently on that Iowa State offense to make me think it's going to hang with Kansas State this week.
Patterson: Colorado State (+10.5) at Boise State - Do you remember Kapri Bibbs? He was a 1,700-yard rusher in 2013 and finished the year with 31 rushing touchdowns -- tied with Keenan Reynolds for the most in FBS. Bibbs benefited from the arrival of former Alabama OC Jim McElwain, and it looks like that Rams rushing attack has not skipped a beat since his departure. McElwain has replaced Bibbs with former Tide running back Dee Hart and JUCO recruit Treyous Jarrells, and against Colorado they combined for 260 yards on the ground. Colorado's defense may not be on par with Boise State, but I am a believer in McElwain and this Rams rushing attack.
Here are the rest of our picks as well as the standings.
Expert Picks: Confidence Pool

Confidence
number


Fornelli


Hinnen


Patterson

10

-12.5
over Iowa State

-20.5
over UTEP

+10.5
cover vs. Boise State
9

-6.5
over Toledo

+14.5
cover vs. Penn St.

-31.5
over S.J. State
8

-7
over UTSA

-10.5
over Fresno State

-26.5
over New Mexico
7

-14.5
over Akron

-24.5
over Memphis

+15.5
cover vs. S. Carolina
6

+5.5
cover vs. Notre Dame

-19.5
over Vanderbilt

-7
over UTSA
5

+10.5
cover vs. Boise State

+13.5
cover vs. Oregon

+6
cover vs. Illinois
4

+19.5
cover vs. Ole Miss

+10.5
cover vs. Boise State

-18
over Troy
3

+13.5
cover vs. Oregon

-24.5
over Tulsa

+6.5
cover vs. Missouri
2

+6
cover vs. Illinois

+5.5
cover vs. Notre Dame

+21
cover vs. Texas Tech
1

+3.5
cover vs. Stanford

-4.5
over Boston College

+3.5
cover vs. Texas
Week 1 Points (Rec.)
23 (4-6)
41 (8-2)
22 (4-6)
Totals Points (Rec.)
23 (4-6)
41 (8-2)
22 (4-6)
This week's schedule is a bit light compared to last week, and I think that's reflected in our picks as the three of us chose from a wider variety of games compared to last week. All three of us believe in Colorado State this week, as we were impressed by the Rams ground game and not as impressed with Boise State against Ole Miss.
Elsewhere both Jerry and I are confident in our Penn State-Akron pick, but we're on different sides of the equation. So that game is suddenly very important to me. 
Be sure to let us know how brilliant/stupid we are for our picks in the comments.
MORE EXPERT PICKS: Click HERE
Show Comments
Hide Comments
Kirk Merritt claims 'jock itch' was the reason he exposed himself to two tutors

The former coach weighed in on the new NCAA recruiting rules

Wiggins has played more than 30 games in the ACC and SEC during his career
Our panel of experts drafted the best sports video games that have ever been created

The players allegedly conspired to steal belongings from another student's dorm room

Harbaugh handed the Pope a Wolverines helmet and special shoes