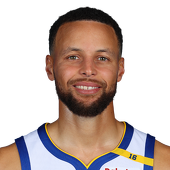 Own

100%

Start

98%

PG Rank

1
Latest News
Curry exploded for 41 points (11-20 FG, 9-16 3Pt, 10-11 FT), six rebounds, eight assists and a pair of steals over 31 minutes in Friday's 135-116 victory over the Suns. The beat goes on for Curry and the Warriors, who cruised to 17-0 on the back of the reigning MVP's second 40-point performance over the last five games. He also tallied the most three-pointers in a game all season (nine), shooting an outstanding 56 percent from beyond the arc. Even though it's very early, Curry and his teammates appear to be well on their way to repeating their respective success from last year.

Curry scorched the Lakers on Tuesday for 24 points (10-21 FG, 4-12 3Pt), nine assists, four rebounds, and two steals in 30 minutes. Curry took down the Lakers early, and it resulted in limited minutes in a blowout game. That being said, he was very efficient in his time on the court, and owners can expect him to continue on dominating in his MVP-esque season.

Curry totaled 40 points (11-22 FG, 6-14 3Pt, 12-12 FT), 11 rebounds, four assists, and three steals over 37 minutes in Thursday's 124-117 victory over the Clippers. It was a wild night overall for the Warriors, and Curry played a key part in the majority of the developments. The reigning MVP committed seven turnovers for the second consecutive contest, but also posted his first double-double of the season in leading the Warriors back from a 23-point deficit. Curry hauled in a a season-high 11 boards while also going to the charity stripe 12 times, the most he has in Golden State's first 13 games. Four of those free throws helped the Warriors extend their lead to 122-115 late in the fourth, after one of his six three-pointers on the night had allowed Golden State to take a 116-115 lead earlier in the period. The Warriors and Curry appear unbeatable at this stage of the season, demonstrating an ability to thrive in any type of situation.

Curry scorched the Raptors for 37 points (13-23 FG, 5-10 3Pt, 6-7 FT), nine assists, two rebounds, and two steals in 40 minutes of action, claiming the Warriors' twelfth straight win on Tuesday. Curry has now broken the 30-point scoring mark three consecutive games and appears to be on a hot streak. It's not likely he'll keep this up for longer, but even his "cold" days appear to be more than fine from a fantasy perspective. Stints of scorching shooting games like these should be expected from him occasionally this year.

Curry amassed 34 points (13-31 FG, 5-16 3Pt, 3-3 FT), six assists, three rebounds, and a steal over 44 minutes in Saturday's 107-99 overtime victory over the Nets. As with all elite players, a Curry "off" night usually still yields what would be considered outstanding production. Such was the case Saturday, with Curry matching his fourth-highest scoring total of the season despite his third-worst shooting performance from three-point range to date in the new campaign. The All-Star guard posted his most extensive time on the court over the Warriors' first 11 contests, in a game during which the Nets put a legitimate scare into the reigning NBA champs. With backcourt mate Klay Thompson out, Curry also notably tallied his highest shot volume of the season, putting the ball up 31 times overall.
Recent Tweets
You already know @StephenCurry30 made the time to see @DavidsonMBB while in Charlotte. https://t.co/PoNCR4f2zw

With the present in perfect order, the Warriors' Steph Curry revisits his past: https://t.co/eEp7XohxR8

Stephen Curry at Davidson Game -- https://t.co/REg5HfyBZN -- Always great talking w/ @DavidsonMBB coach Bob McKillop https://t.co/tBOBCYSpfE