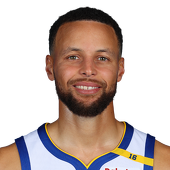 Own

100%

Start

89%

PG Rank

1
Player News
Curry contributed 26 points (10-26 FG, 1-9 3Pt, 5-5 FT), 10 assists, six rebounds and three steals over 38 minutes in Saturday's 116-108 victory over the Thunder. The reigning MVP had a down night when compared to his 51-point explosion against the Wizards on Wednesday, but it was certainly a stellar outing by mortal standards. Curry had four points and two key assists in the final minutes to seal the hard-fought victory, and tallied his first game with double-digit dimes since Jan. 22 versus the Pacers. While he failed to drain multiple three-pointers for the first time since Jan. 2 against the Nuggets and posted his worst shooting percentage from behind the arc this season, Curry predictably was nevertheless the Warriors' leading scorer and continues to produce another MVP-caliber campaign.

Curry suffered a bloodied nose in Saturday's game against the Thunder and is scheduled to return, according to Marc J. Spears of Yahoo!. Curry suffered the bloody nose early in the second quarter.

Curry recorded 51 points (19-28 FG, 11-16 3Pt, 2-3 FT), seven rebounds, three steals, and two assists in 36 minutes during the Warriors' 134-121 win over the Wizards on Wednesday. Curry scored 50 or more points for the second time this season, and he matched his career-high with 11 triples--one shy of matching the NBA record. The reigning MVP did turn the ball over seven times, but he certainly responded well after an extremely rare off night versus the Knicks on Sunday in which he scored 13 points on 5-of-17 shooting.

Curry had 23 points (9-19 FG, 5-11 3Pt), six assists, five rebounds, two blocks and a steal in a win against the Sixers on Saturday. Curry struggled with his shot at the onset of the game and uncharacteristically finished with seven turnovers. However, Curry and the rest of the Warriors did enough to win against the lowly Sixers and avoid a major letdown. The reigning MVP is certainly not in any danger of taking a step back, and should be rolled out in every single fantasy format without hesitation.

Curry recorded 37 points (12-20 FG, 6-9 3Pt, 7-7 FT), five steals, three assists, and two rebounds in 28 minutes during the Warriors' 120-90 victory versus the Spurs on Monday. Chef Curry was cooking on Monday, and he turned the ball over only once as well. His historically efficient season continues, as Curry is scoring more than 30 points per game on fewer than 20 field goal attempts. The 27-year-old guard is primed to win his second straight MVP this season, and these days he barely seems human anymore.
Recent Tweets
Steph Curry on the "resentment" the Warriors inspire https://t.co/2KYyzjdq0C https://t.co/SJpD5rVOTi

Steph Curry on Cam Newton's press conference: "I can't really say how I would have... https://t.co/qZyr6csKtx https://t.co/OtUIgYhoty

A good Steph Curry media session today. Talked teams resenting the Warriors, Luke Walton's coaching prospects, referenced Baseketball