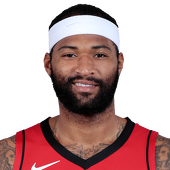 Own

100%

Start

94%

PF Rank

NR
INJURY ALERT:
Questionable | Back | Questionable for Nov. 27 vs. Minnesota
Latest News
Cousins (back) has been ruled out of Wednesday's night game against the Bucks, James Ham of CSN Bay Area reports. The decision to hold Cousins out of Wednesday's game isn't all that surprising. He left Monday's game against the Hornets in overtime due to back discomfort and then was held out of practice on Tuesday. The severity of the back strain is still relatively unknown, but more information should be released in the next couple of days. With Cousins out of the lineup tonight, expect Kosta Koufos to get the start and Quincy Acy to see more minutes off the bench.

Cousins is officially doubtful for Wednesday's matchup with the Bucks, Jason Jones of the Sacramento Bee reports. Cousins continues to deal with stiffness in his back and considering he missed practice earlier Tuesday, it's not surprising that he's now doubtful to play Wednesday. If Cousins is unable to play Wednesday, the Grizzlies will likely use Willie Cauley-Stein and Kosta Koufos as their power forward and center combination.

Cousins (back) was held out of Tuesday's practice, Jason Jones of the Sacramento Bee reports. Cousins was battling stiffness in his back during Monday night's loss to the Hornets, and he was in visible pain for parts of the second half, frequently favoring the back and clearly limited in terms of mobility. While the Kings are yet to comment on his status for Wednesday's game in Milwaukee, Cousins' absence from practice certainly is not the most encouraging of signs. Consider Cousins optimistically questionable until further notice.

Cousins (back) dealt with significant discomfort on the flight from Charlotte to Milwaukee, Gary Gerould of ESPN reports. Despite missing part of the third quarter and all of overtime in Monday's loss to the Hornets, Cousins finished with 30 points, 11 boards, three blocks, an assist and a steal in 31 minutes. It sounds as if he's in real danger of missing Wednesday's game against the Bucks, which would leave more playing time for Kosta Koufos and Willie Cauley-Stein, among others.

Cousins left Monday's game in overtime with a stiff back and was unable to return, James Ham of CSNBayArea.com reports. Cousins was standing on the sideline for the overtime period because he was unable to sit. It is currently unclear how serious of a concern this is for Cousins, but expect an update before the Kings next game in Milwaukee Wednesday. Cousins finished the night with 30 points, 11 boards, one assist, one steal, three blocks, and two threes in 31 minutes.
Recent Tweets
DeMarcus Cousins is listed as doubtful with a lower back strain for Friday's game vs Minnesota. Caron Buler is questionable w/ ankle sprain

DeMarcus Cousins is officially doubtful for tomorrow's game against the T-Wolves with a lower back strain. Caron Butler is questionable.

Source says no contact made between Cousins and Mayo. Trash talking, but Cousins should be in the clear on this, but no physical contact.