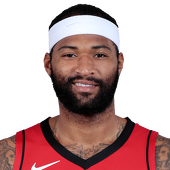 Own

100%

Start

92%

C Rank

1
Player News
Cousins scored 28 points (8-18 FG, 0-2 3Pt, 12-17 FT) to go along with 12 rebounds, five assists and two steals in 36 minutes on Wednesday in a win against the Sixers. Cousins struggled early on Wednesday against the Sixers, but he eventually got it going like always. In his first run of minutes, Boogie was a bit passive and only put up one shot from the field in the first quarter. Once he returned to the game in the second quarter, Cousins got to the free-throw line eight times and that really boosted his scoring output. While it seems like the world is falling down around him, Cousins is still one of the best centers in the NBA and should be deployed in every fantasy format.

Cousins (ankle) contributed 31 points (11-25 FG, 3-6 3Pt, 6-8 FT), seven rebounds, and six assists in 36 minutes during the Kings' 128-119 loss to the Celtics on Sunday. Cousins was listed as probable, and seems like a good bet to suit up again in Cleveland on Monday. Cousins only ended up missing one game after suffering an ankle injury last week, and he put up huge numbers in three losses this week--including one triple-double. The turmoil is building in Sacramento, but the big man keeps churning out saucy stats even if it includes a hefty batch of turnovers and technical fouls.

Cousins (ankle) is listed as probable for Sunday's game against the Celtics, Sean Cunningham of ABC 10 Sacramento (KXTV) reports. Cousins has been excellent in his first two games back from the sprained left ankle, producing 30 points and 11 rebounds Wednesday against the Bulls and submitting a triple-double (24 points, 10 rebounds, 10 assists) in Friday's loss to the Nets. He doesn't appear in any imminent danger of missing Monday's contest, so expect him to see his normal allotment of court time.

Cousins had 24 points (9-18 FG, 4-4 3Pt, 2-3 FT), 10 rebounds, 10 assists and two steals in 40 minutes on Friday in a loss against the Nets. Cousins had his first triple-double of the season in the losing effort, but it appears there are more tumultuous times ahead. The troubled center had some choice words to reporters after the game and may have implied that a coaching change could be in order, again. From a fantasy perspective, don't expect anything to be different for Boogie. He's still going to do whatever he wants on the court, no matter who is coaching him, and that's not such a bad thing for his fantasy production considering he takes a ton of shots.

Cousins (ankle) will play in Friday's matchup with the Nets, James Ham of CSNBayArea.com reports After missing Monday's game against the Bucks, Cousins returned to the lineup on Wednesday against the Bulls, playing over 37 minutes while tallying 30 points and 11 rebounds. He should be good to play major minutes again on Friday.
Recent Tweets
Cousins' New Valentine's Day Commercial » https://t.co/MN2BdCduUl https://t.co/OxUYPyowot

But is he Coogi down to the socks? Kings' DeMarcus Cousins discusses his 'ugly' side at All-Star Weekend https://t.co/jp4geLx5g7

DeMarcus Cousins after the skills challenge https://t.co/zKEEEsQ4Ns