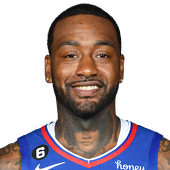 Own

100%

Start

91%

PG Rank

3
Latest News
Wall matched his season high of eight turnovers while adding 18 points (5-9 FG, 3-4 3Pt, 5-5 FT), five assists and four rebounds over 31 minutes in Tuesday's 123-106 loss to the Pacers. Wall's scoring has really diminished as the season's gone along, as he's averaging just 14.3 points per game over eight games in November. The good thing is he's still in the top five in terms of assists per game at a shade over eight.

Wall collected 19 points (7-10 FG, 2-5 3Pt, 3-6 FT) while dishing out nine assists and pulling down six rebounds over a team-high 31 minutes in Tuesday's 115-86 win against the Bucks. Wall had an easy time picking apart the defensively challenged Bucks, though he did turn the ball over five times. He's struggled shooting the ball from distance this season, so the pair of treys is nice to see. Wall's scoring is down a bit since the Wizards are a deeper team, but that will only make him a more lethal passer.

Wall struggled Tuesday, finishing with just nine points on 4-of-13 shooting, and adding five assists over 25 minutes in a 125-101 loss to the Thunder. Wall had his hands full going up against Russell Westbrook and the Thunder jumped out to a 18-point halftime lead. The 25 minutes was a season-low, as Wall had little opportunity to post secondary statistics. Oklahoma City outrebounded Washington 53-41, and without Beal on the outside, Wall saw his assist total take a hit.

Wall scored 19 points (6-16 FG, 2-6 3Pt, 5-5 FT) with 12 assists, two rebounds, two steals and a block in 36 minutes during Saturday's loss to the Hawks. He also committed seven turnovers, but otherwise it was another impressive night for Wall, who has three double-doubles in six games. Perhaps the most surprising production from the point guard so far is not his 19.2 points or 8.8 assists per game though, but his frontcourt-worthy 2.2 blocks a game.

Wall posted 17 points (6-16 FG, 1-5 3Pt, 4-5 FT), two rebounds, 13 assists, four steals, and one block in 35 minutes of action Wednesday against the Spurs. Wall is averaging 20.8 points, 3.3 rebounds, 8.3 assists, 2.5 steals, 2.3 blocks, and 1.5 treys this season so far. His uncanny ability to post blocks as a guard is a mystery, and there's a pretty good chance that his 2.3 BPG won't stay that way for long -- but owners can ride on his points, assists, and steals regardless.
Recent Tweets
Joseph hits a 3 at the buzzer, #Wizards fall 84-82 Beal 20p-6r-6a Wall 18p-5a Gortat 16p-10r #WizRaptors https://t.co/eBtfkhg4lo

#Wizards get the stop, Wall goes 2/2 from the line, Wiz up 82-79, 10.2 sec left. #Raps take a timeout #WizRaptors

.@JohnWall all ❤ #WizRaptors