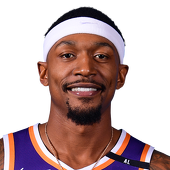 Own

99%

Start

70%

SG Rank

31
Player News
Beal contributed 22 points (10-16 FG, 0-2 3Pt, 2-2 FT), three rebounds, two assists, and one steal in 32 minutes during the Wizards' 106-94 win against the 76ers on Friday. Beal rejoined the starting lineup after coming off the bench the previous four games. He has averaged 17.2 points over these last five contests, but is managing only 2.2 rebounds, 2.2 assists, and 0.8 steals in 29 minutes per appearance over that span. Beal has never been known as a guy who puts up really well-rounded stats, but it'd still be nice to get a bit more out of him in the other categories besides scoring. The Wizards are back in action on Saturday when they take on the Hornets in a battle between the East's ninth and 10th seeded teams.

Beal is in the starting lineup for Friday's game against Philadelphia. After coming off the bench in the Wizards' last four games, Beal will re-enter the starting rotation for Friday's matchup with the 76ers. However, owners shouldn't expect a massive spike in minutes Friday given that he has essentially been playing starter-level minutes of late (27.75 mpg). Still, he'll have a favorable matchup against a porous Philadelphia defense.

Beal came off the bench to score 18 points (7-15 FG, 1-1 FT, 3-7 3Pt) with three rebounds and an assist in 26 minutes during Monday's loss to the Thunder. The oft-injured guard has now come off the bench for three consecutive games since returning from a head injury, although his minutes actually decreased from the 30 he played Saturday. Beal's workload is still expected to increase moving forward, but he could be limited in some regard for the rest of the season. Furthermore, the 15 field-goal attempts tied Beal's most since initially returning to the lineup, so his fantasy prospects appear to be trending in the right direction.

Beal will continue coming off the Wizards' bench, but he expects to see his minutes increase in the near future, J. Michael of CSN Mid-Atlantic reports. Beal was expected to take back his spot as the starting shooting guard after he returned from a stress reaction in his right leg in mid-January, but the Wizards opted to stick with Garrett Temple in that role in an effort to better control Beal's playing time. Because of his extensive history of injuries with the right leg, it seems unlikely that Beal will at any point regularly see 35 minutes of court time the rest of the season, but if he can settle into the 30-to-35-minute range on a more frequent basis, he'll still carry plenty of fantasy value. Since returning from the injury, Beal has yet to play more than 30 minutes in any of his seven appearances.

Beal had 17 points (7-14 FG, 1-2 3Pt, 2-3 FT), two assists, a rebound and a steal in Thursday's loss to the Nuggets. Beal is still coming off the bench and working his way back into shape for a full slate of minutes. His latest setback was a broken nose and concussion, which caused him to wear the fashionable plastic mask, but he still looked great on the court. In fact, Beal has looked great in mostly every game he's played in since returning from the injury list, but Washington will want to remain cautious with him for the foreseeable future.
Recent Tweets
Beal isn't in the starting 5 but he's available. #Wizards starters: Wall, Temple, Porter, Dudley, Gortat.

Bradley Beal is playing tonight and Nene is a game-time decision, per Wittman. No Anderson or Humphries.

Best part of @RealDealBeal23's return to the starting five last night? These back-to-back dunks are a good start. https://t.co/wGzcxyMjHY