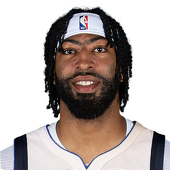 Own

100%

Start

99%

PF Rank

4
Player News
Davis recorded 19 points (7-15 FG, 1-1 3Pt, 4-6 FT) and five assists but managed just four rebounds and one blocked shot over 34 minutes in Wednesday's win against the Jazz. Davis' four rebounds is the lowest total in any game in which he's he's played 10-plus minutes this season. The fourth-year superstar was averaging a blistering 26.8 points, 10.8 rebounds and 1.7 blocks per game since his return from a concussion Jan. 30 before Wednesday's outing. Nevertheless, this is likely nothing more than an aberration in what has been another dominant season for Davis.

Davis scored 27 points (12-20 FG, 2-6 FT, 1-2 3Pt) and added eight rebounds, two steals and one assist across 31 minutes in Monday's win over he Timberwolves. The Brow was held under 10 boards for the first time in four games and uncharacteristically failed to block a single shot, but he did score at least 20 points for the sixth consecutive game since returning from a concussion, which is apparently behind him at this point. Davis is typically a heavy contributor in both points and rebounds, and Monday's performance can be considered an outlier in what is typically an elite all-around pattern of production.

Davis tallied 24 points (11-20 FG, 2-4 FT), 11 rebounds (four offensive), and two blocks across 40 minutes in Saturday's 99-84 loss to the Cavaliers. Davis had nowhere to go but down after a 39-point, 11-board outing Thursday against the Lakers, but he at least came through with scoring and rebound production that was right on par with his season averages. The 22-year-old has played at least 37 minutes in each of the Pelicans' five games since he returned from a concussion, so despite having dealt with multiple short-term injury setbacks this season, Davis doesn't look like he's going to face restrictions at any point.

Davis collected 39 points (16-25 FG, 7-12 FT), 11 rebounds, a steal and a block over 39 minutes in Thursday's 99-96 loss to the Lakers. Davis' point-per-minute output kept the Pelicans in the game, as he was only one of two New Orleans starters to manage double-digit scoring. He unsurprisingly dominated the Lakers' frontcourt on the night, en route to his third double-double in the last four contests. As long as he can avoid the multiple early exits he's endured this year due to various injuries, Davis is obviously a top-end producer in any fantasy format. He may be taking his game up to another level as the season nears the All-Star Break, as the four-year pro is already averaging a season-best 30.0 points per game over three February contests, while also hauling in 10 boards per night over that span.

Davis recorded 28 points (11-22 FG, 0-1 3Pt, 6-7 FT), 10 rebounds, four assists, four steals, and four blocks in 37 minutes during the Pelicans' 110-97 loss to the Spurs on Wednesday. Davis now has 25 double-doubles on the season, but the 18-30 Pelicans' playoff hopes are slipping away one game at a time. Thursday's second night of a back-to-back versus the Lakers has all the makings of a must-win for New Orleans, and Davis will likely do all he can to dominate on both ends.
Recent Tweets
Anthony Davis 'completely devastated' by death of Monty Williams' wife https://t.co/iXgojNyHrp

.@AntDavis23 talks about closing out the fourth quarter & the #Pelicans win. WATCH: https://t.co/F8qxkP2cHP https://t.co/YBAQNRYyOi

Didn't see it, but I'm told Davis was emotional in postgame TV interview.