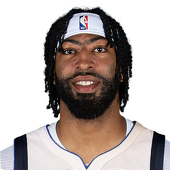 Own

100%

Start

91%

PF Rank

2
Latest News
Davis (knee) scored 36 points (12-18 FG, 0-2 3Pt, 12-15 FT) while adding 11 rebounds, three blocks and two steals in 44 minutes during Saturday's loss to the Jazz. If he was hindered at all by the knee contusion that took him out of Friday's game, he certainly didn't show it. Davis now has a double-double in each of the last five games he's been able to finish, averaging a monstrous 30.0 points, 15.2 boards, 3.0 blocks and 1.4 steals in those contests.

Davis (knee) will play in Saturday's game against the Jazz, Tony Jones of the Salt Lake Tribune reports. Davis was listed as probable for the contest earlier in the day, so the Pelicans don't appear to be too concerned about their star forward's injury. Considering Derrick Favors has already been ruled out of Saturday's contest due to personal reasons, Davis might have an easier opportunity to post big numbers, but it remains to be seen how much the Pelicans will be willing to play him one day after sustaining an apparent knee injury.

Davis (knee) is listed as probable for Saturday's matchup in Utah, Marc Stein of ESPN reports. Pelican fans and Davis owners can breath a sigh of relief with this status update. Davis had to be carried off the court Friday after suffering a right knee contusion, and appeared to be in immense pain. Fortunately, all signs now point toward this injury not being serious. The probable status is a surprise, as you would expect the Pelicans to be cautious with their superstar power forward, but they must be confident he is fine. Davis will have a difficult matchup against one of the toughest frontcourts in the league in Derrick Favors and Rudy Gobert.

Davis suffered a right knee contusion in the third quarter of Friday's game and is questionable to return, Jennifer Hale of Fox Sports reports. Davis bumped knees with Chris Paul in the open court as Paul slowed down in front of him in an attempt to draw a foul. He immediately began hopping on one leg and was in obvious pain. He tried exiting toward the locker room with the help of teammates, but eventually needed to be carried off. Obviously, any type of knee injury is immediate cause for concern, and this specific case did not look good based on Davis' reaction. However, early reports indicate there is no structural damage, and that Davis is questionable to return. Pelican fans, along with Davis owners will have to continue holding their breath until more information is made available.

Davis scored 32 points (11-22 FG, 1-2 3Pt, 9-11 FT) with 19 rebounds, four blocks and two steals in 39 minutes during Sunday's win over the Suns. He's missed three of the last seven games, and played just six minutes in a fourth, due to minor hip and shoulder injuries, but in the three games when Davis was healthy the Pelicans have gone 2-1 and he's averaged a whopping 29.3 points, 16.0 boards, 3.3 blocks, 1.0 steals and 1.0 threes. Davis seems determined to snap the club out of its lethargic start single-handedly, but his inability to stay healthy keeps getting in the way.
Recent Tweets
It was a big night for @AntDavis23. Unfortunately it wasn't enough for the W in Utah RECAP: https://t.co/TktA7pPjxD https://t.co/GSR6NxxSkf

Jazz keep #Pelicans at arm's length, spoil Anthony Davis' 36-point game, win 101-87: https://t.co/0Vn7CBqT5c https://t.co/80Ts3IQEAo

Pelicans starters FG shooting tonight: Davis 12-18 Gee 4-5 Asik 0-3 Gordon 1-9 Holiday 0-4