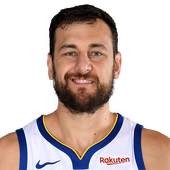 Own

54%

Start

26%

C Rank

31
Player News
Bogut had eight points (4-8 FG), 16 rebounds, four assists and two blocks in a win against the Sixers on Saturday. Bogut typically doesn't get it done at the offensive end, but Saturday was a perfect example of just how valuable he is to the Warriors. The 16 rebounds were two shy of his season-high, and his work down at the defensive end led to a lot of the Warriors trademark fast breaks. Bogut won't play many minutes each game, but he certainly makes the most of his time out on the court.

Bogut, who had experienced back spasms during Wednesday's win over the Bulls, started and played 19 minutes in Friday night's win over Indiana. He finished with two points (1-6 FG), six rebounds, one assist and three blocked shots. The Warriors tend to monitor Bogut's minutes even when he's healthy, but more so when he's experiencing some sort of nagging injury. A combination of backup big Festus Ezeli and Golden State's effective small-ball lineup allows head coach Steve Kerr, who returned to the bench Friday night, the luxury of deploying Bogut as he sees fit.

Bogut (back) will play and start Friday versus the Pacers. Bogut was questionable heading into this matchup with the Pacers due to back spasms. While he will play, it is possible the Warriors will be cautious with the Australian big man if his back appears to be hindering his performance. Either way, the fact that he is playing is a good sign for the severity of his back injury.

Bogut was dealing with back spasms during Wednesday night's 125-94 win over Chicago, the San Francisco Chronicle reports. Bogut played 20 minutes with the spasms, posting six points (3-3 FG) with 12 rebounds, two assists, one steal, and three blocked shots. He'll get a day off before Golden State's next game Friday night in Indiana.

Bogut scored 15 points (7-8 FG, 1-2 FT) with seven rebounds, two assists, three blocked shots and a steal in Wednesday night's loss to Denver. The points are nice to see out of Bogut, who scored in double-digits for the first time in 11 games. The Warriors were giving Draymond Green a rest day, which meant other bigs to pick up some extra playing time. This was just the fourth time that Bogut's played more than 30 minutes.
Recent Tweets
Bogut out as Kanter's quickness was a problem for him

Bogut-Barnes-Andre-Klay-Liv. Rangy defensive lineup

Andrew Bogut picks up his third personal foul, and Marreese Speights heads to the scorer's table.