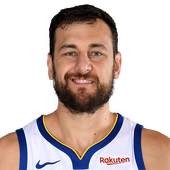 Own

72%

Start

32%

C Rank

25
Latest News
Bogut (back) sat out of practice Wednesday, Monte Poole of CSN Bay Area reports. Bogut slightly tweaked his back during Tuesday's game against the Lakers, and is dealing with stiffness as a result. The injury is minor and shouldn't warrant any concern moving forward. Fantasy owners can expect him to be on the court Friday when the Warriors take on the Suns.

Bogut appeared to teak his back in Tuesday's game against the Lakers, but remained on the court and posted eight points (4-7 FG), seven rebounds, two assists, and two blocks in 21 minutes. Bogut has had his fair share of injuries throughout his career, so any form of tweak is a reason for some kind of panic. That being said, he didn't need to leave to game, and owners will just have to hope that his two days off will help him recover in time for Friday's game.

Bogut scored 13 points (5-6 FG, 3-6 FT) and collected six rebounds, two assists, one steal, and one blocked shot over 17 minutes in his return to the starting lineup Tuesday against the Raptors. Bogut now has two back-to-back double-digit scoring games after he earned back his starting role from Festus Ezeli following a monstrous 10-point, 18-rebound effort in last Saturday's overtime victory over the Raptors. Ezeli ended up seeing more minutes (22) than Bogut did on Tuesday, but that's likely due largely to Bogut battling foul trouble on the evening. Bogut still figures to assume the greater share of the playing time at center most nights, though he certainly won't dominate the minutes.

Bogut will return to the starting lineup in Tuesday's matchup with the Raptors, Monte Poole of CSN reports. This marks Bogut's first start since the opener, as he's finally over any lingering effects of the concussion that costed him a bunch of games early this year. Now that he's healthy and in the starting lineup, Bogut's minutes should see a slight increase in the 21 minutes per game he's averaged so far this season. With Bogut's return to the starting lineup, Festus Ezeli will move back into a reserve role off the bench.

Bogut scored 10 points with 18 rebounds, four assists, two steals and three blocked shots in Saturday night's 107-99 victory over Brooklyn. Bogut was a monster in a season-high 32 minutes off the bench. He's still coming off the bench, but if he's good to play 32 minutes, conditioning is no longer the reason.
Recent Tweets
.@StephenCurry30 tallied 24pts/9ast/4reb, @andrewbogut put up 8pts/7reb, @festus had 9pts/7reb & @andre added 6pts/9reb/4ast.

4 quick points for @andrewbogut to start the second half.

Andrew Bogut switches onto Kobe Bryant, so Bryant fires an airballed three-pointer.