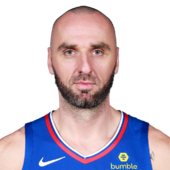 Marcin Gortat
#13 C / Washington Wizards / EXP: 8YRS
Height: 6-11
Weight: 240 lb
Age: 31
College: No College
Own

95%

Start

67%

PF Rank

NR
by RotoWire Staff | Special to CBSSports.com

Wizards' Marcin Gortat: Matches season high with five assists in Tuesday's loss

Gortat matched his season high, dishing out five assists while scoring 10 points and pulling down nine rebounds over 24 minutes in Tuesday's 123-106 loss to the Pacers. Gortat really did a nice job distributing the rock Tuesday, but unfortunately those type of assist numbers have come few and far between this season. It was, however, the eighth straight game Gortat finished with double-digit scoring. He's averaging close to a double-double per game (12 PPG, 8 RPG) over eight games in November.

by RotoWire Staff | Special to CBSSports.com

Wizards' Marcin Gortat: Just misses double-double in Tuesday's win

Gortat scored 12 points (4-9 FG, 4-6 FT) and came down with nine rebounds over 27 minutes in Tuesday's 115-86 win against the Bucks. Gortat has been incredibly consistent this season, posting double-digit scoring in each of his past six contests while grabbing eight or more assists in five of those games. The odds of him lighting up the scoreboard are low, but he's been a solid contributor on the boards.

by RotoWire Staff | Special to CBSSports.com

Wizards' Marcin Gortat: Falls short of double-double Wednesday

Gortat accumulated 10 points and eight rebounds in Wednesday's 102-99 win over the Spurs. Gortat started for the Wizards on Wednesday and came up two rebounds short of a double-double in his 28 minutes of action. He has been very solid and consistent in his first four contests this season, and his numbers (9.5 PPG, 7.5 RPG) are right around his career averages. As the Wizards starting center, he has definite potential to be a valuable big man option in most scoring formats.

by RotoWire Staff | Special to CBSSports.com

Wizards F Marcin Gortat collects 15 points in loss Friday

Wizards forward Marcin Gortat tallied 15 points (6-8 FG, 3-3 FT), two assists, and five rebounds in 25 minutes in Friday's 115-104 loss to the Knicks. The Polish Hammer is back to man the middle in Washington for the third consecutive season, and looks to build a solid 2014-15 campaign in which he played all 82 games. Gortat provided superior defense intertwined with the occasional offensive outburst last season, and the Wizards figure to require more of the same from him in the upcoming campaign. The veteran center may have a new frontcourt mate in Kris Humphries if Humphries is able to wrest the starting job away from Nene Hilario, but Gortat should be able to adapt accordingly if that is indeed the case. Gortat will provide modest offensive production on most nights for fantasy owners, but certainly has the potential to augment his value with his above-average rebounding ability and overall defense. He shapes up as a solid mid-to-late round pick, and would be slotted in the top half of centers.

by Shawn Krest | CBSSports.com

Food poisoning slowed Marcin Gortat in Wizards' Game 6 loss

Wizards center Marcin Gortat played just 12 minutes in Friday's Game 6 loss that eliminated Washington from the NBA playoffs. Gortat scored just two points on 1-of-4 shooting. The playing time was a career low, and the scoring output matched his career worst. Gortat's light workload was due to a case of food poisoning that had plagued him for two days leading up to the game, per the Washington Post. "This morning I could barely walk pretty much. I didn't feel right," Gortat said. "I came in here and I threw up in the locker room. I felt a little bit better after that. I took a couple shots, different IVs. I feel kind of better now but I ain't going lie, the shots kind of numbed me out totally. I tried to just go out and do something. Coach gave me an opportunity the first few minutes and it didn't work for me. He pulled me out."

by Jason Lempert | Staff Writer

Wizards forward Marcin Gortat struggles in Game 4

Wizards forward Marcin Gortat, who had been one of the team's top performers during the playoffs, struggled in Monday's Game 4 against the Hawks. After averaging 15 points in the team's first seven games, Gortat scored just three points on Monday with just eight total rebounds. "We have to get him continually rolling to the basket," Coach Randy Wittman said, per The Washington Post. "It was just one of those nights. You are going to have tough nights like that." Forward Paul Pierce explained the reason behind Gortat's poor game, noting that the Hawks had "effective double teams" and the rest of his teammates not getting the ball to him enough. "He should have more touches than he did tonight," Pierce said. "That is on us so we will look at the tape and figure this out."

by Ted Leshinski | Staff Writer

Marcin Gortat goes for 21 points, 11 rebounds in Wizards' clincher

Center Marcin Gortat delivered 21 points, 11 rebounds and five assists in the Wizards' 125-94 victory on Sunday to close out the Raptors in the first round of the playoffs, 4-0. Gortat shot eight of nine from the floor and also added two steals and a block in the win. "I guess I'm the weakest link out there, so they're going to leave me open a lot," Gortat said. "One day, if I'm going to play a perfect game, I might crack the Wilt Chamberlain record of 100 points."

by Ted Leshinski | Staff Writer

Wizards' Marcin Gortat tallies 21 points, 16 rebounds in loss

Center Marcin Gortat tallied 21 points and 16 rebounds but the Wizards lose to the Nets on Friday, 117-80.Gortat shot nine of 11 from the floor in the loss.

by Ted Leshinski | Staff Writer

Wizards' Marcin Gortat goes for 19 points, 7 rebounds in victory

Center Marcin Gortat scored 19 points, on nine of 13 shooting, to lift the Wizards over the Knicks on Friday, 101-87.Gortat also grabbed seven rebounds and recorded three blocked shots in the win.

by Brandon Wise | Staff Writer

Wizards center Marcin Gortat posts double-double in win Wednesday

Wizards center Marcin Gortat scored a team-high 23 points on a blistering 10 of 11 shooting from the field in Washington's 106-93 win over the 76ers Wednesday. ''Rolling to the basket instead of floating a little bit,'' coach Randy Wittman said of Gortat's work on the pick-and-roll, per the Associated Press. ''That was really good because he's got great hands, he can get to the basket. That was as good (a game) probably that he's had from the standpoint of rolling out of there.'' Gortat also pulled down a game-high 14 rebounds, leading to his 20th double-double of the season and first in his last 13 games. He added three assists and two blocks to his totals.