Did Ernie Els' win push him ahead of Phil Mickelson as second best of this generation?
Phil Mickelson has always been thought as the best golfer of this generation not named Tiger Woods, but Ernie Els' win on Sunday brings up a good debate.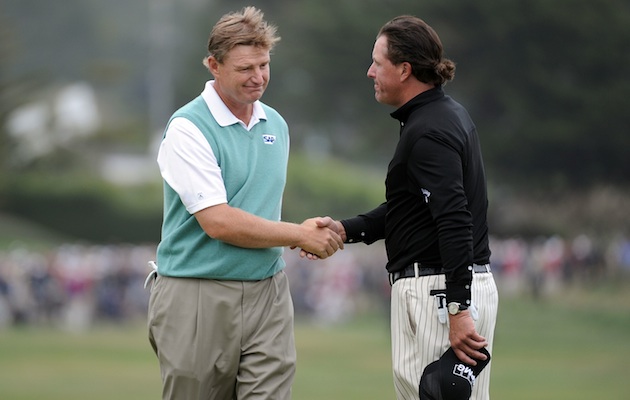 No matter which one you pick, these two are the only ones in the conversation as second best of this generation. (Getty Images)
On Sunday, Ernie Els won his fourth major championship, tying Phil Mickelson, a man that Ernie has competed with, and been sized up against, for a good portion of his career. Ernie and Phil are the two names most mentioned when talking about the best player of this generation not named Tiger Woods, and Ernie's win on Sunday had people bringing up the argument of Second Best Player behind Tiger again. 
But is the argument warranted? Let us take a look.
The Argument For Ernie 
Els -- 4 Majors (two British, two U.S. Opens) -- 19 PGA Tour wins -- 27 European Tour wins -- 16 Sunshine Tour Wins 
From Els' breakthrough win at the U.S. Open in 1994, the Big Easy has been a fixture on tour, randomly snagging titles throughout the '90s until he really found his game in 2002, taking home the Open Championship, bagging two more wins in 2003 and four wins in '04. The story on Ernie has always been that if Tiger had never been around, Els would have at least two more majors because the guy always seemed to stand in his way when Ernie was playing solid golf (it was just that Tiger was playing better). 
More on British Open
Related links
More golf coverage
Ernie's run at the British open through the 2000s is stuff of legends, finishing out of the top-10 just twice, and having a stretch from 2000-2007 when he finished first once, second twice, third twice and a T-4. 
His PGA Tour stats aren't nearly as impressive as Phil's, but he has as many majors and more World Golf Championships wins than Lefty (two to Phil's one). 
The Argument for Phil
Mickelson -- 4 Majors (three Masters, one PGA Championship) -- 40 PGA Tour wins -- 7 European Tour wins 
In terms of talented, the nod obviously goes to Phil, just because he's been doing it for so long. Phil won his first PGA Tour title as a college kid back in 1991, and while it took him a long time to get his first major championship, he's been able to take home three green jackets in the last nine years. 
Mickelson's resume is one that has more highlight wins, with the four majors, the one Players Championship and the one Tour Championship, but he's only snagged one World Golf Championship event, and has struggled down the stretch so much in the U.S. Open.
The thing is, for as shiny as Ernie's record was during that stretch at the Open Championship, Phil's is as good if not better at Augusta National, finishing third or better in seven of the last 12 Masters. He's also played great golf at the U.S. Open, it's just being able to close stuff out there that has him with the nasty title of "most second place finishes ever at the U.S. Open."
So who is the best player of this generation not named Tiger Woods? Ernie fans would argue that three of the majors Phil has won have all been on the same golf course, and it's just a case of one track fitting Phil's eye.
Phil fans would argue that his resume is simply better, with as many majors, a Players under his belt and way more PGA Tour wins.
I for one still think Mickelson has had the better career. Ernie's British win was incredible, and it gives him four combined Open wins between the two continents, but Phil has been doing it longer, and more consistent, than Ernie. 
Still, a pretty good argument to be a part of for both golfers. Tiger might go down as the greatest golfer of all time. I wouldn't mind being second to him on the list of guys that competed against him during his time on tour. 
Travelers offered a top-tier field and was gifted an ending that should best any major in...

Spieth knocked in a candidate for the golf shot of the year on Sunday afternoon

Find out when and how to watch the 2017 Travelers Championship live this week
The No. 3 player in the world narrowly made the cut after his monster drive

The Travelers Championship looks to be Spieth's to lose after another solid round

The two-time major winner was nearly flawless on Thursday