Photo of the day: TPC Sawgrass' 17th is truly an island
Our photo of the day is of the 17th hole at TPC Sawgrass, which because of Tropical Storm Debby, is actually a true island this Tuesday.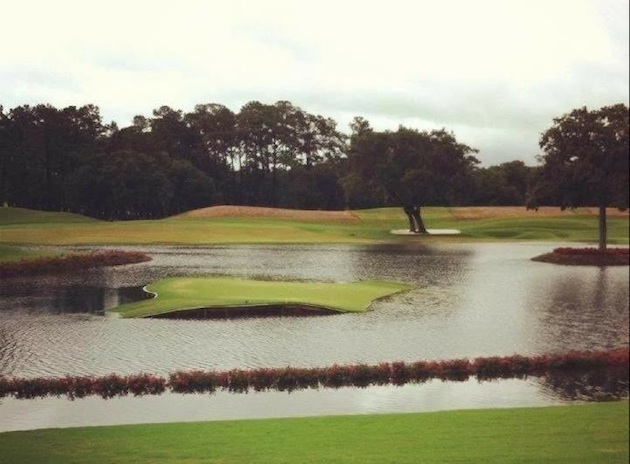 The 17th at TPC Sawgrass has been pounded by Thunderstorms and is nearly covered totally in water. (Tony Agolini)
The 17th hole at TPC Sawgrass is easily one of the most famous golf holes in the world and one of the most nerve-raking, but what would happen if you were forced to swim out to the green if you hit it? 
That's the case this Tuesday, as Tropical Storm Debby has dumped more than 6 inches of rain on the gem of Florida causing the island hole to be just that, an island.
The photo, courtesy of Tony Agolini (@tonyagolini), shows the 17th hole nearly covered in water, and as one of the bookers on the phone at TPC Sawgrass said, "it's really an island today." 
So enjoy TPC Sawgrass meets Coeur d'Alene at least for one day, because the only thing that would make that hole any tougher is if they made the green about half the size. 
UPDATE: Now with video ...
Show Comments
Hide Comments
Flirting with another missed cut, Jordan Spieth recovers and is four off the lead at the Dean...

After a brief blip at The Players, the Spaniard rocked again at Colonial on Thursday

What can Big Cat take away from the former Denver Broncos QB?
After one week with a mallet, old faithful is back in Spieth's bag

This was not the Super Bowl MVP's finest hour here

The European Tour's flagship event honored the victims of the Manchester bombing on Thursd...