2014 Athletics preview: Likes, dislikes
What are some things we like and dislike about the reigning AL West champs heading into the 2014 season? Let's have a look.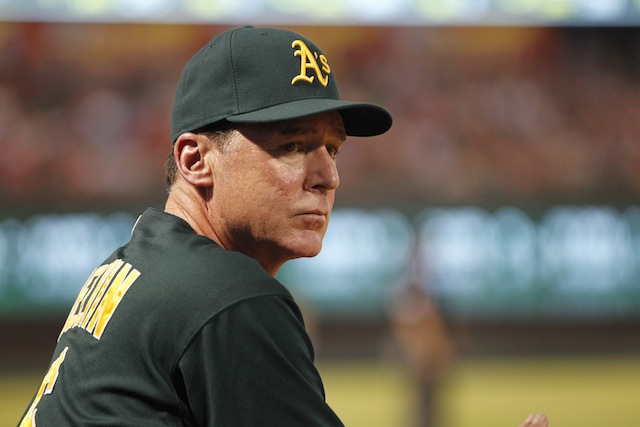 More Athletics: Team preview | Over/unders
As part of our preview series, Eye on Baseball will be picking and choosing some "likes" and "dislikes" for all 30 MLB teams heading into the 2014 season. For this installment, we'll run down what we like and don't like about the Oakland Athletics , who last season notched their second consecutive AL West title ...
LIKES
Bob Melvin: The A's skipper is among the very best at properly valuing and seizing the platoon advantage. That's a reflection of his willingness to use the entire roster -- particlarly rostered position players -- when situations call for their particular skills. He plays match-ups with the the best of them, and he has the upbeat demeanor to keep the team on his side despite shifting roles. Consider Melvin to be on the short-short-list of the top managers in the game today. 
Rotation depth: One can argue that the A's don't presently have a true ace, but they do have plenty of capable arms. The opening day rotation will likely run Jarrod Parker , Scott Kazmir , Sonny Gray , Dan Straily and A.J. Griffin . Should injury or prolonged ineffectiveness strike, then the A's can turn to Drew Pomeranz , Tommy Milone , John Lindblom or Arnold Leon , who figure to be poised and ready at the Triple-A level. Unlike so many teams, Oakland has the rotation contingencies covered. 
Defense: Last season, the Athletics led the AL in Defensive Efficiency (i.e., the percentage of balls in play that a defense converts into outs, which is sort of the point of defense when you think about it). They boast plus fielders like Josh Donaldson , Coco Crisp and Josh Reddick , and they make wise use of defensive shifts. Expect those trends to continue in 2013. The A's contact-heavy pitching staff will certainly appreciate their efforts.
DISLIKES
Josh Donaldson's chances of a repeat: Let me say at the outset that Donaldson is going to continue being a pronounced asset for the A's. He's a darn good player, and he'll be a darn good player in 2014. With that said, I don't expect Donaldson to repeat his MVP-caliber performance of 2013. The glove will remain a plus, but some offensive regression is likely in the offing. Specifically, you can expect Donaldson's batting average on balls in play to come back to earth a bit in 2014. With that, his other rate stats will step back a bit, as well. The power will still be there, but the batting average and OBP will drop somewhat. 
The AL West: It's a tough one, you know. The Rangers will remain competitive, as they have been for the past half-decade. The Angels have Mike Trout and, for the first time in a long time, some options in the rotation. The Mariners have added Robinson Cano and other useful parts, and the Astros, in addition to signing adding useful talents like Dexter Fowler and Scott Feldman , will necessarily experience a bounce-back from the depths of 111 losses. The West was tough in 2013, but it'll be even tougher in 2014. 
Show Comments
Hide Comments