As Puerto Rico takes down Japan, Molina proves he's the difference
With one more improbable win, this time over Japan, Puerto Rico has advanced to the World Baseball Classic's championship game. How do the Puerto Ricans do it, with a pitching staff filled with guys you barely remember or never heard of? It's catcher Yadier Molina who changes everything.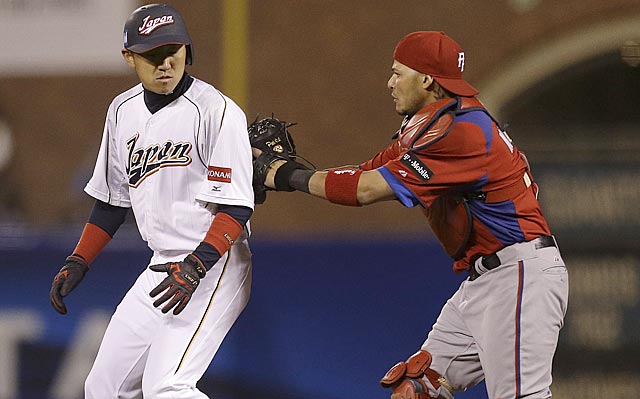 SAN FRANCISCO -- The names on the mound aren't familiar.
The name behind the plate sure is.
The names on the mound aren't impressive. The name behind the plate changes everything.
We keep wondering how Team USA is ever going to win the World Baseball Classic if Verlander and Price and Kershaw won't pitch in it. But maybe we should be asking how Puerto Rico is headed to the championship game with a bunch of pitchers who can't even find a big-league job.

Does Yadier Molina make that much of a difference?
More and more, with each improbable Puerto Rico victory, it sure seems that he does. How else do you explain what this team is doing?
The Puerto Ricans weren't supposed to make it out of the first round. Now they've made it to the final game.
They knocked out Venezuela. They knocked out Team USA. On Sunday night, they knocked out Japan, the two-time defending champion in an event that had been held only twice.
Puerto Rico won the first WBC semifinal, 3-1, in a game that featured a two-run Alex Rios home run but was dominated by a catcher who went 0-for-4. The Puerto Ricans beat the favored Japanese the same way that they beat the favored Venezuelans and the favored Americans.
They outpitched them. They outpitched them with pitchers whom you've either never heard of or barely remember.
You think maybe the catcher had something to do with it?
They sure do. And so does a guy who showed up in the interview room late Sunday night, hoping to find the catcher who had helped him win two World Series with the Cardinals.
"He's the greatest," Tony La Russa was saying. "He's a winner. As good as there can be."
La Russa never did find Molina in the interview room. Molina wasn't there and, in fact, refused to do any interviews after Puerto Rico's victory.
Too bad, because this tournament badly needs for the players to promote it, as it struggles to get any kind of attention in this country. Too bad, because if there's anyone who should have been talking about what Team Puerto Rico has accomplished, it was the catcher who all his teammates acknowledge is the most important reason they're still here.
"He's the best catcher in the big leagues," said Mario Santiago, Sunday night's starting and winning pitcher. "And he's the best catcher in the entire world."
Santiago is the typical Team Puerto Rico pitcher, a 28-year-old who has barely made it to Triple-A and last year pitched in Korea. Sunday, he shut out the Japanese for the first 4 1/3 innings, then was followed to the mound by three more guys from Triple-A, one from the Class A South Atlantic League and one actual major-leaguer, left-hander J.C. Romero.
It wasn't any different against Venezuela or Team USA, when the Puerto Ricans started 38-year-old Nelson Figueroa. His last major-league victory was three years back.
No, it's not the pitchers. So doesn't that mean it has to be the catcher?
"It's a huge part of it," shortstop Mike Aviles said. "I hate hitting when Yadi is behind the plate. When I'm standing at shortstop, I look at the pitches he's calling and wonder, 'How do you do that?' He's always thinking two pitches ahead."
Can Molina really turn no-name pitchers into world-beaters? Can he really take this Puerto Rico team and make it a world champion, the same way that he has taken the Cardinals and twice made them World Series champions?
They need only one more victory, in Tuesday's championship game against either the Dominican Republic or the Netherlands. The way this tournament has gone, it's folly to assume it will be the favored D.R., but you know that the Puerto Ricans are hoping it will be.
"Of course, we'd like to play the Dominican Republic," Aviles said. "Everyone knows that."
The D.R. is the only one of the big tournament favorites that Team Puerto Rico has yet to beat. Puerto Rico has already lost to the Dominicans twice, 4-2 in the first round and 2-0 in the second.
In both cases, the game was important only for seeding. If they meet again, it would be to decide a title.
If they meet again, the D.R. would be heavy favorites, with a lineup that should crush whatever pitcher Puerto Rico manager Edwin Rodriguez chooses to send out there.
Yeah, just as the Venezuelans should have, just as the Americans should have and just as so many assumed that the Japanese would on Sunday night.
Instead, Puerto Rico keeps winning. Instead, somehow, these Puerto Rico pitchers keep getting the big hitters out.
It can't just be Yadier Molina.
Or maybe it can.
"It's a different feeling when you have Yadier behind the plate," Rodriguez said. "I've been managing everywhere, in the big leagues, Triple-A, winter ball, and it's a different feeling when you have Yadier behind the plate.
"I've known him since he was 14 years old, and he's always been like that. He takes his job -- because it's a job to him -- to the next level."
Over the past two weeks, Molina has taken Team Puerto Rico to a different level. He has led this team to the brink of a championship that it has no business winning, just as he led Cardinals teams to World Series that people said they had no business winning.
This would no doubt mean more, because this is his country.
Team Puerto Rico plays with a pride that is so typical of this tournament. They believe that what they're doing is helping to put Puerto Rico back on the baseball map and maybe helping Puerto Rican baseball escape what have now been a few years of lethargy.
"Each of our boys is very aware of what this means to the entire country," Rodriguez said.
They know what it means. They know what the catcher means, too.
"What I was thinking [Sunday night] was 'Follow my catcher,' " Santiago said.
They all were. They all were following Yadier Molina.
With one more victory, they could follow him to the most improbable of championships.
Show Comments
Hide Comments