Leaderboarding: All-time leaders at Wrigley Field
Who has the most hits at Wrigley Field? The most homers? The most wins? Find out the answers to those questions and more in this post.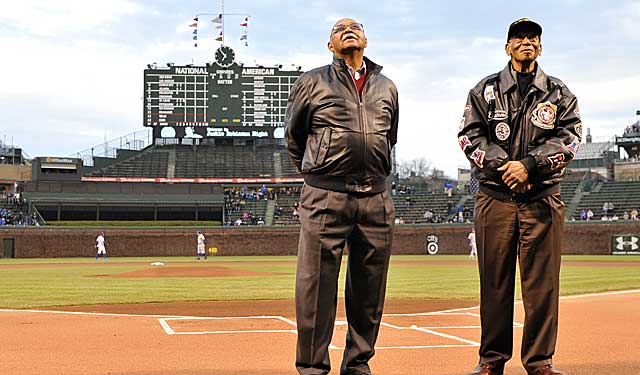 More Wrigley Field: Happy 100th Birthday | Lesser known facts
One hundred years ago today, the first ever game at Wrigley Field was played. It was called Weegham Park at the time, but while the name has changed (it was Cubs Park from 1920-26), the building has remained mostly the same.
Countless Hall of Famers and other great players have played in Wrigley Field, so let's look at the various statistical leaders in the ballpark's history. With a huge assist from the Baseball-Reference Play Index, here are the all-time Wrigley Field leaders.
All-time Wrigley Field leaders
Games Played
Player
Games
1. Ernie Banks
1,285
2. Billy Williams
1,116
3. Ryne Sandberg
1,091
4. Ron Santo
1,084
5. Stan Hack
995
Batting Average
Player
AVG
1. Paul Waner
.358
2. Rogers Hornsby
.352
3. Bill Terry
.350
T-4. Riggs Stephenson
.342
T-4. Willie Mays
.342
On-base Percentage (min. 500 plate appearances)
Player
OBP
1. Rogers Hornsby
.440
2. Paul Waner
.430
3. Hack Wilson
.424
T-4. Riggs Stephenson
.418
T-4. Ray Grimes
.418
Slugging Percentage (min. 500 plate appearances)
Player
SLUG
1. Willie Mays
.664
2. Mike Schmidt
.653
3. Hank Aaron
.612
4. Dave Kingman
.608
5. Hack Wilson
.600
Hits
Player
Hits
1. Ernie Banks
1,372
2. Billy Williams
1,314
3. Ryne Sandberg
1,259
4. Mark Grace
1,175
5. Ron Santo
1,165
Doubles
Player
Doubles
1. Mark Grace
242
2. Gabby Hartnett
219
3. Ernie Banks
218
4. Ryne Sandberg
217
5. Billy Williams
202
Triples
Player
Triples
1. Ryne Sandberg
48
2. Stan Hack
46
3. Phil Cavarretta
44
T-4. Ernie Banks
42
T-4. Billy Williams
42
Home Runs
Player
Home Runs
1. Sammy Sosa
293
2. Ernie Banks
290
3. Billy Williams
231
4. Ron Santo
212
5. Ryne Sandberg
164
Runs Batted In
Player
RBI
1. Ernie Banks
909
2. Sammy Sosa
740
3. Billy Williams
733
4. Ron Santo
722
5. Gabby Hartnett
615
Stolen Bases
Player
Steals
1. Ryne Sandberg
171
2. Kiki Cuyler
99
3. Shawon Dunston
96
T-4. Sammy Sosa
85
T-4. Stan Hack
85
T-4. Max Flack
85
Games Pitched
Player
Games
1. Charlie Root
302
2. Carlos Marmol
258
3. Lee Smith
256
4. Guy Bush
233
5. Don Elston
230
Innings Pitched
Player
Innings
1. Charlie Root
1,676
2. Fergie Jenkins
1,415 2/3
3. Rick Reuschel
1,220 1/3
4. Guy Bush
1,219 1/3
5. Bill Lee
1,216 1/3
Wins
Player
Wins
1. Charlie Root
115
2. Fergie Jenkins
95
3. Guy Bush
94
4. Pete Alexander
84
5. Bill Lee
80
Losses
Player
Losses
1. Charlie Root
70
2. Bob Rush
69
3. Fergie Jenkins
62
T-4. Bill Lee
57
T-4. Rick Reuschel
57
Saves
Player
Saves
1. Lee Smith
98
2. Bruce Sutter
69
T-3. Carlos Marmol
57
T-3. Randy Myers
57
4. Rod Beck
43
Strikeouts
Player
Strikeouts
1. Fergie Jenkins
1,070
2. Charlie Root
812
3. Carlos Zambrano
774
4. Kerry Wood
753
5. Rick Reuschel
722
Earned Run Average (min. 400 Innings Pitched)
Player
ERA
1. Hippo Vaughn
2.18
2. Lon Warneke
2.55
3. Pete Alexander
2.61
4. Claude Hendrix
2.67
5. Claude Passeau
2.75
WHIP (min. 400 Innings Pitched)
Player
WHIP
1. Pete Alexander
1.098
2. Warren Hacker
1.100
3. Jon Lieber
1.130
4. Lon Warneke
1.143
5. Fergie Jenkins
1.146
Show Comments
Hide Comments