Weekend Buzz: Hamilton and Texas meet on different terms
ARLINGTON, Tex. -- The Weekend Buzz while you were waiting for Jay Leno backstab Jimmy Fallon just like Conan O'Brien. ...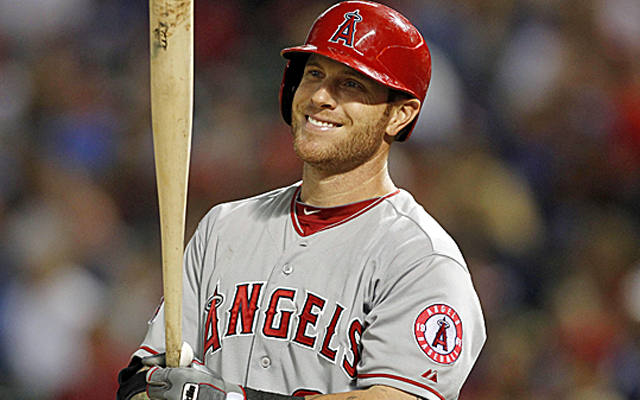 ARLINGTON, Tex. – The Weekend Buzz while you were waiting for Jay Leno to backstab Jimmy Fallon just like Conan O'Brien. …
1. Hit 'Em Where They Ain't (Booing): Though Josh Hamilton banged out three hits to another background of heavy boos and "Baseball Town!" chants as his Angels were thumped 7-3 in the series finale here, his 2013 so far has looked like the continuation of his crash landing in 2012.
More on Angels-Rangers
Related links
Hamilton was 1 for 20 with 10 strikeouts before going 3 for 4 Sunday.
He finished last season in a .245 skid during the season's final month, striking out 37 times in his last 25 games. Then came an embarrassing 0 for 4 in the Rangers' wild-card loss -- during which he saw a total of eight pitches.
By late Sunday night, Hamilton mostly seemed relieved to be headed home to Anaheim.
"It was a little more hectic than I expected," he said. "The persistency of the crowd. … I was a little surprised, but not really surprised.
"It was a little disappointing more than anything."
Hamilton wound up going 3 for 12 with four strikeouts during his Texas homecoming. What has him in better spirits heading into the Angels' home opener Tuesday against Oakland is his second and third rounds of batting practice before Sunday's game.
"I kind of fixed my own self, I guess you could say," he said.
The gist: He hasn't been "coiling up" as much as he needs to during his load and swing.
The Rangers, some of whom agreed that he looked as bad this weekend as he did at the end of '12, are just happy he mostly was rendered ineffective.
"He's a weird player because he can completely look lost one day and then come to the park the next day and be completely locked in," Rangers outfielder David Murphy said. "I'm not reading anything to it.
"I know what his numbers are going to look like at the end of the season."
2. Two thumbs up: As touching as any scene you'll find in Parenthood – and I bet the late, great Roger Ebert would heartily agree – was the Upton Bros. show Saturday in Atlanta with mother Yvonne and father Manny in the stands.
B.J. Upton, off to an 0 for 16 start with nine strikeouts, slammed a ninth-inning, game-tying homer against the Cubs. Two batters later, Justin belted the game-winner – his fifth homer in five games.
"I've never seen anything like that in my life," Braves manager Fredi Gonzalez said. "I have a son, and I just couldn't imagine."
3. Earl Weaver would be proud: Boog Powell, meet Chris Davis.
The Orioles' first baseman collected more RBI in the first four games of a season – 16 – than any player in major-league history, according to the Elias Sports Bureau.
He also joined Willie Mays (1971), Mark McGwire (1998) and Nelson Cruz (2011) as the only four players ever to homer in each of the first four games of a season.
Until a Minnesota pitching staff clearly capable of Herculean feats stopped him on Saturday, Davis had 11 homers in his past 11 regular-season games dating back to last year.
"You put him in the Grand Canyon, he'll hit it out," O's center fielder Adam Jones said.
But why do that when Buck Showalter can keep putting him in Camden Yards?
4. Even better than Tommy John surgery: In two starts, Clayton Kershaw has one more home run than earned runs allowed. He now has made two starts and thrown 16 scoreless innings, becoming the first Dodgers pitcher to begin a season with two starts of seven or more innings with zero earned runs since … Tommy John in 1974.
5. Wiki-rips: Not only did Carlos Marmol lose his job as Cubs' closer, vandals blasted into his Wikipedia page to deem him "arguably the worst pitcher in the history of major league baseball."
Cubs' GM Jed Hoyer isn't looking to edit that out of the Wikipedia page anytime soon.
"We've had three games that have been winnable games this year and all three have been an adventure," Hoyer said after Saturday's blown save of Marmol, who now sports a 27.00 ERA and a 4.80 WHIP in 1 2/3 innings pitched. "So the decision was fairly easy."
6. The Artist Formerly Known as Fausto Carmona: Started for the Rays on Wednesday. And Roberto Hernandez, 32, was in an historic spot, snapping a streak of 1,060 consecutive games in which Tampa Bay did not use a starting pitcher 31 years or older. Last time the Rays used one, Lou Piniella's fingerprints were still on the club and it was Joe Maddon's rookie season as skipper. And there's more: Hernandez's start snapped a Tampa streak of 1,207 games without using a starter signed as a free agent, and 1,693 games not using a starter signed as a major-league free agent.
7. Dirty Water and Middlebrooks: Look who's in first place in the AL East to start the week. Will Middlebrooks blasted three home runs Sunday as the Red Sox torched R.A. Dickey in Toronto. The first-place Red Sox will take 4-2 on their season-opening trip, as opposed to 1-5 last year and 0-6 in 2011.
8. Big week for the Z's: Jay-Z poached Robinson Cano as a client. Barry-Z tossed seven shutout innings for the Giants against St. Louis on Friday, and the Giants now have won 15 consecutive games in which Barry Zito has started (going back to 2012, of course). Last time the Giants won 14 or more consecutive starts by a pitcher? Try Carl Hubbell (pre-telescope, I believe), 16 in a row, in 1936.
9. Cubs' Jeff Samardzija fans 13 Sunday: Stunning news: It was against the Braves, not the Astros.
10. The Astros have holes in their bats: And in their swings. And in their lineup. …
Major league baseball's most humiliating  situation (this side of the Marlins) will be the gift that keeps on giving. Bo Porter's K-Klub has whiffed 74 times -- most in major-league history through the season's first six games, according to STATS, Inc. Five of six starting pitchers faced by the Astros have either set or tied a career high for strikeouts against Houston.
Show Comments
Hide Comments