Charles Barkley: 'They don't even have real fans here in Miami'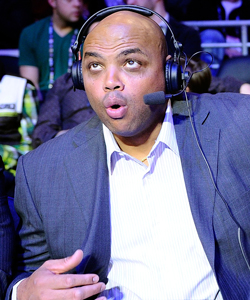 Charles Barkley has quite the decorated history with Miami Heat fans. He's always been critical of LeBron, slammed on the construction of the team and has ragged on the fanbase at every opportunity.
And with the Heat one win away from planning a championship parade, Barkley is getting in a few parting shots. Via Sports Radio Interviews:
"I wish [LeBron] had stayed in Cleveland, because those fans in Cleveland, man, they're fantastic. They don't even have real fans here in Miami, they're front-runners."
I'd say shots fired, but this is just the same thing he's been saying for two years. The Heat fanbase has gathered an unfortunate reputation for being full of front-running bandwagoners, especially in that the support for an exciting team such as this one doesn't seem to have overly passionate support.
The Heat fanbase's dedication has always been something of a bother for a lot of people, that a somewhat disinterested group has such an awesome winning team on the floor. But the fact is, the Heat fans sell out the building, make noise and cheer their team. They might not have the ridiculous passion of a one team city like Portland or Oklahoma City, but that's not to say Miami doesn't love their Heat.
It's the old thing of if you're playing for the fans, or playing for yourself. And if it really matters either way. The Cavaliers have a tortured fanbase, as Cleveland has suffered heartbreak after heartbreak. But for Barkley to say LeBron should've stayed just because Cleveland has great fans seems a little odd.
Then again, this is just more of the same from Sir Charles.