LeBron James asked a fellow athlete to eat with him, got shot down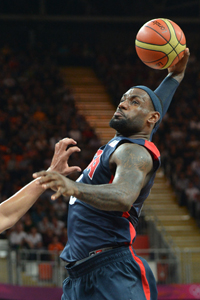 Leron James had to eat alone last week. (OK, probably not.)
(Getty Images)
You'd have to imagine that on those lists people do of "people you want to have a dinner party with," that LeBron James would show up a few times. He's a polarizing athlete and the world's best basketball player. But apparently one Olympic swimmer had the chance, and turned him down.
Yup, LeBron James. Shot down.
From the New York Daily News:
USA swimmer Lauren Perdue tweeted that LeBron had asked her to dinner.

Perdue (@LoPerdue) tweeted "Lebron James just invited me to dinner... Um wuuuutttt?!?" She also sent out an Instagram picture of her standing with a horn-rim clad James and the caption "Oh heyy Lebon."
via LeBron James asks USA swimmer Lauren Perdue to dinner - and she turns him down due to curfew - NY Daily News.
Oh, Lauren. That's not going to go well.
Naturally, everyone started speculating that James was pursuing Perdue, you know, romantically, because the internet is collectively a five-year-old. But sadly for TMZ and the like, no matter what James does in his own time, this was not such an instance. From the Charlotte Observer:
"He did," Perdue said. "He was kind of joking but he was basically like, 'Would you like to come eat with me at the dining hall?' And I said, 'Um, I'm sorry, I have a curfew. So I turned that one down, yeah."

One more note: Perdue said LeBron was "gracious" and certainly didn't imply that he was asking her to anything other than a meal at the Olympic Village dining hall.
via Scott Says ...: The real story on LeBron asking NC swimmer to dinner.
Just to review, Michael Phelps doesn't hang out with Olympic athletes and draws a ton of criticism, James reaches out to the Olympic swimming team and gets a ton of rumor mongering. There are lots of stories of James' adventures in his social life, but this was something harmless.
But seriously, who says no to going to dinner with LeBron?
Well, Kevin Garnett and Rajon Rondo. Probably them.