Spurs unveil alternate uniform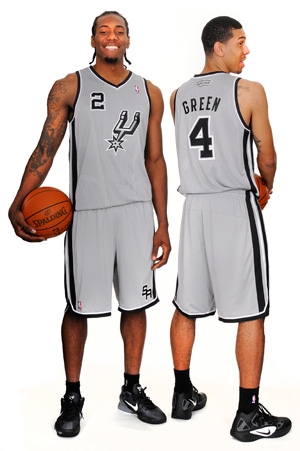 Practice uniforms, or real uniforms?
(Getty Images
Maybe the plainest organization in all of sports is stepping outside the box a little. By getting even more plain.
The Spurs revealed an alternate uniform combination on Wednesday, an all-gray set that features the recognizable Spurs logo on the front of the jersey. And that's it. It's like the Spurs are the anti-Oregon.
"We are introducing a new and unique Spurs jersey this coming season," Spurs president of business operations Rick Pych said in a release. "The new design simply features our iconic 'spur' logo and it is positioned over the heart as it has such enormously deep roots with our team, fans and the entire community. It's the first-ever NBA jersey logo without any writing or peripheral design on the front of the jersey and we're very glad to be introducing this new use of the classic icon of the Spurs to our fans."
The Spurs will debut their new uniforms Nov. 1 against the Thunder in the team's opener, with plans to wear them roughly a dozen times throughout the season, all at home.
This isn't the first time the Spurs have tried an all-gray uniform. Their first crack was a shiny silver set that they wore only on Sundays.
The reaction to these hasn't been all that favorable. There's so much gray space without any letters. The Spurs have always had one of the NBA's most classic logos as well as uniform, but this deviation doesn't really capture either. These lose that traditional, iconic Spurs look. The colors are cool, but the logo-only front is a major flop. Plain is often good, but this is too simple.
It seems to me that these are really close to being great, but are just missing something. It almost just looks like a straight-up gray shirt.